DJ Muggs Releases 'Soul Assassins 3: Death Valley' LP Feat. Ghostface, Westside Gunn, Freddie Gibbs, Boldy James, Ice Cube And More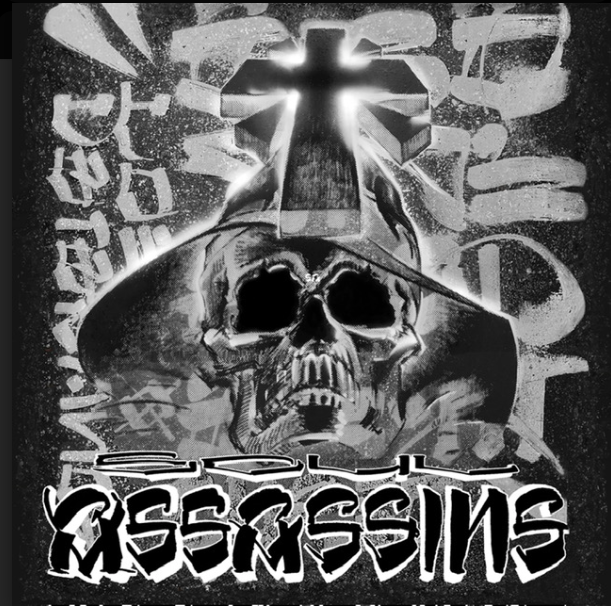 DJ Muggs is an undisputed legend. Over the course of his distinguished and diverse career, he has conquered music in not only multiple genres but multiple languages.  As the creator and producer of Cypress Hill, the multiple-time Grammy Award nominee has overseen the production of four platinum and three gold albums, traveled the world many times over, with Cypress Hill as headliner, a major festival regular, and performed in front of millions of fans.  Longtime Cypress Hill documentarian Estevan Oriol masterfully captured Cypress' musical/cultural influence and legacy with his 2022 Showtime Film Insane In The Brain.
While Cypress Hill is a full-time + undertaking, Muggs also remains extremely active as a solo artist.  Not only has he produced hits for Cypress Hill, but he's also responsible for indelible classics like House Of Pain's "Jump Around" and Ice Cube's "Check Yourself," was tapped to remix for U2, Janet Jackson and Depeche Mode and produced gems with MF Doom, Westside Gunn, GZA, Action Bronson, Conway The Machine and many, many more.
In the last few years, Muggs has been more active than ever.  Releasing collaborative projects with Mach-Hommy, Roc Marciano, Yelawolf, Rome Streetz, Jay Worthy, and most recently Champagne For Breakfast with Meyhem Lauren and Madlib.  
Yet, his Soul Assassins albums have always held a special place in the hearts of fans.  Muggs Presents: The Soul Assassins Chapter 1 (1997) was his first solo studio album and featured collaborations with Dr. Dre, B-Real, RZA, GZA, Mobb Deep, Goodie Mob, KRS-One, MC Eiht & Wyclef Jean.  He returned to form with Soul Assassins II (2000), featuring collaborations with Xzibit, Cypress Hill, GZA, Goodie Mob, Kool G Rap, Dilated Peoples, Kurupt, Ras Kass and Everlast.  The third installment in the Soul Assassins series, Intermission, was released in 2009 and proved to be aptly-titled; until now.  
DJ Muggs has released the first new Soul Assassins album in 14 years with Soul Assassins 3, Death Valley, which is now available.
DJ Muggs Soul Assassins 3: Death Valley features guest appearances from Freddie Gibbs, Ghostface Killah, Westside Gunn, Ice Cube, Method Man, Boldy James, MC Ren, CeeLo Green, B-Real, Scarface, Roc Marciano, Devin The Dude, Evidence, Meyhem Lauren, Jay Worthy, Rome Streetz and Slick Rick among others.  
"You know you cannot escape death, but immortality can be attained" states DJ Muggs.  
You can now purchase, stream, add, and favorite Soul Assassins 3: Death Valley at your preferred DSP: https://sym.ffm.to/deathvalley 
Soul Assassins 3: Death Valley TRACKLISTING:
The Time Has Come
It's On FEAT Boldy James
Check In FEAT Jay Worthy & Spanto 
Sicilian Gold FEAT Ghostface Killah & Westside Gunn
67 Keys FEAT Roc Marciano, Meyhem Lauren & Rome Streetz
Mister Cartoon Interlude
Jokers Wild FEAT CeeLo Green
Shell Casings FEAT T.F.
Street Made FEAT Freddie Gibbs & Scarface
Where We At FEAT Boldy James
We Ain't Playin' FEAT Devin The Dude, Jay Worthy, T.F. & 2 Eleven
Burn The Playbook FEAT Evidence & Domo Genesis
Majik
Crazy Horse FEAT Roc Marciano & Crimeapple
Metropolis FEAT Method Man & Slick Rick
We Coming For The Safe FEAT Boldy James
Skeleton Bones FEAT Rome Streetz
Dump On Em' FEAT Ice Cube, B-Real & MC Ren
DJ Muggs Outro FEAT Estevan Oriol & Spanto
***All Songs Produced by DJ Muggs