RAP HITS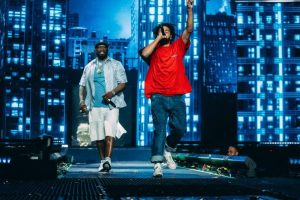 Photos: 50 Cent's 'Final Lap' Tour Electifies Barclays Center with Appearances From J. Cole, Jadakiss, Fat Joe & More
EMMY® and GRAMMY® award-winning artist Curtis "50 Cent" Jackson concluded his exhilarating Final Lap Tour with back-to-back sold-out shows at Barclays Center, leaving fans in awe.
The first night featured surprise performances that set the stage ablaze, including J. Cole, Jadakiss, DaBaby, Flo-Rida, and more. J. Cole's dynamic collaboration with 50 Cent on "No Role Modelz" was a highlight, with J. Cole dubbing "Get Rich or Die Tryin'" the greatest album ever. Busta Rhymes and Jeremih also graced the stage, while Slick Rick and Baby Cham made memorable appearances.
Thursday's show brought even more surprises, featuring Fat Joe, Bobby Shmurda, Young M.A., Phresher, and Sleepy Hallow. Fat Joe's energetic rendition of "Lean Back" alongside 50 Cent was a crowd-pleaser, followed by a solo performance of "All The Way Up." Notable guests, including T.I., Lala Anthony, and Kash Doll were also in attendance.
With an already staggering 900,000 tickets sold worldwide, the Final Lap Tour's monumental 94-date journey continues across North America this summer before venturing overseas. For those eager to witness this historic tour, visit 50Cent.com for the remaining tickets and tour dates.