RAP HITS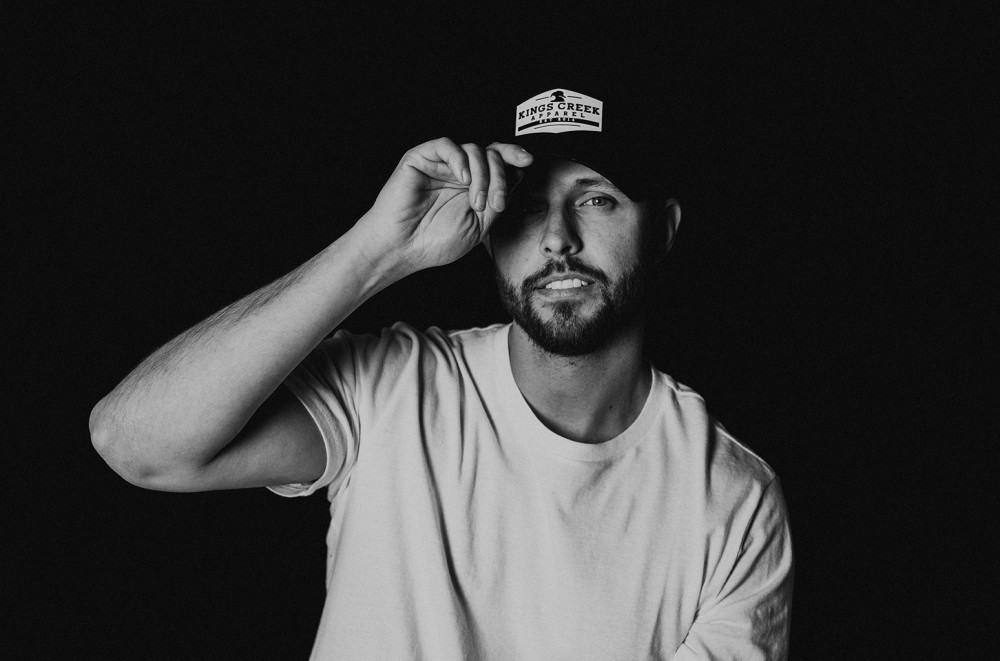 Songwriter Spotlight: How Eric Church Inspired Luke Combs Collaborator Ray Fulcher to Pursue Music
While attending the University of Georgia in 2006, some of Ray Fulcher's friends invited him to an Eric Church concert at the Georgia Theatre. Unfamiliar with the country singer's music, Fulcher tagged along, unaware that the evening would have a lasting impression and forever change the course of his career.
About halfway through the show, Fulcher became a fan of the Chief. "He played a song called 'Lightning' off his very first album [2006's Sinners Like Me]," Fulcher tells Billboard over the phone. "It's just like, everything in life made sense: I don't know what he did to me, but I [realized] I have to make people feel that way. He made me feel like that's my purpose in life."
A week after Church's concert, then 21-year-old Fulcher went out and bought a guitar. He says he started playing with people better than him in an effort to learn the guitar, and eventually formed a band. When he moved back home after graduation for a master's in education, he started another band called County Line and began to write songs. Frustrated that he couldn't pen songs to the caliber he wished; Fulcher knew he had to move to Nashville to better his craft.
"I had every reason in the world to stay home, but I remember that moment of being like, 'Can I wake up at 40-years-old one day and wonder what if?' And for me it was, 'No I can't.' So, I moved to town May 12, 2014. I knew one person and that's the person I moved in with," he says of his relocation to Music City 12 years ago at the age of 28.
Shortly after moving to town, Fulcher met Luke Combs and the pair became fast friends who bonded over their mutual love of Church — Combs' favorite deep cut is also "Lightning" — but it was a while before the two wrote together. In the meantime, Fulcher put in all the effort he could to attend writers rounds, approached various songwriters for co-writes and often found himself writing up to three songs a day. He estimates that it took two years in town before he wrote his first "good song," and says Church's music remained a "true North" as far as the music he wanted to make.
"I love the way that [Church's] songs tell a story. They're a little bit outside the box and say things in a way that I had never heard before. I've always used those characteristics of his songs as a way to make sure I'm measuring up and saying it in a way that I haven't heard of before," he says, adding that one of the first conversations he had with Combs was a discussion about Church's deep cuts.
Fulcher, who would go on to co-write Combs' five-week Billboard Country Airplay No. 1 "Even Though I'm Leaving" and two-week chart topper "When It Rains It Pours," among others, says from the very first writing session together the two friends had a unique chemistry of wanting to write songs that were important to them and tell their stories in a unique way.
"We want to hold ourselves to a certain standard," he notes. "It was like lightning in a bottle for us, and the very first song we wrote was called 'Beer Can' and was on his first record. We hit the ground running … Our songwriting relationship was made so much better from us being friends first."
Combs, meanwhile, has nothing but admiration for his friend and frequent collaborator. Fulcher has eight cuts on the singer's most recent album, What You See Is What You Get, as well as eight on his debut This One's For You.
"Me and Ray have been tight for a long time, and I think that's an important part of [songwriting]: building chemistry with people that you write with and being able to trust them," Combs says. "Something that I think is often underappreciated is the connection you have with somebody as a person, as a friend, in the songwriting room. [I think that] is something that has utmost importance."
Combs and Fulcher's friendship went from writing and performing in rounds together to garnering respective label and publishing deals. While in a writers' round in 2016, Combs' manager Chris Kappy invited longtime friend Lynn Oliver-Cline, founder/CEO of River House. Impressed at their performances, Fulcher became the first songwriter signed to a publishing deal on River House while Combs was the first artist signed in 2016, just two years after both songwriters moved to town.
Fulcher admits that the week before he signed his publishing deal he was questioning his move to Nashville and began to doubt that his career would ever take off. He and Combs weren't sure that there was a place for their music or how to navigate what people wanted to hear. In retrospect, he says it was a blessing they didn't know what to aim for because instead of tailoring songs to what was being played on the radio, they simply focused on writing songs they loved. Their distinct brand of throwback '90s country struck a chord, and songs like "When It Rains It Pours" helped Combs become a household name and garnered Fulcher his first Country Airplay No. 1 as a songwriter.
"That time period was where I started realizing I'm getting better as a songwriter and I'm understanding my voice and what I want to say and how I want to say it," Fulcher says about the day he penned "When It Rains It Pours" with Combs and Jordan Walker. "It's also an example of where I was trying to find a new way to say something … We're suckers for a heartbreak song, and sometimes if we don't pull ourselves out of it, we'll go down that road all the time."
Combs threw out the line "When It Rains It Pours," and his two co-writers instantly agreed it was a cool idea. "Everybody's heard that [phrase], but [we] didn't think there was a song about that. I don't remember who said it in the room, but we were like, 'Wait a second. This is definitely a heartbreak song. People see the title and they know what they're about to hear. Is there a way to spin it on its head and make it a positive song, a positive thing?'" Fulcher says.
"I don't remember who it was, but it was just that lyric, [sings] 'Sunday morning, man, she woke up fighting mad.' It was like, 'That's it. I don't know where that's going but that's the thing.' We got really excited, and there were several lines where we just laughed our a– off — about ex-future mother-in-law's, deep sea señorita fishing and all of that. We were just like, 'Let's create the perfect couple weeks for this guy,' and that's what we came up with."
Combs and Fulcher's friendship also assisted the co-writers to open up in the writing room when penning the poignant chart topper "Even Though I'm Leaving" with Wyatt Durrette. The song holds special meaning to all three writers and Fulcher says the lines in the second verse still give him chills: "Dad, we'll be late, and Uncle Sam don't like to wait/ He's got a big ole plane that's gonna take me far away/ I know I act tough, but there's a churnin' in my gut/ 'Cause I just can't call you up."
"I've always been the person to act tough even in situations where I probably shouldn't and for that guy in the song to have that moment to be real honest with himself to say, 'I act tough, but this is messing me up right now…' I've been there and I relate so much to the character in that moment," he says. "Every time I hear it, that line, I'm that guy. That one line to me is very special."
In addition to being a frequent co-writer with Combs, Fulcher is also a touring musician. He will hit the road with Matt Stell on Jan. 24 as part of the Everywhere But on Tour through March. Fulcher released the deeply personal six-track EP Somebody Like Me in 2019 and his latest song, "Ghost," finds the singer-songwriter trying his best to move on from a past relationship.
"I finally got to the point where I [decided to] talk about it in a song. ['Ghost'] was me trying to put into words what it felt like for me. It was very healing for me to go there and move on," he says. "The reason I wanted to put it out is because I know heartbreak is a real thing and hurt is a real thing and I know I'm not the only one who's felt it. This is me going, 'Hey, I've been there. You're not alone. Hopefully you relate and there's something in it for you too.'
"The important thing is to be honest and to be vulnerable. I think that people – fans — want that from me. So that was me going, 'This is as real as it gets.'"
Jonathan Singleton ("Watching Airplanes," "A Guy Walks Into a Bar") served as Fulcher's producer on the project, and the singer-songwriter promises more music is on the way in 2020. Much like his latest EP, he says he aims to showcase who he is as an artist with every new song he releases.
"I'm very thankful for the success we've had, and I just hope that by me still wanting to learn every day gets me to be as good as I could possibly be at some point," he says. "That's what I strive to do: learn from the people around me."
Listen to "Ghost" below.