RAP HITS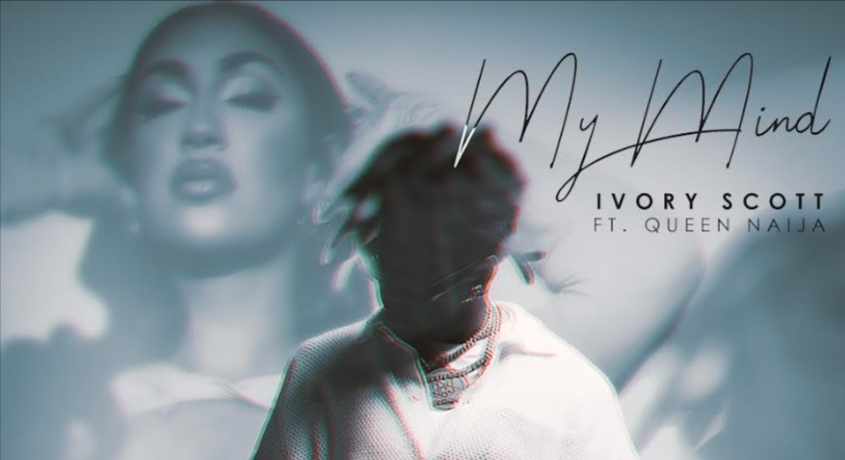 Track of the Week: Ivory Scott's "My Mind" featuring Queen Naija
Ivory Scott is a Grammy-nominated singer-songwriter who's worked with all the elites in the music industry, from Chris Brown to Madonna to Beyonce. In fact, Scott recently took home the Songwriter's Award at BMI's 2023 R&B/Hip Hop Awards for Yung Bleu's "Baddest" featuring Chris Brown and 2 Chainz.
Born in Chicago but based in Atlanta, Scott's music career began at the young age of 8, writing songs before going on to teach himself how to play piano and guitar. Fast forward to 2023, he's ready to shift his focus to his own artistry. 
Most recently, Scott unveiled his newest single and visual for "My Mind," featuring the one and only Queen Naija. Read below as we discuss the making of the song, and his relationship with Queen Naija.
"My Mind" out now, what's your relationship with Queen Naija?
That's my sister. It's executive produced by OG Parker and Hitmaka. We did that joint in Miami. Queen Naija, that's my sister. I flew back to Atlanta, she did the verse. Now it's out. It's a vibe. 
How'd the song come about?
One of my first billboard plaques was Queen Naija on the Misunderstood album. "Bitter" with Latto, that was the first joint I did. I ended doubling back, hitting her like "yo I want to get you on a project for sure." I sent there "My Mind." That night, she said, 'let's go to the studio. She did it, she showed love. It's a hit too.
Did you make it with her in mind?
I did my verse and the hook, I took it out there and we wrote her verse together. Me and her.
What inspired the record?
It's just a vibe. A lot of girls, they look at themselves. These days, they want to be #2. A lot of girls are good with being a side chick, but this song is not. This is for the 1's. 
Who's good with being the side chick?!
There's a lot. Listen, they accepting it out here these days. This song is representation that you can be the #1. You don't gotta be the side. 
Best memory from the video shoot? 
It was a lot of good memories from the video shoot, I'm not gonna lie. But when Queen came out in her robot-looking at outfit, oh she went all the way. Shout out to Queen for that, it was a moment.
What was the vibe in the studio in Miami?
It was a movie. Every time me and Hitmaka get together, it's a vibe man. It's a party. Anytime I'm with him, his main thing is "yo, if we ain't having fun, why we here?' Every hit we made together, it's same exact process forreal.
What's your favorite hit you made with Hitmaka?
Whew. I love "Baddest" [by Yung Bleu and Chris Brown], not gonna lie. But honestly, co-producing Tink's album. That was the most immersive project that we worked on together, because we built it together from the ground up. And Tink from the city, so I'ma show love. We worked on some big stuff, but that's the one that's close to my heart forreal.
What do you want the fans to take away from "My Mind"?
I want girls to know they the one, not the two. it's okay to be the one. It's a new bop. It's a new vibe, bringing R&B. It's in me. 
Is it hard being taken seriously as an artist, after so many songwriting successes?
Honestly nah, because I've always had the vision of being an artist. A big part of me transitioning, getting into my artist bag was artists telling me "yo, why are you not doing your own project?" That makes the transition that much easier, when you got people that are successful artists championing you. A Boogie, Toosii saying "Bro, why are you doing this yourself?" So the motivation is there.
What else can we look forward to?
My EP just dropped, it's called Before Ebony. "My Mind" is on it, "Just Like Me" is on there. I got Sukihana on the project, so it's a vibe. Ebony is the name of the project coming top of the year. It's a taste. It's like the cheddar bay biscuit, that red lobster. The appetizer.
Who's Ebony?
Ebony is the opposite of me, contrast of who I am.