RAP HITS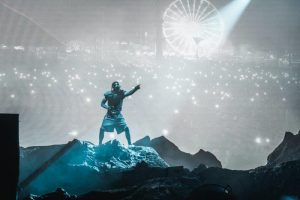 Travis Scott Announces 'UTOPIA' and Movie 'Circus Maximus' for July 28 During Rolling Loud Performance
Travis Scott fans were in for a treat as the hip-hop sensation delivered some exciting news during his headlining performance on the GoPuff Stage. As the crowd eagerly awaited his set, the date "7/28" mysteriously appeared on the stage screens, setting social media ablaze with speculations. Fans' anticipation peaked when Travis himself confirmed that this date would mark the release of his highly-anticipated album, UTOPIA.
But the surprises didn't end there. During his electrifying performance, Travis Scott dropped another bombshell— a movie titled Circus Maximus would also be hitting theaters on the same day, complementing the album release. The revelation sent waves of excitement among the audience, who couldn't wait to experience Travis's artistic vision both on the big screen and through his music.
With the announcement of Circus Maximus, Travis Scott proves yet again that he's not just a music artist but a true visionary, pushing the boundaries of creativity in the industry. Combining an album and a movie promises an immersive experience for his devoted fans and a significant milestone in his already illustrious career.
As the countdown to July 28th begins, Travis Scott enthusiasts are already bracing themselves for what's sure to be an epic release day, ready to embark on a journey into the realm of UTOPIA through both his music and cinematic storytelling.
Images from Travis Scott's performance are available below, courtesy of Rolling Loud.