RAP HITS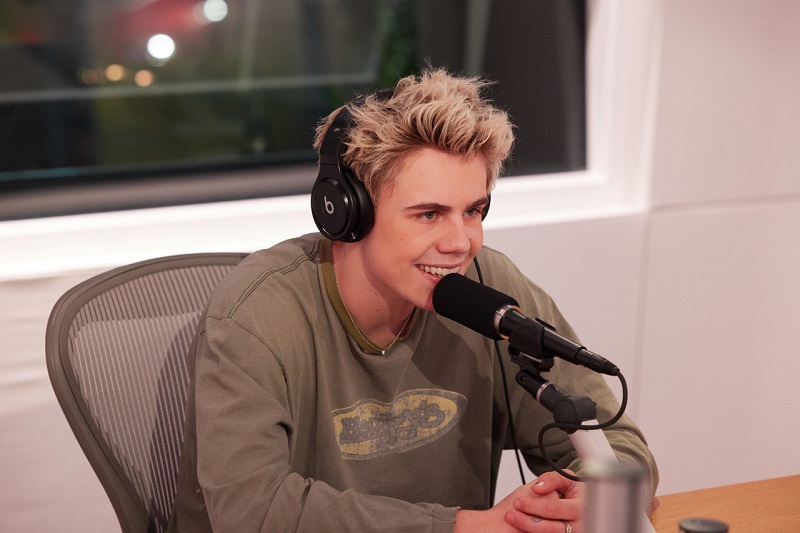 WATCH: The Kid LAROI Unveils Personal Struggles and Growth in Apple Music Interview
The Kid LAROI sits down with Zane Lowe on Apple Music for an intimate discussion about his journey to stardom and his latest album, THE FIRST TIME.
Candidly addressing fears of financial loss and public embarrassment, LAROI delves into the impact of anxiety on family relationships. The artist, known for his authenticity, credits Justin Bieber for teaching him vulnerability.
I told Justin this all the time is that when I first met him, one of the things that was so jarring to me at first, but something that was so beautiful that over time I've picked up and I've implemented into my own life because of him, thanks to him, is when I first came to his house to play basketball with him and his friends. They were so positive and so loving and so open and so vulnerable, and I wasn't used to that. Even just the way I would grab the ball and I'd miss a shot and Justin would come pat me on the back and be like, "It's all good, bro. Next shot. You got that," and that's not how I played basketball with my friends. You know what I'm saying? But it was so cool…I remember leaving there and just being like, "Whoa." I just remember being just jarred. I don't know what's going on. And over time, as we kept hanging out and just the way he was able to showcase his vulnerability and open up to me, and that encouraged me to want to be more vulnerable and open up and want to own my feelings more and own the way I feel and how honest he is about who he is. And that is his thing. He is so honest about who he is and how he feels, even if, I mean whatever it is, he really owns that. And I think that's something that I took and I was like, "Wow, that is so admirable." And I saw the effect it had on me just being around that. And so I want to take that… I want to encourage that…

– The Kid LAROI on Justin Bieber
Reflecting on Juice WRLD's loss, LAROI pays homage on "WHERE DOES YOUR SPIRIT GO." Formerly needing to fulfill mass expectations, LAROI now prioritizes authenticity, embracing the freedom to pursue his desires openly.
I wanted to just capture how I was feeling. I mean, obviously that was the first step. And I think what comes with a lot of death and grief is obviously sadness, but anger as well. Not only just anger for the events of death, but anger towards yourself and regret of like, damn, I wish I had told this person this, or damn, I wish I did this differently. I wish I had… And a lot of that. You can tend to project and I think that was the thing. It was like, when I say in the song, "How could you build me up just to leave me now?" We have so much to do and then you're going to leave? … that's a feeling that you feel at some point, as not accurate as that is… But that's how you feel. I think at points of grief, it's like f**k, you feel anger, right?  Juice and I… that was big bro, but I was 15 and he was 20. So there is a dynamic of, as a kid, you're a fan and you're like, now this guy I guess would be big bro. And now I get to travel everywhere and there's just that sense of you're kind of just happy to be there and move in with the flow. And one thing that I always wished I think was that I was like, damn, I wish there was in another universe. I've met Juice now with going through what I've gone through and knowing what I know…he's quite a special guy, we don't have to get into it now, but he's a guy who's helped me so much

– the Kid LAROI on Juice WRLD and "WHERE DOES YOUR SPIRIT GO"
You can hear the full interview below.