RAP HITS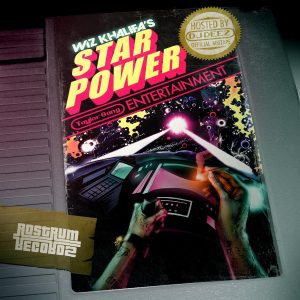 Wiz Khalifa Releases His 2008 Mixtape 'Star Power' to Streaming Services
Wiz Khalifa's mixtape Star Power is now available on all streaming sites, fifteen years after its first release. The release features "Ink My Whole Body," "So High," and "Flickin Ashes." Star Power is now available on all platforms via Taylor Gang/Rostrum Records.
"I'm pumped to have Star Power on streaming platforms for fans to hear their favorites from this tape," Wiz said of the release.
Star Power is a key release from Wiz Khalifa's early career, helping to define his lush and sumptuous sound and establish his reputation as the game's hardest-working and most talented stoner. The tape, hosted by DJ Deez, includes multiple guest appearances from Wiz's close associate Chevy Woods, then known as Kev Da Hustla, as well as production sculpted at the legendary I.D. Labs by Pittsburgh natives such as Sledgren, E. Dan, Johnny Juliano, Rocky Fontaine, and Big Jerm, who produced hits for Wiz, Mac Miller, and others during his career.
With the help of Rostrum Records, Wiz Khalifa's attempts to clear his legendary mixtapes for streaming services continue with the release of Star Power. Wiz finally released his lauded 2012 mixtape Taylor Allderdice on all platforms last year, allowing fans to revisit one of his career highlights. The rapper commemorated the 10th anniversary of his legendary Kush & Orange Juice mixtape in 2020 by making it available on streaming sites and creating limited-edition vinyl. Later that year, Wiz published "The Thrill," his early single featuring the iconic Empire Of The Sun sample, to digital service providers, obtaining the band's approval and crediting them as lead artists on the song.
You can hear the mixtape below.
Wiz Khalifa has announced a seven-city Good Trip tour with Joey BadA$$, Berner, Smoke DZA, and Chevy Woods. The tour, produced by the Smoker's Club, will include seven gigs in seven days, culminating on April 22 at the legendary Red Rocks Amphitheatre.
Tickets for the tour will go on sale on Friday, Feb. 17th at 10 a.m. local time. Pre-sales are now available by entering the code taylorgang at the checkout.
The tour comes at an exciting moment since it follows the publication of Spinning Gold, in which Wiz plays George Clinton. The film, which opens on March 31, is a biopic about Neil Bogart, the founder of Casablanca Records in the 1970s. Casablanca Records is the world's most successful independent record label.
You can see the dates of the tour below.
The Good Trip Tour Dates
Sat, Apr 15, 2023 – Wings Event Center- Kalamazoo, MI
Sun, Apr 16, 2023 – The Rave – Eagles Ballroom – Milwaukee, WI
Mon, Apr 17, 2023 – The Armory – Minneapolis, MN
Wed, Apr 19, 2023- Grossinger Motors Arena – Bloomington, IL
Thu, Apr 20, 2023 – Smokey River 420 Festival – River Bend, MO
Fri, Apr 21, 2023 – Pinnacle Bank Arena – Lincoln, NE
Sat, Apr 22, 2023 – Red Rocks Amphitheatre – Morrison, CO