Rock Hits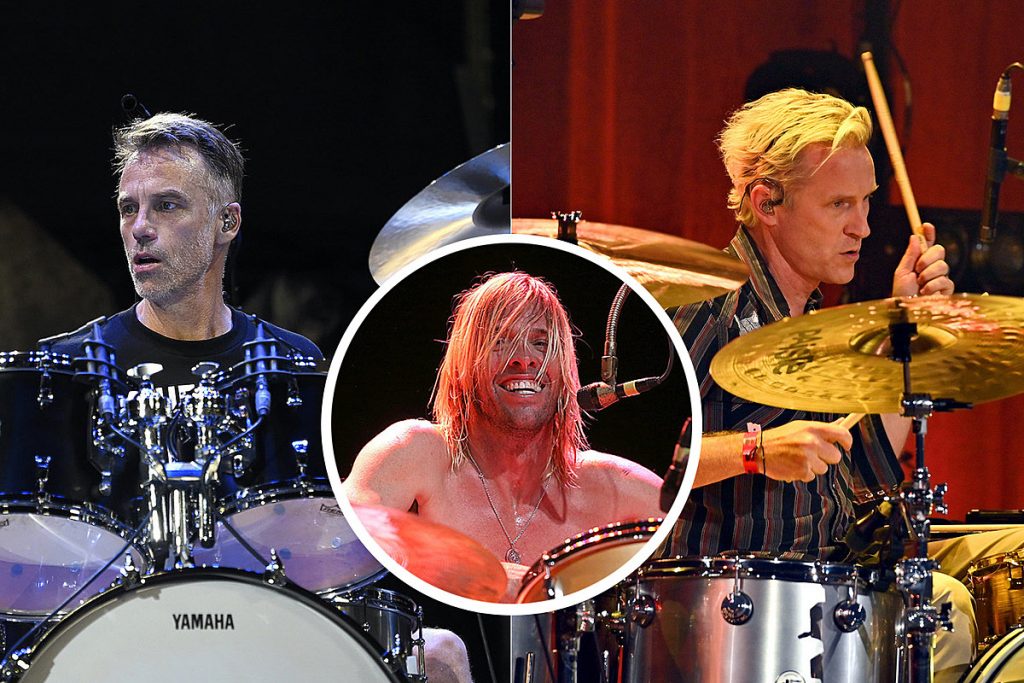 12 Drummers Who Could Fill in for Foo Fighters' Taylor Hawkins
Foo Fighters have 25 performances slated for 2023 so far, which will be their first tour since the death of Taylor Hawkins in March of 2022. While he can never be replaced, the band will need to recruit someone to fill in for him on drums, at least while they're on tour.
Dave Grohl handled all of the instrumentation on the very first Foo Fighters album back in 1995, and while he's played a song or two on the drums during tons of the band's shows throughout their career, we assume he's going to remain at the front of the stage with a guitar. Despite all of the shows they have coming up, we still don't know who will play the drums, so we rounded up some potential contenders that we think are more than capable of handling Hawkins' drum duties.
It would be easy to go through our list of The 66 Best Metal + Hard Rock Drummers of All Time and name some of those, and there are a few from that list that we think would fit in with Foos. But we went a bit deeper than that and looked for drummers who have connections to the band and its members, have similar playing styles and have played in bands that play a similar style of rock 'n' roll — mostly alternative rock and grunge.
It was speculated that Matt Cameron (Pearl Jam, Soundgarden) and Atom Willard (Angels & Airwaves, Against Me!) would join Foos on their upcoming tour, but Cameron denied the rumors that he joined the band. We're pretty much back to square one until they announce something, but they just shared a teaser clip earlier this week of what sounds to be like new music, so we may find out soon enough.
READ MORE: Foo Fighters' First Concerts Back Will Include Intimate 450-Capacity Club Show
If not, we'll know May 24 at the latest, because that's when their first 2023 concert is scheduled for in New Hampshire. Get tickets to their upcoming tour here, and scroll through the gallery below to see the 12 drummers that could fill in for Hawkins on Foo Fighters' upcoming tour, even if they don't become an official member of the band.
12 Drummers Who Could Fill in for Foo Fighters' Taylor Hawkins
These drummers could fill in for Foo Fighters' Taylor Hawkins.
10 Rock + Metal Bands Releasing Comeback Albums in 2023
The following rock and metal bands are all making 2023 their year to come back in a big way — with a new album after a long while. Are you excited for these 2023 rock and metal comebacks?