Rock Hits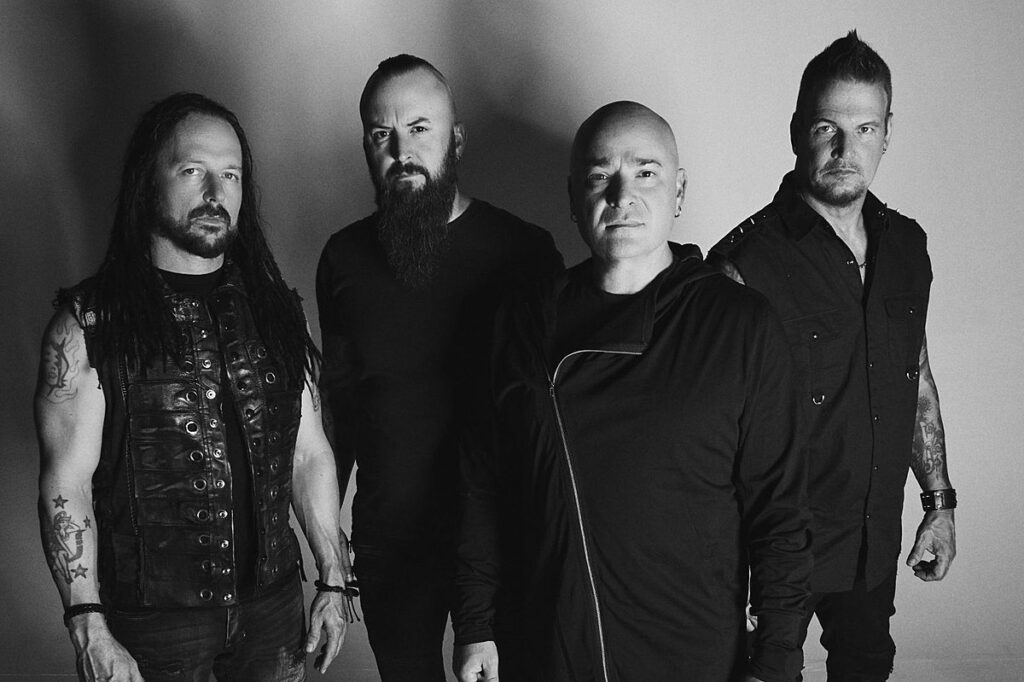 Disturbed's David Draiman Spreads Message of Unity
Disturbed's David Draiman believes unity is needed now more than ever in the rock and metal communities — a topic he has been very open about wherever he uses his voice, from social media to the stage.
"There are so many people trying to push a very, very different kind of message in front of their respective podiums and preaching to their respective choirs," Draiman told Chuck Armstrong on Loudwire Nights Thursday (Oct. 26). "It's a shame what we've become."
Draiman admitted that there have long been problems like what he described, but because of the experiences of the last few years, he thinks things have gotten worse.
"We got a hell of a lot crazier," he said about the pandemic. "Everything was already really bad — the divisiveness, the hyper-polarization, the hyper-partisanship. Nobody wants to have a dialogue anymore. Nobody wants to have a civil conversation anymore. They just want to meet and speak with other people that already think exactly the same damn way they already do. It's useless."
Bringing Unity to Disturbed's Concerts
The rhetoric and actions that Draiman sees push him to spread a different message to his fans — one of inclusiveness and unity. These topics are not foreign to Disturbed.
When Disturbed released "Unstoppable" in 2022, Draiman used it as an opportunity to say, "Music is the best cure for what ails us … There's no better environment to forget about all of this shit than live music. We can be together and realize we have more in common than not. Recognize what's happening and make a change for the better."
Draiman lives out that call himself, doing what he can to attempt to change things around him for the better. Recently at a Disturbed show, an unforgettable example of exactly this was captured on camera.
"All of us came here tonight because the world is hard," Draiman said to thousands of fans in the middle of a concert this year. "Life is hard and you come here to take your burdens and to set them down … Tonight, here on this night, we are one. We are united and it doesn't matter how the media wants to pull you from left to right, it doesn't matter how the people who are in positions of power want to continue pulling you from left to right … Tonight is an example of how we have shared humanity and how we come together as one."
You can see the full monologue below:
During the conversation on Loudwire Nights, Draiman reflected on that experience.
"All I saw was the little girl start to cry and I'm like, okay, I've got to do something … Our performances have become these sort of experiences not just for the fans, but for us. Every night there's a different story, there's a different event, there's a different twist that the show takes that involves someone from the audience, that involves one of the songs. A moment, a connection."
Why David Draiman Is Inspired by Foo Fighters
Beyond the life-changing and inspiring moments like that, Draiman is encouraged by how well the band and its live show clicked during their summer amphitheater tour — and he's excited to hit the road in 2024 for their upcoming arena tour.
"There are so many amazing, incredible bands on the face of this planet," he told Chuck. "Take the Foo Fighters for example. I mean, they completely blow me away live. They're one of the ones that I would definitely consider someone that inspires me, someone that inspires us in terms of what they deliver."
READ MORE: Maynard James Keenan Celebrates Next Step in Wine Journey
Draiman was humble as he considered his own band's live presence.
"I think we're getting there. We're not there yet, but we're getting there and this summer a whole bunch of those elements really came together in a very, very powerful way and I look forward to making it happen indoors next year."
What Else Did Disturbed's David Draiman Discuss on Loudwire Nights?
What fans can expect from Disturbed's 2024 tour: "We're trying to be a little baby Rammstein out there. I'll take pyro over lasers and the rest of that."
How Disturbed ended up working with Heart's Ann Wilson on the song "Don't Tell Me," marking the first time in their entire career they've ever invited a special guest onto a studio track
Why he likes what Jelly Roll and Hardy are doing right now: "I'd love to collaborate with either one of them. I think we need to do more of that cross-pollination, you know?"
Listen to the Full Interview in the Podcast Player Below
David Draiman joined Loudwire Nights on Thursday, Oct. 26; the show replays online here, and you can tune in live every weeknight at 7PM ET or on the Loudwire app; you can also see if the show is available on your local radio station and listen to interviews on-demand. Stream "Don't Tell Me" at this location and then check out Disturbed's full tour schedule.
10 Ways Not to Be an A–hole at Concerts
Because wtf is going on lately?
Gallery Credit: Lauryn Schaffner
11 Music Venues That Are Reportedly Haunted
Have you been to one of these venues?
Gallery Credit: Graham Hartmann