Rock Hits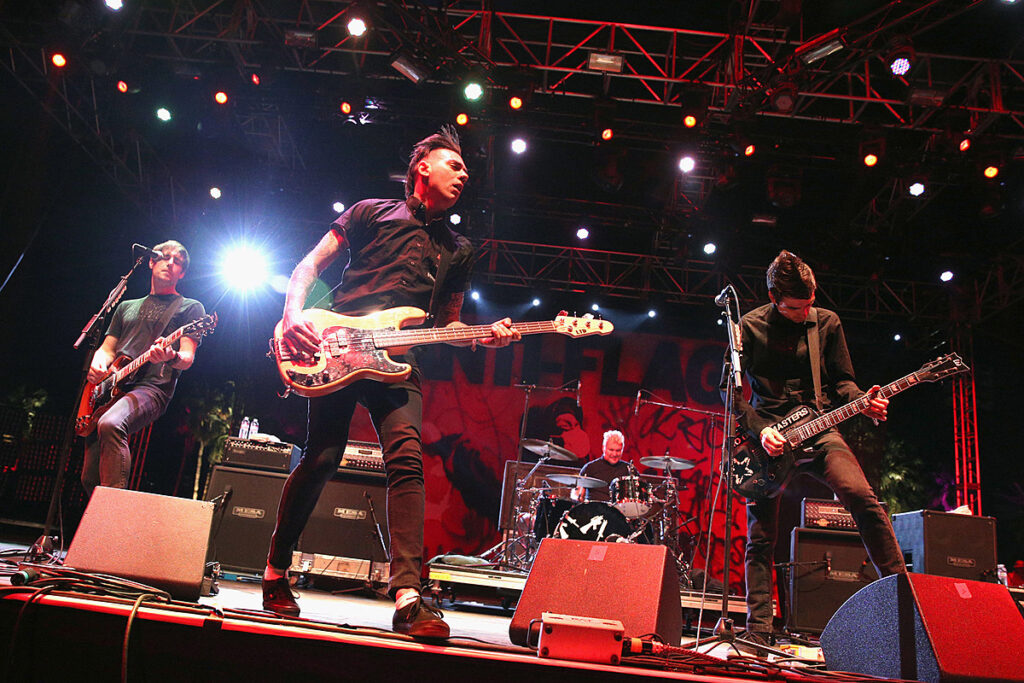 Ex-Anti-Flag Members Make Statement on Justin Sane Allegations
Earlier this week, Rolling Stone published an article detailing 13 women who have accused Anti-Flag singer Justin Sane of predatory behavior, sexual assault and statutory rape. Back in July, when the first allegation surfaced, the group announced their split and the members immediately deleted all of their social media accounts. Now, with the new report surfacing, the other members of Anti-Flag have issued their own statement addressing the allegations and calling out Sane for his alleged actions in the process.
Immediately after the first report surfaced, Sane issued a public denial. At the time (July 26), Sane posted on his Instagram page, "Recently, there have been claims of sexual assault made against me and I can tell you that these stories are categorically false. I have never engaged in a sexual relationship that was not consensual, nor have I ever been approached by a woman after a sexual encounter and been told I had in any way acted without her consent or violated her in any way."
He continued, "Sexual assault is real and has a devastating impact on victims. I have devoted my entire adult life to standing up for these victims as well as those suffering oppression and inequality, who are victimized, demeaned, and abused. I have always been, and will always be, that person. The statements being told about me are the antithesis of what I believe and how I have conducted myself throughout my life."
The singer added, "In regard to Anti-flag disbanding, as a band, the decision was made that under these circumstances it would be impossible to continue."
At the same time, the other members issued a statement commenting, "We have been shocked, confused, saddened and absolutely heartbroken from the moment we heard these allegations. While we believe this is extremely serious, in the last 30 years we have never seen Justin be violent or aggressive toward women. This experience has shaken us to our core."
READ MORE: 12 More Women Accuse Anti-Flag's Justin Sane of Sexual Assault
What Anti-Flag's Other Members Are Saying in Light of New Allegations Against Justin Sane?
In Rolling Stone's detailed expose from Tuesday (Sept. 5), the additional accusers' allegations purported predatory behavior, sexual assault and statutory rape at the hands of Justin Sane — including accusations of sexual relations with a 12-year-old when the singer was a teenager — that stretch back to the 1990s.
While Sane did not comment on the story publicly, the other members of the band now have. In a statement issued to Rolling Stone, band members Pat Thetic, Chris #2 Barker and Chris Head state that they believe the singer to be "very sick and in need of professional help," while adding, "We want to have compassion and have faith in restorative justice, but fuck you for hurting so many people, not just the ones who have bravely come forward, but anyone still carrying their pain internally." Their full statement can be read below:
In light of the recent article in Rolling Stone magazine, to Kristina, Jenn, Molly, Rebecca, Suzanne, Mat, Susie, Stefanie, Karina, Ella, Elizabeth, Hannah, and Tali, we would like to say thank you for your courage in sharing the pain you have experienced. And, to others who may yet come forward, while you don't owe anyone your story, please know that you are not alone and that we believe you.

To Justin, we believe you are very sick and in need of serious professional help. We want to have compassion and have faith in restorative justice, but fuck you for hurting so many people, not just the ones who have bravely come forward, but anyone still carrying their pain internally. Fuck you for exploiting the work of the band and the many people associated with it for so long. As many predators do, it appears you used our beliefs as a cover for egregious activities that you clearly knew we would never condone.

To everyone, we collectively and individually still have far more questions than answers in this moment. We have been learning of and processing all of this information in real-time. We trusted Justin greatly and are now learning that we were deceived, lied to, and kept in the dark for the entirety of our association. For Chris Barker, personally, Justin knew his history with trauma: his father has been convicted of sexual abuse of children and is currently incarcerated, his sister was a victim of abuse, and Chris himself was sexually abused by an older child in their neighborhood. We share this to demonstrate that Justin was acutely aware of the visceral reaction we would have to such destructive behavior. But also because sharing a stage for so long with someone you later learn is an accused predator has been incredibly painful to process and come to terms with. Two things can be true: a person can be kind and selfless in one space and a monster in another.

Around 10:30PM on July 18th, we were alerted that a podcast would be released the next morning detailing a sexual assault involving Justin. We forwarded a message to him that previewed the episode and contained a photo and name. Justin responded that he did not know this person. The next morning, when the three of us heard Kristina's story, it became apparent to us that he was lying. To be true to the values we embraced for decades, we quit the band immediately and without hesitation. The three of us removed the band's internet presence in an attempt to limit spaces for people to attack, antagonize, or harm Kristina as we tried to get a grasp on this shocking information.

As more details have been shared since the release of the podcast, we have been waiting for Justin to do the right thing. Given his lack of contrition in any meaningful way, it is very clear that he is absolutely not the person we were led to believe him to be.
We are unsure where our path will lead us. Right now, words feel hollow and no statement can alleviate the suffering that has been caused. We have a great deal to learn about ourselves – with much soul-searching and introspection ahead. There will have to be a lot of therapy and devotion of time and resources to places that are equipped to help with these kinds of traumas. The three of us are still in shock and grieving, but mostly our hearts are broken for every victim. We are deeply saddened by every one of your painful stories, and will forever be grateful for your courage in sharing them.

Love, healing, and justice to all survivors.

Pat, Chris, and Chris
Anti-Flag released 13 studio albums of the course of their career. Sane, along with Pat Thetic, had been founding members of the band that started back in 1988. Barker was the band's newest member have started with the group in 1999.
If you or someone you know has experienced sexual assault, help is available. Please visit RAINN (Rape, Abuse & Incest National Network) online or call 1-800-656-HOPE (800-656-4673).
10 Bands That Weren't the Same After a Band Member Left
Minus one, and it's something different.