Rock Hits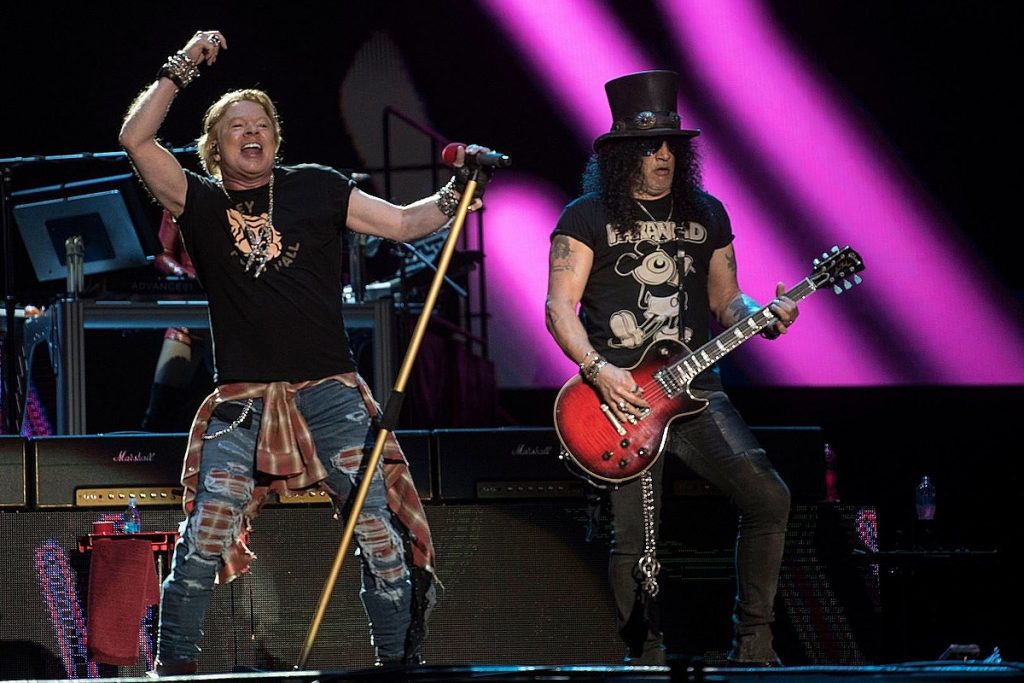 Guns N' Roses Play 3 Deep Cuts for First Time in Over 30 Years
Guns N' Roses' 2023 tour just kicked off in Abu Dhabi today (June 1), and fans' wishes have been honored as the rockers played deep cuts from Appetite for Destruction and the Use Your Illusion albums for the first time in over 30 years, and even one from The Spaghetti Incident?.
During the concert, which took place at the Etihad Arena, they opened the set with "It's So Easy" — but followed it up with "Bad Obsession" from Use Your Illusion I, which hasn't been played by the band since Feb. 6, 1993 (which would have been Axl Rose's 31st birthday), according to Setlist.fm. Later in the performance, they also tackled the kinky Use Your Illusion II number "Pretty Tied Up," which they haven't performed since April 6, 1992.
Both tracks were played a number of times during their shows in the early '90s, but it's the first time in over three decades that fans are getting to hear them live.
The surprises didn't end there, though — even later during the show, the band played their cover of U.K. Subs' "Down on the Farm," which appeared on their 1993 covers album The Spaghetti Incident?, but hadn't been played since Dec. 20, 2006. Afterward, they played "Anything Goes," a deep cut from Appetite, which hadn't been played since Aug. 1, 1988.
See clips of the performances below.
Ever since Guns N' Roses' Not in This Lifetime reunion tour kicked off in 2016, they've added a couple of additions to their setlist, including some covers, as well as other deep cuts from the Illusion albums ("Coma," "Dead Horse," "So Fine" and "Locomotive"), "You're Crazy" from Appetite for Destruction and "Reckless Life" and "Used to Love Her" from GN'R Lies. "Absurd" and "Hard Skool" are two new songs that the band dropped in 2021, so they've played those a couple of times, too.
READ MORE: Every Guns N' Roses Song Ranked Worst to Best
But aside from the aforementioned songs, their set remained mostly consistent through the years. Rhythm guitarist Richard Fortus said in an interview last month that he was hopeful they'd switch the set up a bit, and it looks like he was right. Hopefully they keep these new additions to the set throughout the rest of 2023.
Guns will tour throughout Europe over the summer, and then kick off a North American run in early August. Carrie Underwood, Dirty Honey, The Pretenders and The Warning are the acts who will join them on select dates. See the full itinerary and get tickets through this link.
All 23 Musicians Who've Been in Guns N' Roses
Hope you got some time to get through this one.