Rock Hits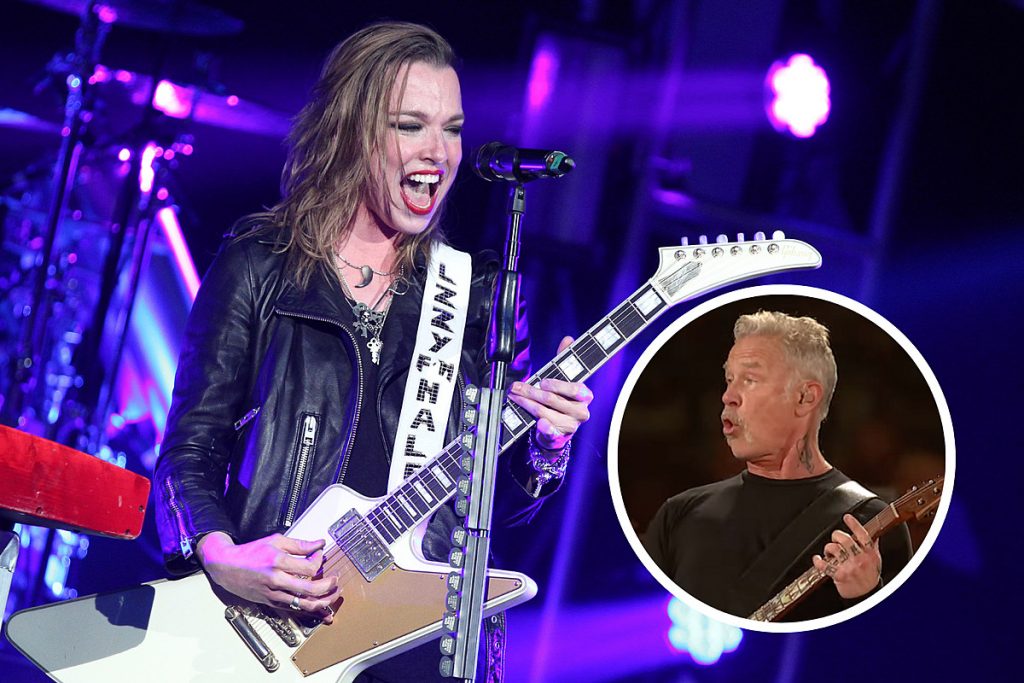 Halestorm's Lzzy Hale – 'I Like to Say 'Yes' to Adventure'
Halestorm's latest studio album, Back From the Dead, continues to find new life even a year after it was released.
The most recent new life? A reimagined version of "Terrible Things" with country superstar Ashley McBryde joining Lzzy Hale on vocals. While this may seem like an unlikely collaboration on the surface, it was something Hale knew would fit the song perfectly.
"Honestly, since we recorded the song—like, pretty much the entire year after it was released—we were talking about making it into some kind of duet," Hale explained to Chuck Armstrong on Tuesday night's Loudwire Nights (June 6). "It's a very powerful song, it's very adult for us. There's no dark and light, angel and devil stuff; it's just about this world we live in and we wanted to bring someone else into the fold to up the importance of the song."
As Hale told Chuck, "In true Halestorm style, instead of trying to stay in our lane, stay in our circle of friends, we wanted to see if we could blur the lines a little bit. We kind of cold-called Ashley just to see what she would say. She said 'Fuck yes' right away and it was like, 'Okay, we're doing this.'"
It wasn't more than a couple of days before McBryde went into the studio and recorded her parts.
"It came out so beautifully," Hale told Chuck. "She's a pistol, man. I love her so much. She's a rock star … Whether you're a rap star or country star or pop star, they all want to be rock stars."
Hale first met McBryde when they shot the music video for the new version of "Terrible Things." One of the best memories Hale has of that experience was when McBryde asked her, "Who would you fight in the back of a Chili's parking lot?"
"She had a list of names. I said myself, because at the time, I think I would fight myself in the back [of a Chili's parking lot]. She was like, 'I'd watch that. I'd videotape that.'"
Lzzy Hale's Mission Statement Is Simple: Say 'Yes' to Adventure
Hale is no stranger to collaborating with other artists. This year alone, she's been part of some significant releases, like Daughtry's cover of Journey's "Separate Ways (Worlds Apart)" and Avatar's "Violence No Matter What" from their latest album, Dance Devil Dance.
For Hale, working with other artists is something she truly enjoys—and something she will always do.
"I think I can probably narrow down my entire mission statement since I was 13 when we started this band: I like to say 'yes' to adventure," she told Chuck. "If it's strange or even if it's just something that I think I would really enjoy, something that moves me, I say yes to it. I dive in head first in the shark tank and figure it out as I go along."
Working with artists like McBryde, Daughtry and Avatar has led to unforgettable experiences for Hale, but she admitted on Loudwire Nights that there are a few people out there that she would still love to collaborate with.
"The childhood dream," she said. "I still haven't sung with Ann Wilson so I'll throw that out there. Obviously, there's Dave Grohl. I'd love to do something with Metallica. Also with new people. Sleep Token—his voice is just amazing and so diverse and so I'd definitely say yes to that challenge."
As fans wonder what these dream collaborations would sound like, Hale did leave Chuck with a pretty big tease.
"There are still a few collaborations that I'm not allowed to talk about yet. A lot of interesting ones. I'm excited about that."
How Halestorm Ended Up Covering Metallica's "Ride the Lightning"
Besides collaborations, Hale and her band have also been known to dip their toes in the world of cover songs, too. Since 2011, they've released three covers EP in their ongoing Reanimate series, and as Hale explained, there aren't many songs out there that Halestorm wouldn't consider covering.
"That's the problem," she said, laughing. "I'd love to do a Jason Isbell song, because his songs make me cry. I would challenge myself to do a Brandi Carlile track but she's kind of like God vocally, so I'd have to strap my big girl pants on and try. There isn't much we wouldn't touch."
Proof that Halestorm will consider anything is the fact that they tackled Metallica's "Ride the Lightning" on Reanimate 3.0: The Covers EP. They weren't even considering it until they were almost done with the EP.
"It was the last day in the studio," she recalled. "Instead of doing Metallica, we were going to do that Percy Sledge song," at which point Hale broke into her best "When a man loves a woman."
READ MORE: Avatar's Johannes Eckerström Calls Lzzy Hale 'One of the Greatest Voices of Our Time'
"I'm like, eh, we tried it and it wasn't clicking. What else was on our list? 'Ride the Lightning'! Yeah, we have a day in the studio, that'll be fine. Oh gosh, we bit off more than we could chew with that one—we were there all night trying to make that happen."
What Else Did Lzzy Hale Discuss on Loudwire Nights?
Hale reacts to seeing her lyrics tattooed on fans
What's next for Halestorm? "New songs are coming"
What it's like playing in front of 80,000 people at a festival
Listen to the Full Interview in the Podcast Player Below
Lzzy Hale joined Loudwire Nights on Tuesday, June 6; the show replays online here, and you can tune in live every weeknight at 7PM ET or on the Loudwire app; you can also see if the show is available on your local radio station and listen to interviews on-demand. Stream Halestorm's new version of "Terrible Things" at this location.
Top 50 Hard Rock + Metal Frontwomen of All Time
Check out Loudwire's picks for the greatest frontwomen in rock and metal.
Top 5 Albums of Lzzy Hale of Halestorm
Her deserted island must-haves.