Rock Hits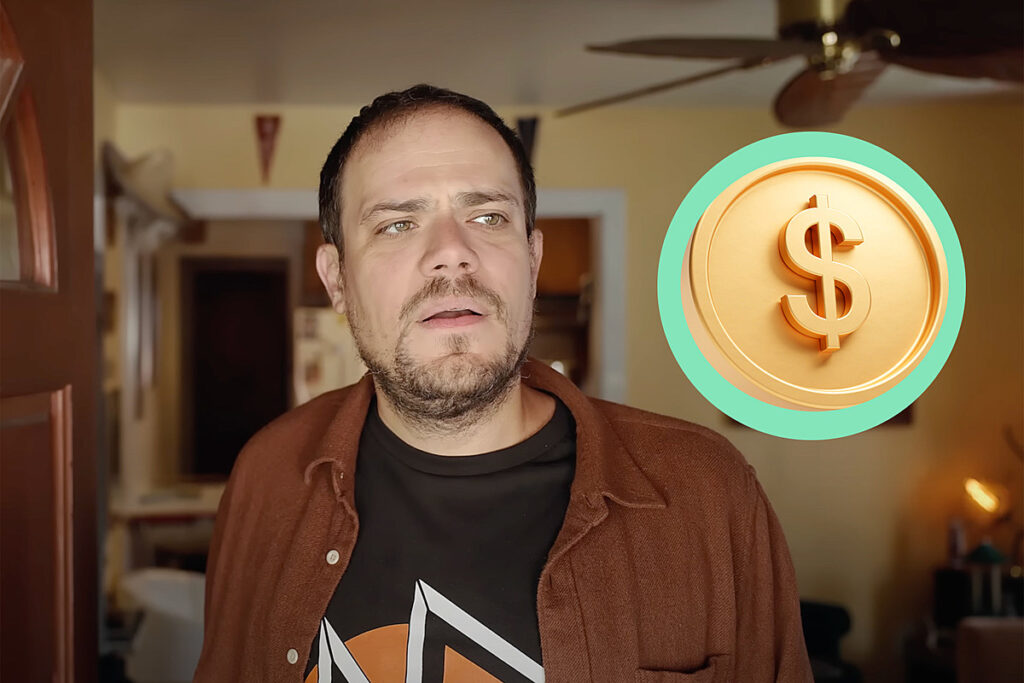 Jeff Rosenstock Breaks Down Why Venue Merch Cuts Suck
It's no secret that the costs associated with concerts and the business surrounding them continue to rise. And one of the more debated topics since acts returned to touring after the pandemic is the infringement of venues in taking a cut of merch sales from bands. Musician Jeff Rosenstock stirred the discussion once again, aptly on Labor Day, offering personal insight on how merch cuts are reflected in his upcoming touring.
In his post (shared below), Rosenstock provides a breakdown by market on the merch cuts being taken by venues on his forthcoming run, noting, "This is going to cause us to sell our merch for higher prices than we'd like to at certain venues. We think that sucks."
Anticipating the response from the other side, Rosenstock says, "The argument for the cut is 'well, fucko, we give you a place to sell your merchandise.' By that logic, we should also be getting a cut of the bar for bringing hundreds to thousands of people and their cash to the venue that night. **For the record, we're 100% down to give a merch cut any night we get a cut of the bar.** But the thing that makes the most sense is that we don't take each other's money!"
He continues, "We like each other and we're working together and helping each other! It makes no sense that at the end of these killer shows where we're all having a nice time, someone who was our friend all night low key robs us and goes 'have a safe trip to the next gig buddies!!' That's fucking weird!!!"
The musician adds, "So much of the time all that money goes to big corporations like AEG & LiveNation. Seems like the fuckin' rule now, if you work in a creative field you're supposed to feel lucky and happy enough to be there to get raked over the coals by millionaires and billionaires who will give you as small as slice of the pie as they can to perpetually show growth in profits. It's never these people left holding the bag. It's either a musician — a field in which if you make a poverty wage that's considered *making it* — or fans who take on the burden. Even if you are older now I think many of us know what it feels like to think "well, that show costs $30, so I can't afford to go.' It's fucked up that someone to whomst $1,000 is nothin' is taking that money from you for real."
READ MORE: Why Do Venues Take Merch Cuts From Bands?
Rosenstock concluded, "I'd love to say 'and as a result of all that, we'll no longer be playing venues that take merch cuts.' But unfortunately, during the pandemic AEG & LiveNation bought so many of the types of venues that we play, that dodging these super high cuts is nearly impossible. But we'll never stop trying to keep the prices low for everyone out there, and we're gonna do whatever we can do to avoid it in the future. We as a band and crew just wanted to let you know what's up. Lub ya see ya soon."
The post garnered quite a bit of discussion. Producer Steve Albini chimed in, "Not often admitted, but merch cuts are 100% negotiable, to the extent that my bands over 40+ years have never, not once, ever paid them. When agents make deals, they don't care about ticket surcharges, merch cut or other leaks; they don't affect their cut. The band has to insist." But his argument was countered by Eve 6, who stated, "Maybe this is true at like the cool indie clubs or whatever but post COVID most venues over 200 cap were bought by livenation or AEG. No merch cut no play and they have a monopoly."
Car Seat Headrest also addressed merch in particular, commenting, "This! + if you're using high quality blanks (USA made / ethical) your profit margins are even smaller! You can do gildan blanks for like $8, but a decently made garment is usually $16+."
Helado Negro added, "I'm supportive of this. been wanting this to change for a long time. this shit is absurd. this practice makes no sense, would love to see it gone now."
Caracara added, "More people need to know that venues / promoters do this. it's as insane as it sounds and it's prevalent at almost all levels. important thread tune in happy labor day." Ohio rockers Equipment commented, "i promise that any time you think an artist is overcharging for merch, a lot of the time we are not making as much as you might think! many online marketplaces and music venues bite a huge chunk out of every purchase. still unfortunately the best/only real way to support us."
Meanwhile, Red Scare Industries' Tobias Jeg shared on X (formerly Twitter) a recent incident between himself and reps from AEG over how merch was handled for a recent show. In the shared email, the AEG representative called out Jeg over a merch cut issue.
"Ah yes, it's time for the monthly debate of 'Well golly, I can't believe my slick corporate booking agent (that we hired) works hand-in-glove with corporate promoters.' My fellow merch people: tell them to GET FUCKED. See below (sharing the email). They'll call security, but it's us versus them."
He added, "They're lying in this email. (They do that.) Their guy was being a total pecker, but I was hardly aggressive. But we can go there if need be. On this night they even called the cops, but sadly I was already gone. Settle the show before you settle merch, then ghost these fools. And I didn't refuse to let them count merch. The rep insisted *I* count it while watching over me as though I was his servant. I'm like, 'Naw dawg, Imma hit the bar…' These bozos want us to HELP them with their shakedown, haha. Again, tell them to GET FUCKED. Us versus them."
Other Acts Previously Have Weighed In on the Merch Cut Discussion
Rosenstock's posting is just the latest in artists shining a light on the growing issues with venue merch cuts. A number of other acts have addressed this prior as well.
Last December, Bad Omens went about addressing venue merch cuts in a roundabout way, A fan posted a photo of a venue's cocktail menu with drinks named after Bad Omens songs. It noted that the drinks cost $18 with alcohol, or $8 without it.
The band responded to the post, noting, "That's dope, artists still don't get a cut from bar sales tho even if the venue gives cocktails cute little names after your songs, but still take 15-20% of touring artists' gross merch sales every night," Bad Omens replied in a post quoting the fan's tweet. "'Nowhere To Go' punch does sound delicious though, tip your bartenders."
"Just to be clear — we don't want a cut of your bar sales. We just don't want to give you 20% of the merchandise we design, pay for, manage, set up, carry and sell ourselves because you gave us 24 square feet of floor space in your venue we sold out," the band wrote in a subsequent tweet.
Back in February, Architects raised concern over venue merch cuts. Drummer Dan Searle posed the idea on Twitter, suggesting, "Hey @bands when are we gonna go on strike and get rid of these insane venue merch cuts? Or maybe we don't play until we get a cut of the bar? Can we just get this done asap please?"
When another fan asked, "How much does a band actually see from merch? I was at a gig the other week and spent £60 on two vinyl, how much of that would the band get?," the drummer responded, "I believe CDs and Vinyl are often a smaller cut but we tend to sell those items as cheaply as possible. On clothes arenas often charge 25% of gross + VAT + card fee + 'business rates'. They walk with £10,000-£100,000 and we pay for printing, shipping, designs etc. small margins."
In March, Monuments refused to sell merch at one show in protest of the venue taking a huge cut of their merch sales.
On Instagram, Monuments released a statement explaining their decision to not sell any merch in Athens, citing the exact percentages the venue would take from them — 18 percent gross concession plus an additional 24 percent value-added tax (VAT).
Disheartened that the fans would in turn have to pay a higher amount for merchandise in order for the band to not lose money altogether, Monuments encouraged anyone who wants to pick something up to go online instead and pursue goods "for a much fairer price."
We will not be selling merch at our show at Gagarin in Athens, Greece today due to a 18% Gross Concession and 24% VAT.

We maintain a high quality standard for our merch and want to give that merch to you at fair prices – which we simply cannot do with venue merch cuts. It shouldn't be on our fans to pick up the bill for venue cuts but also makes zero sense for us to lose money.

If you would like to continue supporting what we do then please head over to our website and grab some merch or tabs for a much fairer price.

We thank you for your understanding

M
In May of this year, In Flames frontman Anders Friden also issued a call for solidarity amongst bands in a fight against venue merch cuts. "I think in the beginning it was a way for clubs to say, 'Okay, if we have shows and not enough people are coming, we have to take some money out of the merch because people are not drinking enough so we're not getting money from the bar.' But we know that is not true, because people are still drinking a lot when they come to the shows," the vocalist explains in a recent interview with The Metal Circus (transcription via Blabbermouth), "So it's just a thing that just stuck there. And for bands that are relying on the merch sales, it's really, really tough."
Fridén says years ago he tried to start this conversation about the perceived unfairness of venues taking a significant portion of merch sales (20 percent or more in a lot of cases), "but not enough bands were saying 'we agree' or were acknowledging the fact that it was a huge problem. And then it kind of disappeared."
"Everyone has to react; it can't be just a few bands that say something," he urges. "I don't know what to do against it," he admits, continuing," It's a huge cost. I mean, we sell a fair amount of merch, and the money that goes to someone else, even though we sell it ourselves sometimes, it's crazy. It's insane. But it's way tougher for smaller bands that live from solely the merch; they have to get the merch money to pay gas to get to the next venue or to pay so they can maybe sleep in a motel or get some food or whatever. And then someone comes and just takes 20 percent out of their pocket for nothing. It's horrendous."
These are just a few examples, with others acts sharing their thoughts on venue merch cuts as well. As for Rosenstock, he'll kick off his new tour on Sept. 6 in Washington, D.C. Dates and ticketing info can be found via his Bandcamp page.
50 Best Hard Rock + Metal Live Acts
Center stage for a reason.