Rock Hits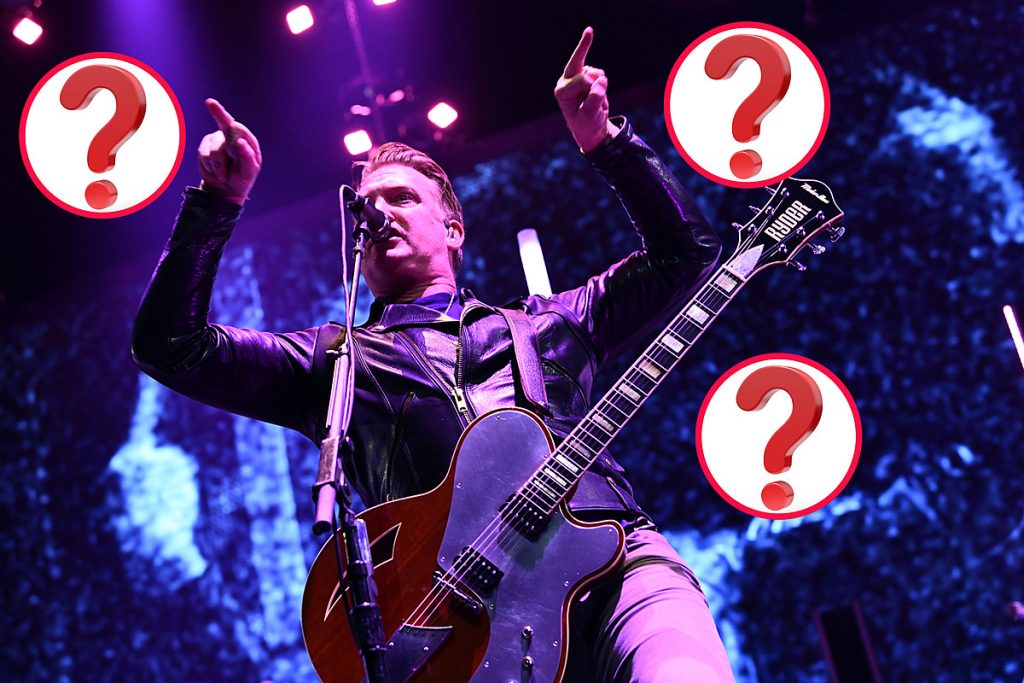 Josh Homme Shares His 'Go-To' Most Watched Films
With streaming and cable, there are seemingly an endless amount of movies of all kinds on at all times of the day, and during a recent appearance on the Tuna on Toast With Stryker podcast (as heard below), Queens of the Stone Age frontman Josh Homme revealed some of his most watched films.
After Stryker named off a list of films he'd watched double digit times and asked Homme to name his "go-to" films, the Queens frontman may have surprised the listeners by naming off a 2016 comedy-mystery that paired Ryan Gosling and Russell Crowe on the big screen.
"I love a movie called The Nice Guys," revealed Homme. "Whenever I'm feeling down, I watch this movie The Nice Guys with Ryan Gosling and … Russell Crowe. It's just so funny and it's very much Abbott and Costello somehow the way that movie is and the way people speak to each other. The dialogue makes me happy."
The Nice Guys Trailer
Showing a broader range, he took things back to 2002 for the darker Martin Scorsese-directed Oscar nominated film Gangs of New York, which starred Daniel Day Lewis and Leonardo DiCaprio.
"I love Gangs of New York," exclaimed Homme. "There's something about Gangs of New York that is just very upsettingly sexy."
Gangs of New York Trailer
READ MORE: Josh Homme Thinks It's 'C–ty' When Bands Don't Play Their Hits
What else made the cut? Given the first two choices, you might be surprised by Homme's next declaration, revealing, "Frankly, I like a good romantic comedy because it seems so distant from my own life. I kind of don't care [which one], I don't care. I just like to watch the fantasy of what love is and it always ends with they live happily ever after, when traditionally in real life, things get dicey. It's almost like Cinderella is a romantic comedy too. I'm okay with a little fantasy like that."
But after sharing his wide ranging tastes, the singer offered up the film that might possibly be his most viewed film of all. "You know what else I like is the movie Heavy Metal. It's just sheer fantasy and is a movie that really wouldn't be made now. It'd be difficult to make cause it's just a piece of art. But I've watched it maybe 100 times."
When Stryker revealed he hadn't seen the movie, Homme tried to sell him on it, explaining, "It's really this loose story to try to cobble together these episodes and the story that they've tried to cobble and sew together with no consequence whatsoever is just great on the eye. It's extreme and it's fantasy and the things it's doing are just cool. It's like a stoner movie."
Heavy Metal Trailer
Homme may have some time to catch up on his movie watching next month traveling between shows. Queens of the Stone Age pick up touring in support of the In Times New Roman album on Sept. 9 in Sao Paulo, Brazil before returning stateside to kick off a North American tour leg the following week. See stops and get ticketing info here. Check out more of the chat on the Tuna on Toast With Stryker podcast below.
Queens of the Stone Age's Josh Homme on the Tuna on Toast With Stryker Podcast
2023's Best Rock + Metal Songs (So Far)
These are our favorite tracks of 2023 (so far).