Rock Hits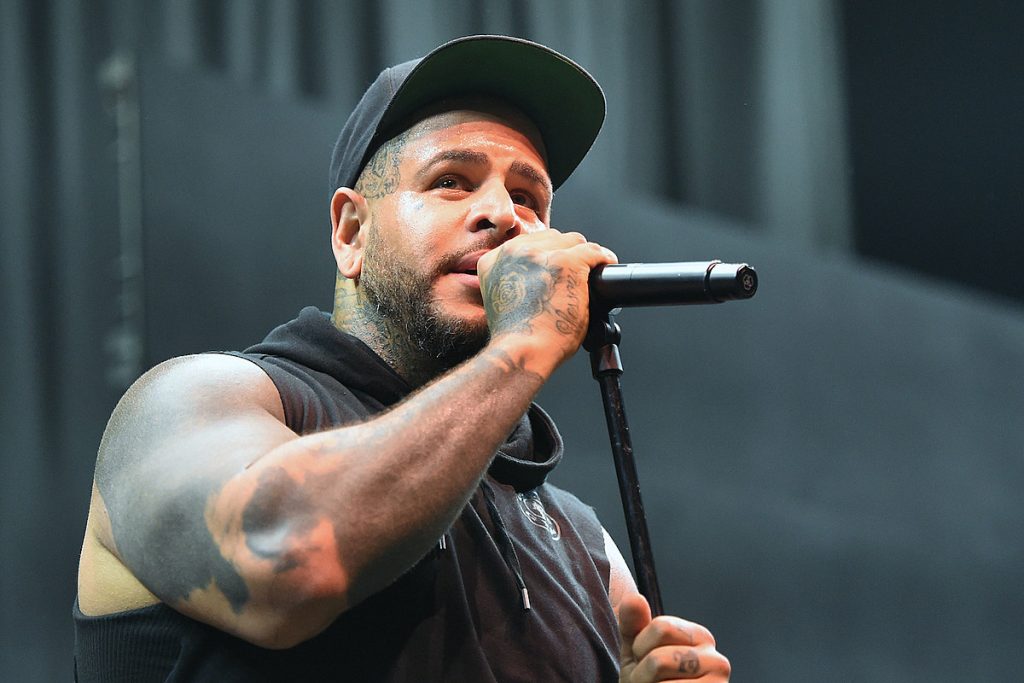 Judge Orders Tommy Vext to Pay Ex's Legal Fees After Appeal
UPDATE (March 9, 2023): A California appeals judge has ruled against Thomas Cummings, better known as rock and metal singer Tommy Vext, who had sought to avoid payment of his ex-girlfriend Whitney Johns' legal fees stemming from a 2021 order from a Los Angeles Superior Court judge in relation to a domestic violence case in which Johns was granted a two-year restraining order in late 2020.
Vext is now liable for paying $97,500 of Johns' legal fees after the appeal being tied up since June of 2021, which was when the court first demanded the singer be held accountable for Johns' legal fees.
The news was confirmed in a press release provided to Loudwire by Johns' legal representation, Povinziano & Associates. It also states, "Under California law, a person who gets a domestic violence restraining order from a court is entitled to receive lawyer's fees, except in cases where it is found to be frivolous or brought with an improper motive."
"California law is clear that judges have the ability to order reasonable lawyers' fees, so we are glad to see that affirmed in this case," says lawyer Alphonse Provinziano, "This is an especially important ruling for small firms like ours."
He continues, "The law allows people who receive domestic violence restraining orders to get their legal fees paid as a way of encouraging lawyers to take these kinds of cases. Attempts to delay or stop the payment of reasonable legal fees don't just hurt law firms, they also undermine the intention of the law, which is that anyone who needs help should be able to get it."
UPDATE (April 8, 2021): Another former girlfriend of Tommy Vext, Nicole Arbour, has posted a statement online confirming that she believes the allegations made against him by Whitney Johns. Read more below.
A five-day virtual trial concerning domestic violence accusations against Bad Wolves frontman Tommy Vext has come to a conclusion. According to MetalSucks, the Superior Court of California, County of Los Angeles has granted personal trainer Whitney Johns a two-year domestic violence restraining order against the musician.
Johns had previously filed for and was granted a temporary restraining order in April that had been extended several times due to delays caused by the pandemic and requests by Vext's lawyer.
In a statement to MetalSucks, Johns' lawyer, Alphonse F. Provinziano, alleged that Bruce Moss, an attorney for Vext made arguments in court on behalf of his client that "sent us not back decades but centuries in their inappropriate and unacceptable attitudes towards victims of domestic abuse."
The allegations against Vext hit the wires on Dec. 8, with court documents detailing four alleged incidents of physical violence cited by Johns both during and after their relationship. The documents also cited alleged threats to Johns by Vext concerning not only her person but her business.
Shortly after the allegations went public, Vext answered a few fans on social media calling the allegations "Fake AF news" that was "not even worth addressing." He also issued a statement that read, "The allegations made against me by my former girlfriend are not true. Given the ongoing civil dispute between us, I am not at liberty to say any more at this time. I look forward to resolving this matter in court."
The Bad Wolves vocalist later spoke on the Tin Foil Hat Show, claiming that Johns was attempting to extort him. "I mean, the things that I'm accused of is like, you know, it's like attempted murder shit, like beating and strangulation," Vext explained. "Things that like you know I'm 260. I'm 6'1. Like, if you're a guy and I and I did this to you, you'd die."
The singer also categorized the case against him, and the surrounding media coverage, and example of cancel culture. "Like many of my friends who are who are professionals and public figures [and] wealthy, I'm currently engaged in an attempted #metoo campaign. And I've been going through an extortion attempt for 10 months. I dated a girl. I didn't know a lot of things about her. She had a history of doing certain things."
MetalSucks also reached out to Vext's attorney, Bruce Moss, who declined comment on the article about the recently completed hearing.
On April 7, another former girlfriend of Vext, Nicole Arbour, posted a statement on Twitter confirming that she believes the allegations made against him by Johns. According to the PRP, Arbour had been dating Vext as the court proceedings were occurring, and she defended him on social media various times.
However, she appears to have changed her mind.
"I believe Whitney Johns, and I'm very embarrassed I introduced him to my fans, defended him, or spoke poorly of his victims before having all details," she wrote. "To any other women who suffered abuse from him, I believe you, I'm with you, and I'm so sorry."
Additionally, she shared a screenshot of her Tweet and posted it on Instagram with a written statement.
I've taken the time to educate myself on domestic abuse, and can't in good conscience only post my wins as a person and not my failures.

I feel like I failed to protect other women once I learned details about this to preserve my own embarrassment at not seeing it earlier myself.

Turns out until very recently, I didn't know how to recognize the signs, and have let a few bad guys slide through the cracks under the umbrella of "forgiveness," them healing mental health or emotional issues, not wanting to get involved, and being a "good person."

But with a platform comes responsibly, and it's my responsibility to protect other people the way I wish people had protected me in situations.

This is an uncomfortable post, and I'm sure there will be other uncomfortable posts in the future, but it needed to be made.

If you are suffering abuse, stalking, or harassment, you are not alone, I believe you and you can get help by calling: 1-800-799-7233
Vext posted a 45-minute video in response to Arbour's statements on his Instagram denying the accusations against him. "When I got sober 12 years ago I was told to always tell the truth, because it's the easiest thing to remember. Good Luck Nicole," he wrote as the caption.
See all of the posts below.