Rock Hits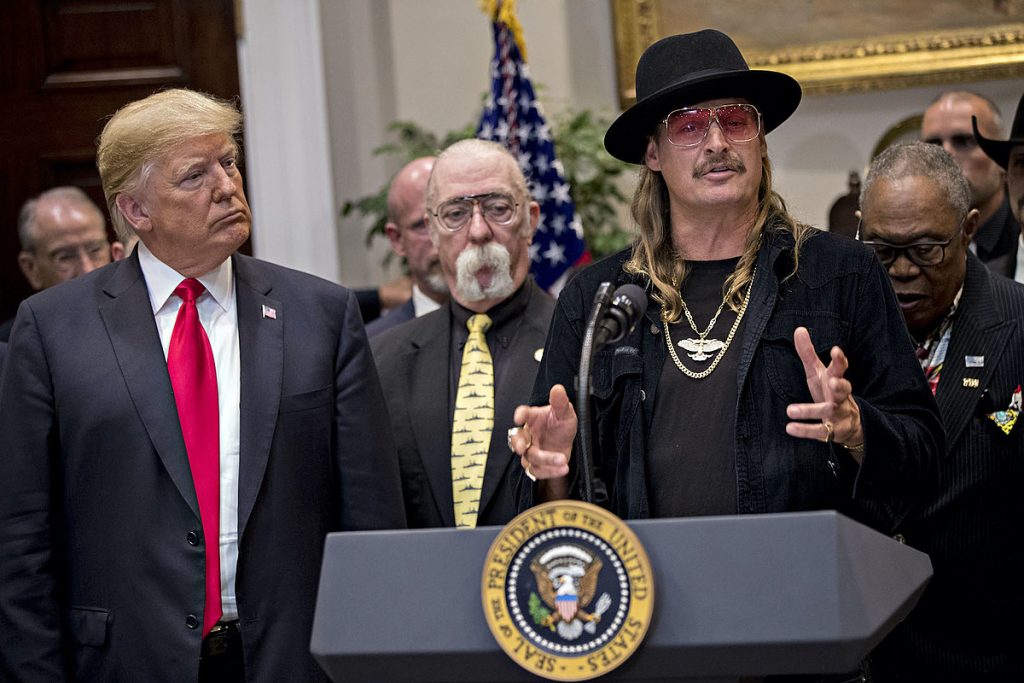 Kid Rock Twitter Trending Over Claims of Viewing Maps With Trump
On Friday, the 44-page indictment filed by the U.S. District Court for the Southern District of Florida against former President Donald Trump were made public. Included with 37 felony counts related to his handling of sensitive government records after leaving the White House, as well as accusations that he "endeavored to obstruct the FBI and grand jury investigations and conceal retention of classified documents." In the wake of the federal indictment, Twitter users have been quick to revisit a Kid Rock 2022 interview with Tucker Carlson in which the musician revealed that Trump had shown him maps and asked his advice on foreign policy during one of his White House visits.
In the video that came from a Kid Rock sit down chat with the then Fox News host Tucker Carlson in 2022, the musician laughingly shared, "We're looking at maps and [bleep], and I'm like, 'Am I supposed to be in on this [bleep]?'"
"I make dirty records sometimes," Rock continued as he and Carlson had a laugh. "'What do you think we should do about North Korea?'" To which the singer then offered a spit take before commenting, "What?! I don't think I'm qualified to answer this."
In light of Trump's current legal woes related to the handling of classified documents, Twitter fans have been sharing the Kid Rock video via the social media platform as a springboard for commentary on the indictment.
"Remember this, now it becomes part of the prosecution evidence. Tucker Carlson and Kid Rock having a big yuck about Donald Trump showing Kid Rock secret documents. And acting like it's such a joke," noted one Twitter user. While another noted, "ummmm, speaking of showing maps to people who didn't have security clearance. Even KID ROCK knew it was wrong "
Others jumped in to defend the action, with one Twitter user commenting, "Trump showing Kid Rock a map long ago isn't a security violation unless it was specifically marked as being classified! Kid Rock didn't say it was," and another stating that Kid Rock's viewing of maps with Trump didn't violate the Espionage Act.
READ MORE: Kid Rock Struggles With DJ Equipment at Donald Trump Jr.'s Christmas Party
In total, the indictment against Trump includes 31 counts of willful retention of classified documents, one count of conspiracy to obstruct justice, one count of withholding a document or record, one count of corruptly concealing a document or record, one count of concealing a document in a federal investigation, one count of scheme to conceal and one count of making false statements and representations. Trump is scheduled to appear in court this coming Tuesday (June 13) for his arraignment.
Top 50 Nu-Metal Albums of All-Time