Rock Hits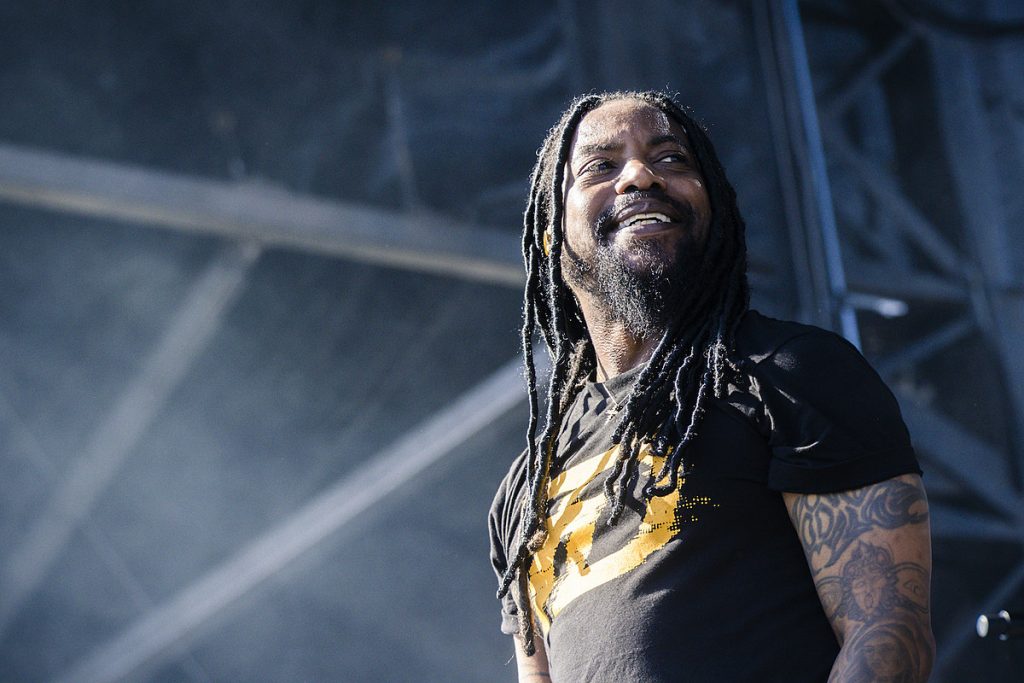 Lajon Witherspoon Discusses Sevendust's New Album + Longevity
On July 28, Sevendust will celebrate the release of their 14th studio album, Truth Killer. To help fans get ready for the heavy addition to the band's already prolific body of work, frontman Lajon Witherspoon joined Chuck Armstrong for Loudwire Nights on Thursday night (June 15).
"I just started listening to it again, single by single, to make it fresh," Witherspoon told Chuck about how he had distanced himself from Truth Killer since they finished recording. "It's so exciting … It's amazing to have this new album. The people seem to be excited about it. It's an exciting time for the band. I feel like we put the energy of that pandemic and time away from everyone and not having that type of normalcy we're so used to—I think that angst and all the energy was put into Truth Killer."
As anyone who has seen Sevendust live before knows, all of that angst and energy comes out onstage, too. Sevendust released Blood & Stone in October 2020, and because of that, they weren't able to tour behind it, a major change for Witherspoon and the band.
"We were so used to being in front of people—music is a healer."
Fortunately now, though, Witherspoon and Sevendust are ready to bring Truth Killer into the live setting. "It feels great to be back out there on that stage," Witherspoon said.
"We always say Sevendust is a sport. We've gotten a lot older now, but we still get out there and we jam. That's where you leave it … All of us are the same, we all have the same problems."
Hitting the Road With Alter Bridge, Mammoth WVH, Static-X + Dope
As of right now, Sevendust have two major tours set for this year. Not long after they wrapped up a run of dates with Alter Bridge in May, they announced they'd be joining them on the road again along with Mammoth WVH in August. And most recently, Sevendust announced the Machine Killer tour with Static-X and Dope.
"Static-X is going to be great and I can't wait to do it and to be out there with Dope," Witherspoon said on Loudwire Nights. "My friend Edsel, we've been friends for a million years. It's going to be really cool to go from the Alter Bridge and Mammoth tour—I've wanted to tour with Wolfie forever—it's going to be fun to get out there. This is going to be a big family reunion type of run, these next two tours."
As Witherspoon thought about Sevendust's new album and these major tours that are coming this year, his gratitude and appreciation for all of it were clear throughout the conversation.
"It's pretty amazing to be able to continue as brothers in this band, it's crazy that we still get together and write like those kids that did it 20-something years ago," he said. "That's the most real part of Sevendust, that youthful feeling once we get those instruments on and we're together."
As he thought back on what it was like in the early days of Sevendust, Witherspoon started laughing to himself about the first time they left Atlanta to tour.
"I remember leaving in a van from Atlanta and not coming back for a year," he recalled. "We got after it. We toured and toured and toured, came through New York—we grew up playing New York and the New Jersey area. I remember the first time we got an RV, we were so excited that we all slept in that damn RV instead of the hotel rooms. And then we got our first tour bus, it was the Blue Diamond, it used to be Janet Jackson's bus. We really thought we made it then. And no, we hadn't made anything. What a fun time to remember those days, growing up with this band and having the opportunity to be in different settings and have different albums and go through different trials and tribulations as a band. I feel like we wouldn't be able to be this band and that tight if we didn't go through these things together."
READ MORE: Chris Daughtry Opens Up About What It's Like Collaborating With Lajon Witherspoon
Reflecting on those memories, Witherspoon admitted that even though the guys in the band might be older, their goals haven't changed.
"We still like to jam," he said. "We don't want to be rock stars, we just want to be respected and do well in the industry. I still can't believe that we're still kicking and people want to see and hear the band. That's an incredible thing, man. I love music and I love being in Sevendust and doing what we do. I hope we can do it for a long time."
What Else Did Sevendust's Lajon Witherspoon Discuss on Loudwire Nights?
What it's like being a family man and touring the world
Signing with TVT Records when Witherspoon was just 20 years old
The power of music and how it gathers people together
Listen to the Full Interview in the Podcast Player Below
Lajon Witherspoon joined Loudwire Nights on Thursday, June 15; the show replays online here, and you can tune in live every weeknight at 7PM ET or on the Loudwire app; you can also see if the show is available on your local radio station and listen to interviews on-demand. You can get details on Sevendust's new album, Truth Killer, at this location.
29 Most Prolific Rock + Metal Artists of the 21st Century (10 or More Albums)
The History of Smashing Guitars in Rock 'n' Roll
Who was the first person to smash a guitar onstage? And how did it become a trend for musicians since then? Loudwire dug deep to uncover what we know about the history of destroying instruments in rock.