Rock Hits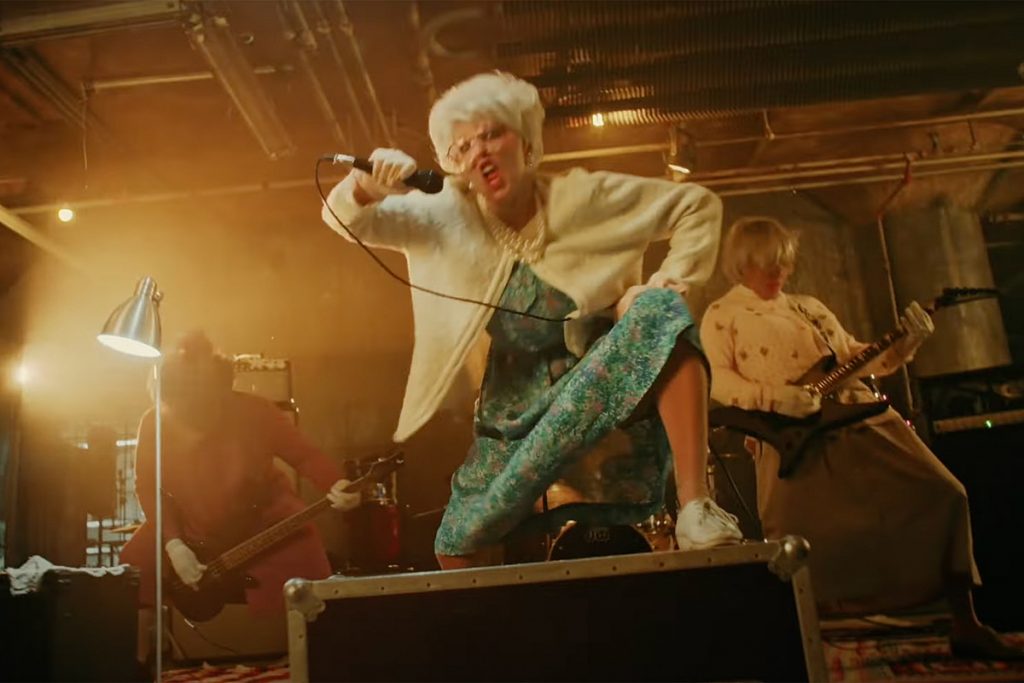 Liquid Death Turns Grannies Death Metal in Iced Tea Ad
Liquid Death is at it again, turning up the metal in the most fun of ways while promoting their latest product, Liquid Death Iced Tea. In their latest spot, a bunch of whacked out grannies drop brutal gutturals and rock out while also pulling several stunts in response to a young spokesperson who opens the commercial stating, "C'mon this is like my grandma's energy drink."
That spokesperson is promptly splattered with sewage from a port-a-potty courtesy of two elderly grannies. But their hijinks doesn't end there with the grannies hanging out the window of a speeding car, shooting off fireworks from their genital area, skateboarding down a stairway rail and yes, even cage fighting. And that's not even mentioning what this sick band of grannies can do when they strap on their instruments. The spot was inspired by Monty Python and Jack-Ass according to Liquid Death VIP of Creative Andy Pearson in an interview with Muse.
But while the brutal spot might make you actually fearful for what Liquid Death-induced hell you might have unleashed, the company concludes the ad with a serene tea set, the Liquid Death cans and a more stuffy classical backing with the tag line, "Don't be scared, it's just Iced Tea."
Liquid Death have leaned into the heavy music imagery since their launch, issuing a punk rock water can, dropping a "certified cursed" can for the Halloween season and going the opposite direction of the grannies with some out of control youths rocking a version of Judas Priest's "Breaking the Law" for a 2022 Super Bowl commercial.
Watch the new Liquid Death Iced Tea ad below.
Liquid Death Iced Tea – "Your Grandma's Iced Tea" Ad
And speaking of grannies who rock, Liquid Death may have called their shot ahead of the new commercial release. Just last month they signed social media star Dorothea Taylor, also known as the Godmother of Drumming, as a brand ambassador.
To kick off the campaign, they had her provide a drum cover of "This Water Couldn't Be Any Less Appealing," which was part of Liquid Death's Greatest Hates, Vol. 1 collection.
Watch her play the death metal song 'This Water Couldn't Be Any Less Appealing' from our Greatest Hates, Vol. 1 album. Back in 2020, the water company took some of their most outrageous hateful social media messages and turning them into a death metal album. Watch Taylor's performance below.
"The Godmother of Drumming" Dorothea Taylor Is the New Liquid Death Brand Ambassador
Best Death Metal Album of Each Year Since 1985
Here's our picks for the Best Death Metal Album of Each Year Since 1985