Rock Hits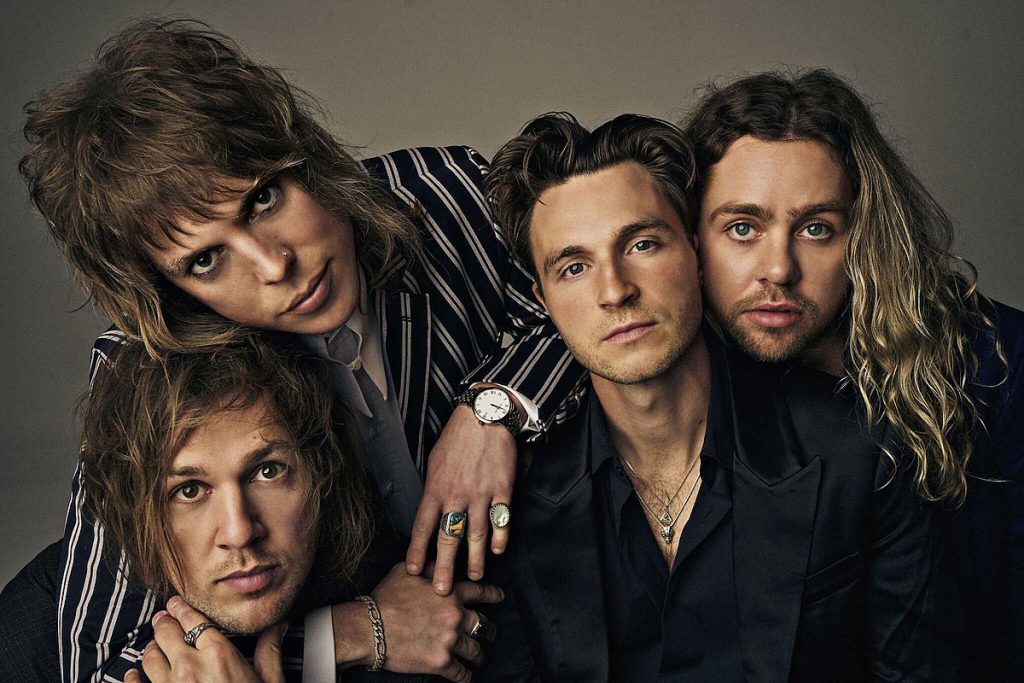 Luke Spiller Discusses The Struts' New Album, 'Pretty Vicious'
"It's a great song, isn't it? I'm not gonna lie, it's fantastic, some of my best lyrical content."
Luke Spiller joined Chuck Armstrong on Tuesday night's edition of Loudwire Nights to talk about The Struts' new track, "Too Good at Raising Hell," and even if there was a little bit of sarcasm in his voice, there was no question he was quite proud of the song.
"It's definitely written out of pure experience and was sort of written at a time when I was living pretty wild," Spiller told Chuck about "Too Good at Raising Hell."
"I remember coming back home, I think it was after a very large couple of nights out and the phrase kept circling around in my head—too good at raising hell. I sort of started strumming it on the guitar and then just sort of made a little quick voice memo of it and then I started to write all of these different lyrics to go along with it."
"Too Good at Raising Hell" is the first taste of The Struts' next studio album, Pretty Vicious, which Spiller said will be out in early November. As far as he's concerned, the new song is a great introduction to what fans can expect from the upcoming record.
"The lyrical content really sort of led the way," he told Chuck about the songs on Pretty Vicious. "I would always kind of try to showcase the most outrageous or the most ludicrous lyrics that I could because I just started sort of thinking if I can make everybody laugh and go, 'We shouldn't say that,' then I knew I was on the right track."
While some fans may be familiar with the title track to Pretty Vicious, Spiller said the album version is going to be quite different.
READ MORE: The Struts' Luke Spiller Says 'Bohemian Rhapsody' Is the Best Rock Song Ever
"We did do a live version [of 'Pretty Vicious'] at East West Studios which we released on a live acoustic EP through Taylor guitars, which was really great, but this is like a real kind of souped-up studio version which really replicates how it sounds live with all the bells and whistles of great production that comes along with a studio recording," he explained.
"But other than that, these are all songs that nobody's heard before. It's all going to be completely brand-new material and it's definitely our best work. I dare say it could even be better than our debut album. I really mean that. It's truly great."
What Else Did The Struts' Luke Spiller Discuss on Loudwire Nights?
What it was like growing up in a Christian household and now singing songs like "Too Good at Raising Hell"
Why it was hard breaking out onto the scene in 2012 and why he thinks the world is ready for bands like The Struts today
PODCAST EXCLUSIVE: Why he thinks there are more similarities than differences in The Struts' live audiences across the world
Listen to the Full Interview in the Podcast Player Below
Luke Spiller joined Loudwire Nights on Tuesday, July 11; the show replays online here, and you can tune in live every weeknight at 7PM ET or on the Loudwire app; you can also see if the show is available on your local radio station and listen to interviews on-demand. Stream "Too Good at Raising Hell" at this location and then check out The Struts' full tour schedule.
10 Ways Not to Be an A–hole at Concerts
Because wtf is going on lately?
Most Streamed Deep Cuts From 50 Rock Bands
Apparently you have been going beyond the singles on Spotify.