Rock Hits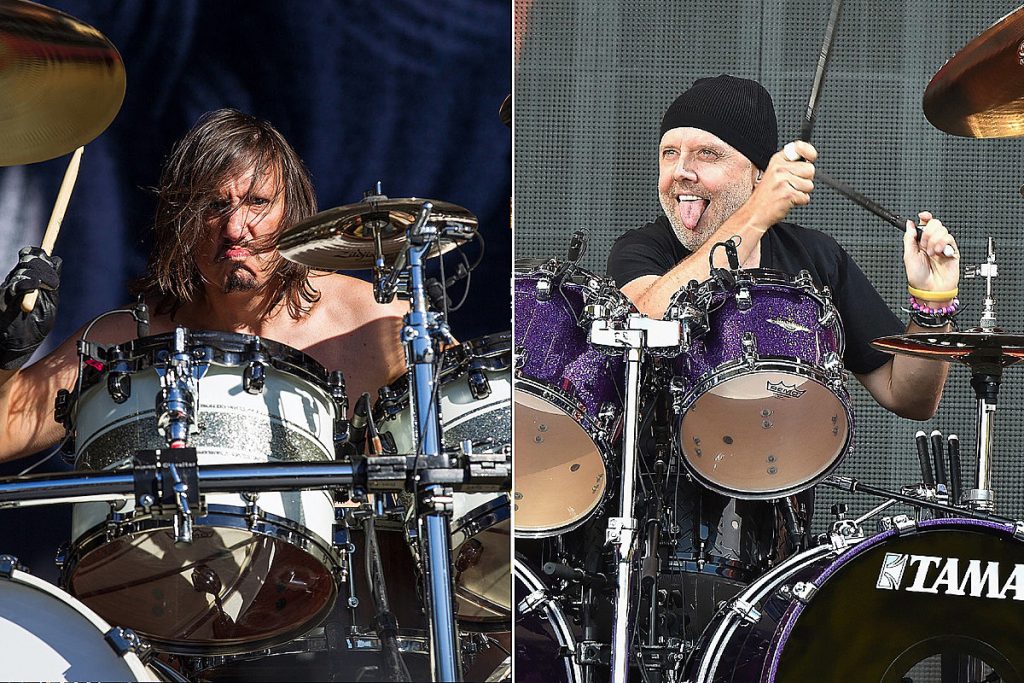 Mario Duplantier Defends Lars Ulrich – 'Bring Justice for Him'
While Metallica's Lars Ulrich is one of the more polarizing drummers in metal, he'll always find a champion in Gojira's Mario Duplantier. The musician and his brother Joe Duplantier have long sang the praises of Ulrich, and during a recent appearance on the Downbeat Podcast with Stray From the Path's Craig Reynolds, the drummer explained why he feels Lars deserves more respect that he gets.
"We need to bring some justice for him, because it's not about moving tempo-wise," said Duplantier. "It's what he created in the past. I'm a bit tired of seeing all this conversation about Lars because what he did create is quite unique. Listen to fucking …And Justice for All. It's amazing."
Reynolds then credited Lars' ability to still be playing Metallica's more epic tracks over the course of a two-hour set nightly at age 60.
"It's very physical and what he brought to the table back in the day – you know, playing without shirts and doing all these faces, and standing up behind the kits – is almost more important than the rest," added the Gojira drummer. "It's the the personality on stage for me as a kid, I was just fascinated. It was not about the technique, you know? 'Is it tight? Is he [playing well]?' I didn't care. I just saw someone behind the drums. A true personality."
READ MORE: The Many Faces of Metallica's Lars Ulrich
In 2021, Duplantier elaborated on his love for Ulrich, calling him "the best showman drummer in the world."
"I was maybe 10 or 11 years old and my brother had received the Metallica Live Shit: Binge & Purge video boxset for Christmas. We were sat watching it and I couldn't take my eyes off of Lars — the way he was playing, the color of the drumheads, the movement… it was all so badass," revealed Duplantier to Metal Hammer.
"Lars is a genius," he continued. "If you listen to the first five Metallica albums, the drumming is so special, particularly the way he writes those patterns. Even now I think he's the best showman drummer in the world. Its not about the tempo or technicality – it's something else. Nobody could imagine Metallica with another drummer."
READ MORE: The Darkness' Justin Hawkins Defends Lars Ulrich's 'Iconic' Drumming
Meanwhile, Mario's brother Joe told Loudwire Nights that he feels he owes his career and marriage to Metallica, explaining that Ulrich is "practically" the godfather to his kids. It was through an invite from Ulrich to meet him at a bar that he actually met his wife.
"Metallica brought me so much. The inspiration… I wanted to be them at some point," explained Joe Duplantier. "I was so in love with their music when I was a teenager. They really inspired me so much, helped me to go through high school [and] eventually made me start what became my life today — my musical journey."
Gojira's Mario Duplantier Speaks With The Downbeat Podcast's Craig Reynolds
16 Things Metalheads Really Need to Get Over
Get over it! Here are 16 things that metalheads really should get over.