Rock Hits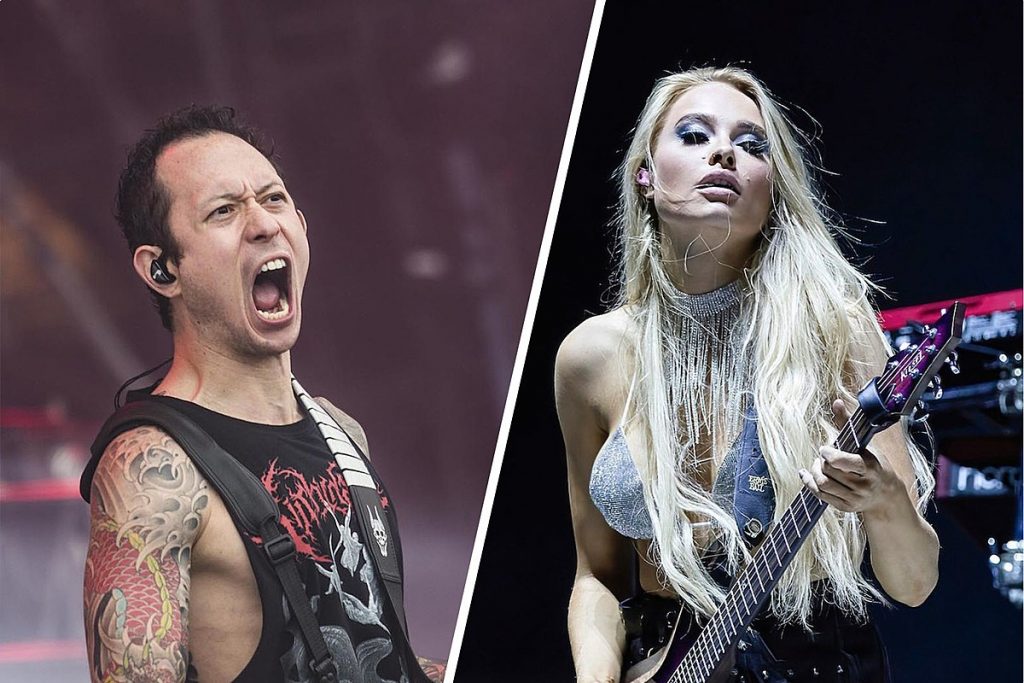 Matt Heafy Teases Collaboration with MGK Guitarist Sophie Lloyd
Machine Gun Kelly live guitarist Sophie Lloyd recently denied rumors that she's been romantically involved with the divisive rapper turned pop-punk artist. While that's undoubtedly made the past week difficult for her, some good news is on the horizon, as it looks like she'll be collaborating with Trivium vocalist/guitarist Matt Heafy on her latest track, "Fall of Man."
Yesterday (Feb 17), Heafy posted a teaser of the music video for "Fall of Man" to Instagram and Facebook. Although it lasts only a few seconds, it gives a good indication of the song's hypnotically hectic nature. Of course, Heafy also provided a detailed and humble description of the partnership:
Sophie Lloyd is an immensely talented force of a musician and songwriter. I recall first seeing Sophie's guitar playing online and being truly blown away – so having been a fan of Sophie's for several years, I was honored when asked to guest on an upcoming track.

When I learned too that Trivium had been a longtime favorite band of Sophie's – I was humbled and appreciative.

With Sophie now fronting both the solo project and being lead guitarist for MGK – there's no question Sophie Lloyd is taking over.

I can't wait for the world to hear this single.
Expectedly, Heafy's followers had mixed reactions. For instance, someone on Facebook wrote, "Sounds awesome , I can't wait to hear the full version." Likewise, one Instagram user commented: "So excited for this!"
In contrast, however, another Instagram fan admitted, "The MGK involvement is a turnoff, but I'll listen and see what it's like."
Lloyd posted about the song on social media, too, writing:
Hey guys! My new song "Fall Of Man (feat. Matthew K. Heafy)" will be coming out on the 24th February, and you can pre save it right now! There will also be new merch coming on the 24th too!!

This one was the first song that we managed to get finished on the album, Matt actually recorded the vocals for this one on his Twitch channel! It was so fun watching the process! We filmed the . . . music video for it in January last year! You can see all the BTS of this music video over on my Patreon page!

The music video is coming out on the 3rd March on my YouTube page, so make sure you are subscribed and notifications are set to see when it goes live! You can also help support with the release of the album by joining me on Patreon. Patrons who show awesome support will be credited on the album, invited to VIP events, parties and more! To find out more, head over to my Patreon now.
Naturally, responses were majorly supportive. For example, someone cheered: "Sophie Lloyd is an incredible artist! It is great to see the Rock-n-Roll torch being carried by a new generation of Guitar Greats!! GO SOPHIE!!!!" Afterward, another devotee declared, "Look forward to hearing it. Your, guitar playing is beyond amazing."
You can view both posts below.
So, are you looking forward to "Fall of Man"? Let us know, and be sure to pre-save the single prior to its Feb. 24 release.
Also, be sure to catch Lloyd on stage with Machine Gun Kelly when his 2023 international tour kicks off next month. You can check out tour dates here and purchase tickets here.
Here's a Timeline of the Machine Gun Kelly vs. Corey Taylor Feud
Here's how it started and how it's going.