Rock Hits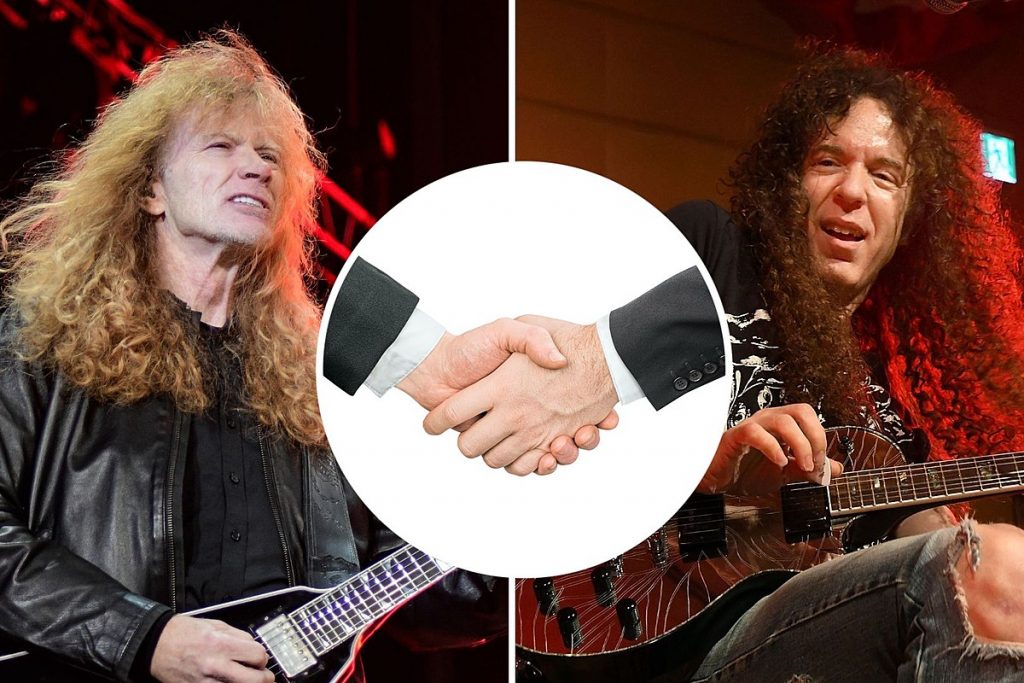 Megadeth Confirm Reunion Concert With Ex-Guitarist Marty Friedman
This week, Megadeth confirmed that they would reunite onstage with their former lead guitarist Marty Friedman for a one-off show in Tokyo when the Dave Mustaine-led band kicks off its 2023 world tour on Feb. 27 at the legendary Nippon Budokan arena.
It's sure to be a full-circle moment in the adopted home base of Friedman, also an accomplished solo artist who has lived in Japan for many years. In 2016, he was named Japan Heritage ambassador; he recently shared his own official Japan Heritage theme song.
Hear the song down toward the bottom of this post.
In a statement on Feb. 13, Mustaine said, "Marty and I have remained friends over 23 years, since we last played together. However, I hear his music every night, and he still is among the top guitar players I've ever heard. This is an amazing treat for the fans, as well as myself. To be honest, I may drift off while listening to [Megadeth's] Kiko [Loureiro] and Marty play together!"
For his part, Friedman already gave notice of the reunion in Japanese media. "Megadeth, the band I used to play in, will play live at Budokan," he said in an interview last month. "Believe it or not, I'm gonna jam with them! … It's gonna be a miraculously special night."
It's indeed been 23 years since Friedman left Megadeth in 2000, following 1999's Risk. He joined the band in 1990, first contributing to Rust in Peace.
In 2021, longtime Megadeth bassist David Ellefson was let go amid a sex scandal involving the bass player. Bassist James LoMenzo stepped in to replace him after Testament's Steve Di Giorgio did bass parts in the studio. Ellefson currently performs early Megadeth classics with his band Kings of Thrash.
In addition to Mustaine, Friedman and Ellefson, the power of Megadeth's core '90s quartet was driven by the drummer Nick Menza, who died in 2016.
Last year, Megadeth released their 16th studio album, The Sick, the Dying… and the Dead! See the band's 2023 tour dates below. Get Megadeth tickets here.
Megadeth's Budokan show on Feb. 27 will also air as a global livestream, They Only Come Out at Night.
Marty Friedman, Japan Heritage Official Theme Song (Music Video)
Megadeth 2023 Tour Dates
Feb. 27 – Tokyo, Japan @ Budokan *
Feb. 28 – Osaka, Japan @ Grand Cube
March 21 – Adelaide, Australia @ Entertainment Ctr
March 22 – Melbourne, Australia @ Margaret Court
March 24 – Melbourne, Australia @ Knotfest
March 25 – Sydney, Australia @ Knotfest
March 26 – Brisbane, Australia @ Knotfest
March 31 – Scottsdale, Ariz. @ WestWorld
July 16 – Mansfield, Ohio @ Inkcarceration
July 23 – Katowice, Poland @ Spodek
July 26 – Tallinn, Estonia @ Tallinn Song Festival
July 31 – Stockholm, Sweden @ Annexet
Aug. 2 – Skanderborg, Denmark @ Smukfest
Aug. 4 – Wacken, Germany @ Wacken Open Air
Aug. 10 – Alicante, Spain @ Leyendas Rock Fest
Aug. 13 – Derbyshire, England @ Bloodstock
Aug. 16 – Dinkelsbuhl, Germany @ Summer Breeze
Aug. 17 – Pardubice, Czech Republic @ Enteria Arena
Aug. 19 – Eindenhoven, Netherlands @ Dynamo Fest
Aug. 22 – Paris, France @ Olympia
Aug. 25 – Aarburg, Switzerland @ Riverside Fest
* One-off performance with Marty Friedman
25 Bands That Got Back Together in 2022
These bands reunited for a short time or got back together for good in 2022.
A Brief History of Recorded Music Formats
Music formats from yesteryear's first wax cylinders to today's modern streaming services…
BONUS: Weird + Wonderful One-Off Music Formats
These formats never went into wide production, but wow, are they something…