Rock Hits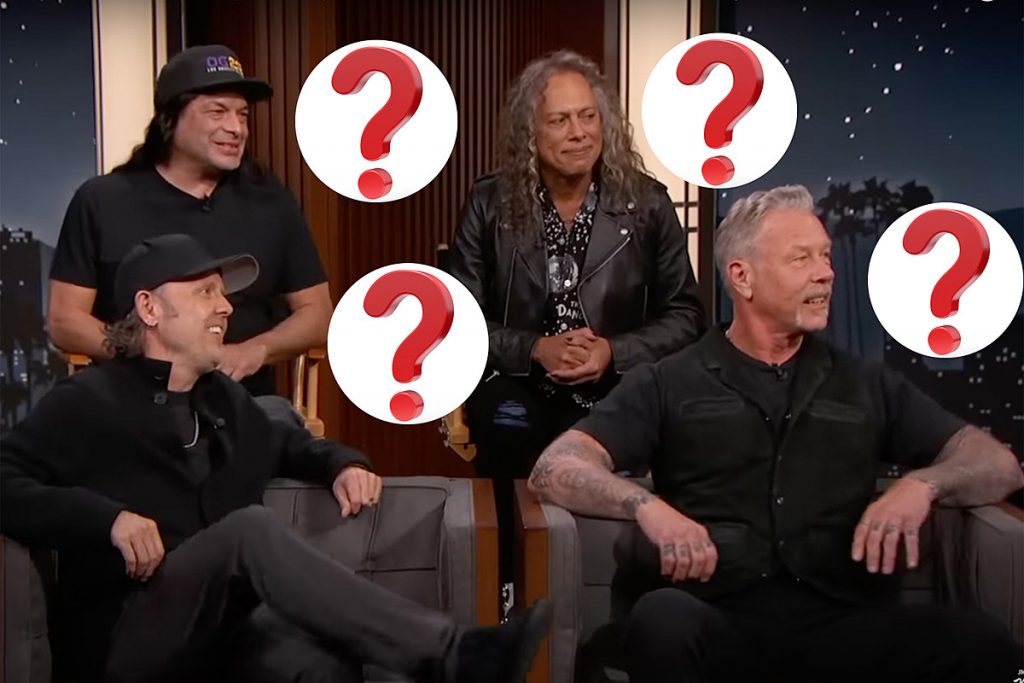 Metallica Members Reveal the First Albums They Ever Owned
What can you garner about someone's musical tastes by the first album they ever bought? Sometimes it's right on the nose given what you know of them, other times it may come as a complete surprise. But during Monday's appearance on Jimmy Kimmel Live, all four members of Metallica recounted their first musical albums they owned when they were growing up.
The topic came up as Lars Ulrich was talking about the vinyl pressing plant the band recently purchased, with Kimmel quickly interjecting asking each their first vinyl they ever owned.
"The first one I bought, in 1973 my dad took me to see Deep Purple in Copenhagen, Denmark. The next day I went to the record store and bought their Fireball album," revealed drummer Lars Ulrich.
The 1971 album was the band's second with their MKII lineup, and featured the songs "Some Kind of Woman" and the title track. The album topped the charts in Ulrich's native Denmark and climbed to No. 32 in the U.S. And given Ulrich's love for heavier music, Deep Purple seems like a none too surprising choice.
Deep Purple, Fireball
Robert Trujillo came next, shouting out, "My first album was Santana Abraxas," which elicited cheers from the audience. He then doubled down by announcing that his second album was Kool and the Gang's 1973 set Wild and Peaceful, which featured the classic "Jungle Boogie." Abraxas was notable for the two major singles "Black Magic Woman" and "Oye Como Va." And given that Trujillo eventually found his way to the bass, it's easy to see how the rhythmic nature of both albums helped pave his musical path.
Santana, Abraxas
READ MORE: Metallica Crush 'Lux Aeterna' on 'Jimmy Kimmel Live'
Guitarist Kirk Hammett had the curveball in the group, and from his reaction upon the revelation, he knew it. "I don't really want to say," the guitarist sheepishly responded. "Ok, it was the Partridge Family Christmas Album." After some of the biggest cheers yet, Hammett recalled, "It came with a green cover and a red envelope that you took and you opened it up and there was a Christmas card signed by the Partridge Family." Sadly, Hammett confirmed that he no longer had the card.
The album, actually titled A Partridge Family Christmas Card, was released in 1971. It featured members of the fictional TV family band covering Christmas classics such as "White Christmas," "Santa Claus Is Coming to Town," "Jingle Bells," "Frosty the Snowman" and "Have Yourself a Merry Little Christmas." The Partridge Family series starred Shirley Jones, David Cassidy, Susan Dey and Danny Bonaduce and ran from 1970-1974 on ABC.
The Partridge Family, A Partridge Family Christmas Card
Frontman James Hetfield was the last to chime in, but only named the band, telling Kimmel, "I think it was Lynyrd Skynyrd," which Kimmel noted was "strong." Skynyrd enjoyed an impressive run of five studio albums in the '70s before a plane crash claimed the lives of Ronnie Van Zant, Steve Gaines and Cassie Gaines as well as assistant road manager Dean Kilpatrick and the flight's pilot and co-pilot. Over the course of those five albums, they yielded such classics as "Gimme Three Steps," "Sweet Home Alabama," "Free Bird," "Saturday Night Special" and "What's Your Name?." Though he didn't confirm which album it was, Hetfield has previously spoken about his love for "Free Bird," calling it the greatest song of all-time. That song appeared on the band's debut, (Pronounced 'Lĕh-'nérd 'Skin-'nérd).
Lynyrd Skynyrd, (Pronounced 'Lĕh-'nérd 'Skin-'nérd)
For some lucky youngster, Metallica's 72 Seasons might be their first purchase. The album arrives this Friday (April 14) and pre-orders are being taken here. You can also catch the band on tour into 2024. Be sure to get your tickets here.
Metallica Tell Jimmy Kimmel the First Albums They Ever Bought
Ranking the Opening Song on Every Metallica Album
We ranked the opening track on every one of Metallica's studio albums.