Rock Hits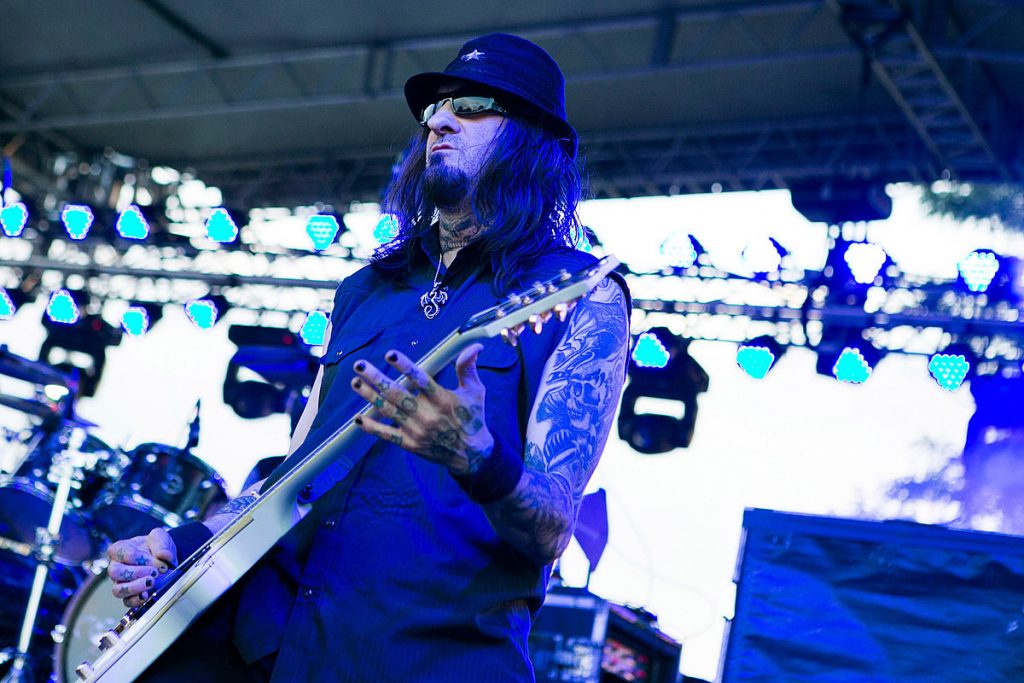 Saliva Issue Statement on Future After Death of Wayne Swinny
Saliva were dealt a devastating loss in March when guitarist Wayne Swinny, the last remaining original member of the band, died at the age of 59. Now, the band has confirmed that they will continue following Swinny's death and plan to honor the musician by finishing the album they have been working on with him.
The band issued a statement on their future, while also simultaneously releasing a statement from Swinny's sister Linda Hanson. You can read the first statement from the band below:
Since the devastating loss of our brother Wayne, we have had many difficult discussions regarding the future of the band. We had recently completed an album that was three years in the making, but when tragedy struck, we paused all plans and focused our energy on supporting one another and Wayne's loved ones through this troubling time. As we grieved, we also took time to reflect on the joy of countless memories together on the road, travelling, making music and performing.

Wayne truly loved being onstage and he loved his fans. We also thought about all the creativity, talent, and passion that Wayne put into what would ultimately and unfortunately end up being his last album. Onstage and off, Wayne was a powerful presence in as our lives, so the decision on whether to carry on as a band is a difficult one.

What is the best way to honor a legendary talent like Wayne?

After careful consideration, and with the support of his family, we have made the decision to pay tribute to his legacy the best way we know how, through our music. We intend to move forward with the release of our album so everyone can hear the new songs that Wayne put his heart and soul into. We will also continue with the summer tour plans, honoring his memory every time we perform with a portion of the proceeds from each show gifted to his daughter Nikki.

The entire music community has lost a remarkable talent, and Wayne's impact on the music industry will continue to be felt for years to come.

We miss Wayne beyond measure, but we know that he would want us to keep making music and sharing it with our fans, and to keep his spirit alive through our performances.

We are grateful for the love and support from Wayne's family, fans, and friends.

Rest in peace, Wayne. You will be missed, but your music will live on forever.
As for Hanson, she issued a statement of her own which reads as follows:
Wayne Swinny was one of a kind. He tried to cover up his kind, gentle, loving heart and soul with a rough and tough exterior, but he just couldn't help being the person he really was, Kind. Gentle. loving. A true friend! He truly lived life to the fullest and was living his lifelong dream. His talent was natural. He would sit in his room as a young kid listening to KISS and picking out the music on his guitar. As his sister in the bedroom next to his that was not always a good thing. But there is no denying he was an amazing musician and guitarist. I am beyond proud of him.

As the last original SALIVA band member, all he wanted was to continue the SALIVA legacy. He loved the band but most of all loved his fans. His spirit will live through the new album, every new song they write, and every performance the band will continue to give.

Wayne's legacy will live on through the musk of SALIVA — now and in the future. He would want everyone to Rock On.
On March 22, Saliva issued a statement that the guitarist had been found in "medical distress" while out on tour. He was later diagnosed as having a spontaneous Hemorrhage in his brain." It was later revealed that Swinny had died, with the band's current singer Bobby Amaru delivering the news.
READ MORE: Rockers We've Lost in 2023
Over the course of his career, Swinny played on 11 studio albums, appearing on such Saliva standout songs as "Always," "Your Disease," "Click Click Boom" and "Survival of the Sickest."
The 66 Best Rock Songs of the 2000s: 2000-2009
The 21st century started off rocking.