Rock Hits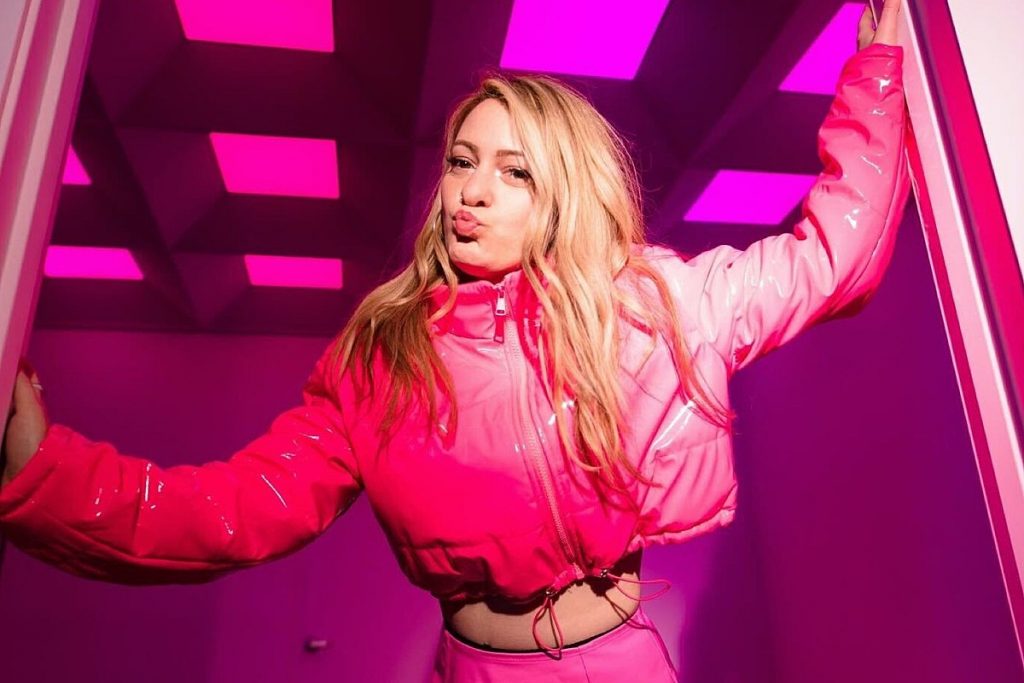 Scene Queen's New Song '18+' Calls Out Sexual Abuse in the Scene
Scene Queen (Hannah Collins) eviscerates sexual abusers in the music industry in her new song "18+." She says she wrote it specifically to be controversial.
The new artist is courting that controversy to expose what advocates have called a pattern of enabling and profiting off sexual predators in music, something Rolling Stone pointed out. Abuse accusations speckle the industry, The Conversation noted, especially in the wake of #MeToo. That's no different in rock and metal.
Down toward the bottom of this post, read the lyrics to Scene Queen's "18+" and watch the music video.
READ MORE: The B-52's Denounce Anti-Drag Bills After Tennessee Enacts First Such Law in U.S.
"I wrote '18+' to be controversial, and I hope that's what I've achieved," Scene Queen explains.
"When I wrote the song, I made it my mission to make something that sounds like an intense personal call-out but also broad enough that it covers an entire epidemic within the scene," she continues. "Having people arguing over which band I might be upset with, arguing over security measures taking place in the scene, or even arguing whether the lyrics are good or just borderline unsettling is the exact point of the song — to get people talking about what we've refused to talk about in the scene the last 10 years."
Scene Queen adds, "When I left the scene around 2015 — because it no longer felt like a safe space for women — I swore that if I ever came back I would make it my mission to set fires until it was safe. … Predatory behavior is something that has been happening in the scene for years and still happens now."
As for the reception, Scene Queen tweeted, "Streaming wise: This is my biggest song by far and I want to cry. Thank you for caring about shit like this. 16 year old me wouldn't have believed this many people cared about a song like this. I truly am in shock rn."
If you or someone you know has been sexually assaulted, help is available. Please contact RAINN (Rape, Abuse and Incest National Network) at 800-656-HOPE (800-656-4673). A portion of the net profits from Scene Queen's "18+" will be donated to the organization.
Scene Queen, "18+" Lyrics
Fuck the scene, I'm the queen

Headline spot goes to the abuser
Half my idols are fucking losers
If I'm the bitch just starting rumors
What about the dogs turned into groomers
Good bands save their fans
Oh I laugh at the irony
Shit heads get off on blatant mysogyny
I'll go full ice pick lobotomy
If I see one more notes app apology

I'm sick of good people getting overlooked
If a bitch wants to be famous tell em write a better hook, pussy

Pink wristbands on the guest list
Bras hanging on the bus
Yeah you get a lot of girls, but not one is 18+
Pink wristbands on the guest list
Bras hanging on the bus
Yeah you get a lot of girls, but not one is 18+

18+, 18+
Get those children off your bus
18+, 18+
Get those children off you're busted

If nice guys finish last,
Then a stadium tour is a victory lap
If the shoe fits, shove it up your ass
Does prison come with an AA pass?

Slap on the wrist
No one gives a shit
It is what it is, it is what it is
Slap on the wrist
No one gives a shit
Too old for this, get it?

Pink wristbands on the guest list
Bras hanging on the bus
Yeah you get a lot of girls, but not one is 18+
Pink wristbands on the guest list
Bras hanging on the bus
Yeah you get a lot of girls, but not one is 18+

18+, 18+
Get those children off you're busted

I'm sick of good people getting overlooked
If a bitch wants to be famous tell em write a better hook, pussy

Pink wristbands on the guest list
Bras hanging on the bus
Yeah you get a lot of girls, but not one is 18+
Pink wristbands on the guest list
Bras hanging on the bus
Yeah you get a lot of girls, but not one is 18+

18+, 18+
Get those children off your bus
18+, 18+
Get those children off you're busted

It's not that fucking hard
Shame on you
Scene Queen, "18+" Music Video
25 Amazing Pop-Punk + Emo Albums With No Weak Songs