Rock Hits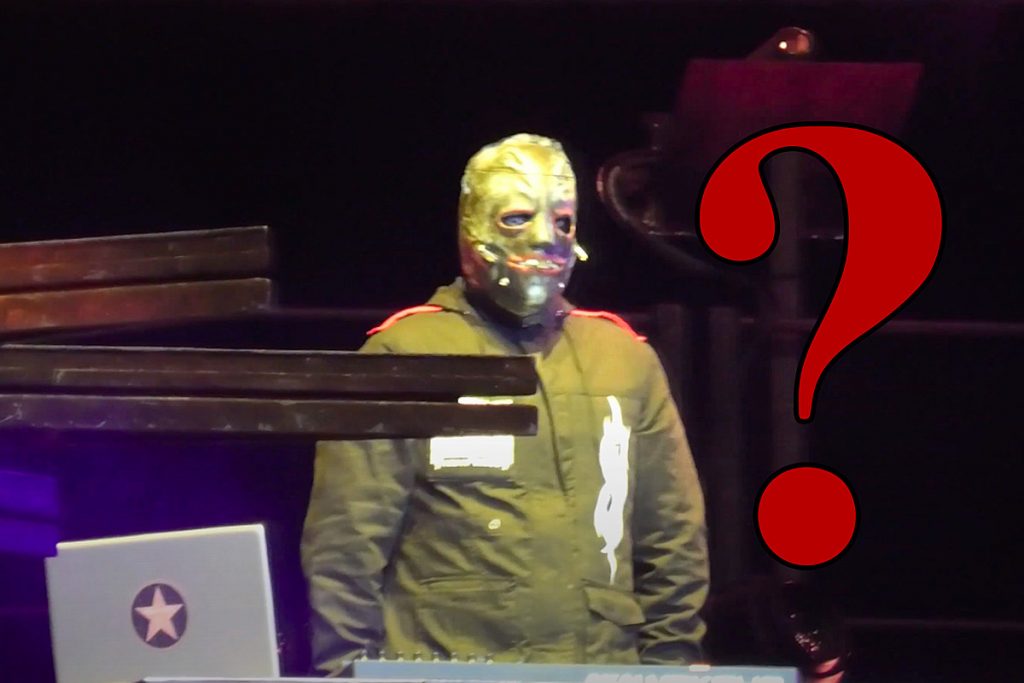 Slipknot Fans Have Theories About Who the New Mystery Member Is
Anonymity has been part of Slipknot's career from the very beginning, and although we know who most of the members are now, every time someone new joins, their identity is kept a secret for at least a short while. Fans have some theories about who the new mystery member is, though.
Though members of the local Des Moines scene most likely knew who the members of Slipknot were from the beginning, maintaining their anonymity became part of their shtick as they grew in popularity in the late '90s and early 2000s. In 2002, Corey Taylor and Joey Jordison did televised interviews without masks for the first time, so keeping their identities a secret was no longer strongly prioritized afterward, but each member still had a new mask created for every album cycle.
After the death of Paul Gray in 2010 and the departure of Jordison in 2013, Slipknot had two new members, who were eventually revealed to be Alessandro "V-Man" Venturella and Jay Weinberg. However, the band tried to keep their identities hidden for a while too. Perhaps one of the biggest mysteries, though, was when they brought in a replacement for Chris Fehn in 2019.
Michael Pfaff's identity was only officially confirmed by the 'Knot in March of 2022, but until then, he was affectionately known by their fans as "Tortilla Man."
Now, Slipknot have another new member, as a result of the departure of longtime keyboard player Craig Jones earlier this month. They shared a photo of the new masked individual on their social media, but as usual, have offered nothing in regards to their identity. So, we took to the internet to see what theories fans have come up with as to who they may be.
READ MORE: The Evolution of Slipknot's Terrifying Masks
Surprisingly, some users on Twitter have questioned whether the new member is really just Jones himself, pretending to be someone new. But there have been a few other musicians' names floating around, including Zac Baird, who's a keyboardist that's toured with Korn, collaborated with Evanescence and auditioned for Nine Inch Nails, among other projects.
Someone on Reddit, on the other hand, made an entire post explaining why they think the mystery member could be Nathan Church, who founded and played keyboard for the band Downthesun. A fellow Reddit user pointed out that Church is currently accepting appointments at his tattoo shop in Missouri, which would make it unlikely that he's currently touring with Slipknot. However, someone on Twitter also posted the theory about Church, and shared an old photo of him with Shawn "Clown" Crahan.
Others have even guessed that the mystery musician is Vessel, the vocalist for Sleep Token. A couple of people on Twitter replied to the photo of the new member, simply writing, "Vessel." The bands are currently on tour together, and Corey Taylor has even said that Sleep Token remind him of Slipknot's early years.
See some more tweets regarding the new member mystery below.
Slipknot have a handful of upcoming performances between now and September. See all of the dates and get tickets here — maybe you'll be able to figure out who the mystery member is.
A Photo Timeline of Slipknot's Turbulent Career
Because it wouldn't be the 'Knot without chaos.