Rock Hits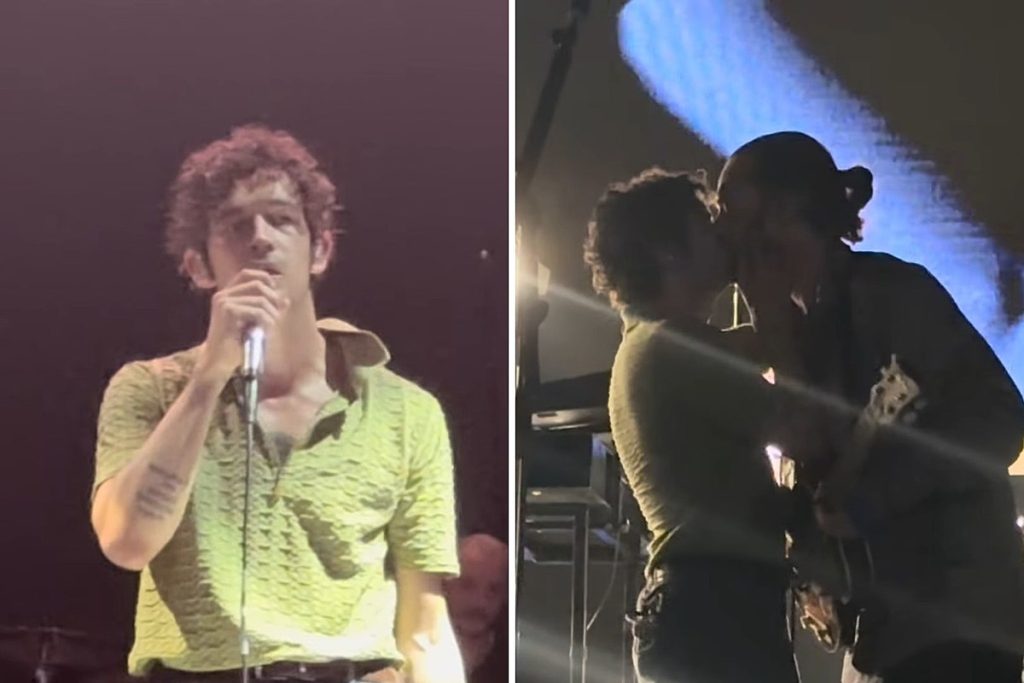 The 1975 Banned in Malaysia Due to Pro-LGBTQIA+ Support – Report
This past Friday (July 21), The 1975 took the stage at this year's Good Vibes Festival in Malaysia's capital city, Kuala Lumpur. Following lead singer Matt Healy's physical and verbal protests of the country's anti-LGBTQIA+ laws – numerous sources report – their set was cut short, the band was banned from playing there again and the festival was canceled.
Per setlist.fm, the band played only seven songs (including "28," "Give Yourself a Try" and "Inside Your Mind"). After performing the fifth one – "Looking for Somebody (to Love)" – Healy spoke about anti-LGBTQIA+ laws in Malaysia and then kissed bandmate Ross MacDonald. After playing two more songs, they departed the stage as Healy commented: "Alright, we just got banned from Kuala Lumpur. See ya later" (Billboard confirmed).
As transcribed by Billboard, Healy's speech included the following statements:
I'm f–ing furious, and that's not fair on you because you're not representative of your government. Because you are young people, and I'm sure a lot of you are gay and progressive and cool. So, I pulled the show yesterday, I pulled the show yesterday, and we had a conversation and we said, "You know what, we can't let the kids down because they're not the government." But, I've done this before. I've gone to a country where it's — I don't know what it f—ing is. Ridiculous. F—ing ridiculous to tell people what they can do with that and that. If you want to invite me here to do a show, you can f— off. I'll take your money, you can ban me, but I've done this before and it doesn't feel good, and I'm f—ed off.
Billboard also noted that this isn't the first time Healy did something like this, as he kissed a male fan during a concert in Dubai back in 2019.
Likewise, BBC News mentioned that Healy told the crowd that playing Malaysia was a "mistake," adding: "When we were booking shows, I wasn't looking into it. I don't see the [expletive] point, right, I do not see the point of inviting the 1975 to a country and then telling us who we can have sex with. Unfortunately you don't get a set of loads of uplifting songs because I'm [expletive] furious."
You can see fan-captured footage of their performance below.
BBC News also reported that in a statement given to local media on Friday (July 21), festival organizers "said the band's set was stopped due to 'non-compliance with local performance guidelines.'"
Specifically, BBC News continued, Future Sound Asia Entertainment Director Wan Alman told BBC News that the Healy and MacDonald's kiss was "a complete surprise," elaborating:
Prior to their performance, we were reassured by management that they would adhere to all local performance guidelines as do all international artists that perform in the country, and yeah so we were completely surprised that the performance took such a turn. . . . I think it's very easy for him [Healy] to fly in and do whatever he wants to do, and then just fly out without having to face or take accountability for any consequences for his actions, while the ones who suffered implications are his fans here because his set was cut short, the festival organisers and, you know, I think the industry as a whole.
Regarding the Asian country's stance on LGBTQIA+ practices and representations, the official Outreach International website explains:
In Malaysia, LGBTIQ people face difficulty in many areas of life. Same-sex sexual acts are illegal, with punishments of up to twenty years imprisonment, caning, and fines. In addition to Malaysia's national laws banning same-sex relations, several states impose Islamic Sharia law, which criminalizes same-sex relations and gender non-conformity. Due to these laws, LGBTIQ Malaysians are subject to arbitrary arrests, assault, extortion, and privacy violations by police and public officials. Hate crimes and extrajudicial killings are often carried out with impunity.

In regions under Sharia Law, religious officials can impose greater punishments on Muslim LGBTIQ Malaysians. Malaysia's censorship laws prohibit distributing, displaying, or creating materials the government deems "obscene" or "against public decency." These censorship laws have been used to restrict LGBTIQ people's freedom of expression and make it difficult for LGBTIQ groups to organize. Conservative religious leaders hold significant political and cultural power in Malaysia, and often publicly denounce LGBTIQ people as "un-Islamic" and "immoral," which contributes to anti-LGBTIQ sentiment in Malaysia. Surveys have shown that a majority of people in Malaysia do not believe society should accept same-sex sexuality. "Conversion therapy" is regularly practiced and is publicly promoted by politicians and religious leaders.
READ MORE: 29 LGBTQIA+ Icons in Rock + Metal
As of this writing, The 1975 haven't issued an official statement on the matter; however, they have since canceled their subsequent appearances in Jakarta (Indonesia) and Taipei (Taiwan), stating:
The 1975 regret to announce that their forthcoming shows in Jakarta and Taipei will no longer be going ahead as planned. The band never take the decision to cancel a show lightly and had been eagerly looking forward to playing for fans in Jakarta and Taipei but unfortunately, due to current circumstances, it is impossible to proceed with the scheduled shows. Thank you for your understanding and continued support. – The 1975
You can see that post below:
Yesterday (July 22), organizers of the Good Vibes Festival publicized the cancelation of the remaining performances (which included The Strokes), clarifying:
We deeply regret to announce that the remaining schedule for Good Vibes Festival 2023 (GVF2023), planned for today and tomorrow has been canceled following the controversial conduct and remarks made by UK artist Matty Healy from the band The 1975. The decision adheres to the immediate cancelation directive issued at 1:20 PM, 22 July 2023, by the Ministry of Communications and Digital. The Ministry has underlined its unwavering stance against any parties that challenge, ridicule, or contravene Malaysian laws.

We sincerely apologise to all of our ticket holders, vendors, sponsors, and partners. We are aware of the time, energy, and efforts you have put into making this festival a success, and we value your steadfast support. We will update you on refund mechanics as soon as possible. We appreciate your understanding and continued support during this challenging time.
You can see that post below:
According to their website, The 1975's next shows will take place in the United States, with the first occurring at Lollapalooza in Chicago, Ill. in early August. You can see the full list of upcoming dates here and grab tickets here.
Matt Healy Protest Malaysian Anti-LGBTQIA+ Laws at Good Vibes Festival (July 21, 2023)
29 LGBTQIA+ Icons in Rock + Metal
These are some of the LGBTQIA+ icons of the rock and metal world.