Rock Hits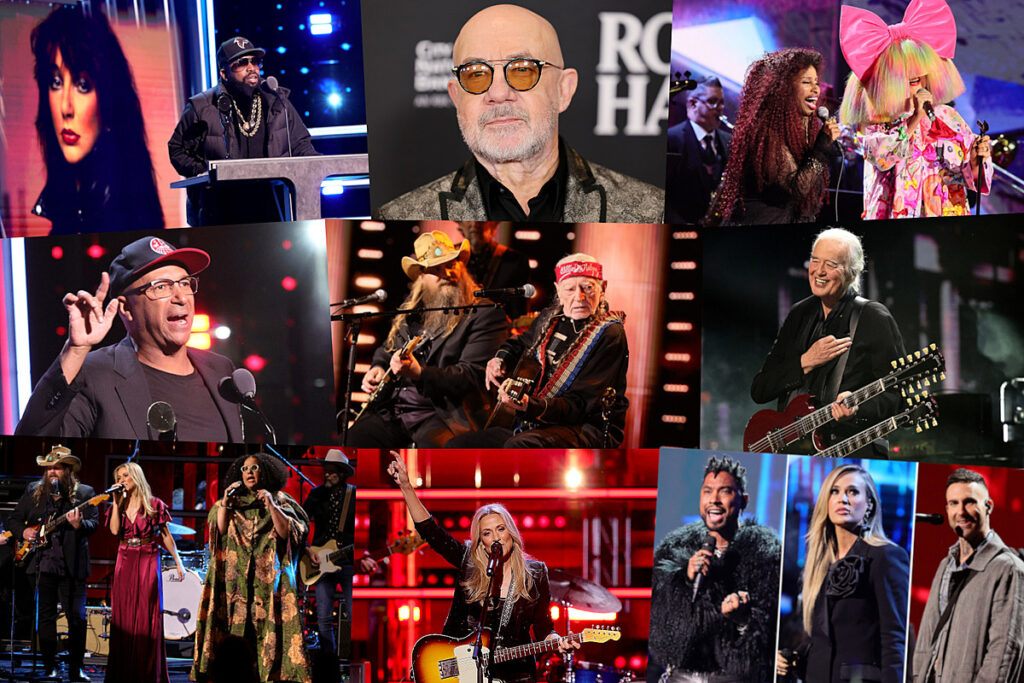 Top 10 Moments From 2023 Rock and Roll Hall of Fame Ceremony
The 2023 Rock & Roll Hall of Fame induction ceremony is in the books, and once again there were a wide variety of amazing performances and special moments.
This year's class boasted eclectic artists spanning almost every genre imaginable. Kate Bush, Sheryl Crow, Missy Elliott, George Michael, Willie Nelson, Rage Against the Machine and the Spinners were among the honorees, while an array of special guest stars presented and performed throughout the evening.
Highlights included once-in-a-lifetime collaborations and stirring, emotional moments.
Here are the Top 10 Moments From the 2023 Rock and Roll Hall of Fame Induction Ceremony.
Sheryl Crow Starts the Night Off Right
The night began with one of the inductees, Sheryl Crow, who took the stage with a trio of famous guests. First was Olivia Rodrigo, the young pop star who was already making her second career appearance at the Rock & Roll Hall of Fame (she previously performed a tribute to Carly Simon in 2022). Crow and Rodrigo performed "If It Makes You Happy," much to the delight of the fans in attendance and streaming at home. After some words from actress Laura Dern, Crow delivered a rendition of "Strong Enough" alongside one of her idols, Stevie Nicks. The two singers were then joined by guitarist Peter Frampton for a rousing performance of "Everyday Is a Winding Road.".
In her speech, Crow thanked Nicks, Frampton and further artists who influenced her career, including Joni Mitchell, Tina Turner and Nancy Wilson. "This is a little bit like getting an Oscar for a screenplay you haven't finished writing yet," she joked while accepting her honor.
READ MORE: Sheryl Crow Duets With Stevie Nicks at Hall Induction
Ain't Nobody Does It Better Than Chaka Khan
After being nominated three previous years, Chaka Khan finally earned induction into the Rock & Roll Hall of Fame with the 2023 class. She was the night's next honoree. The singer – who ventured into soul, R&B, funk, pop, disco and jazz across her impressive career – was introduced by Jazmine Sullivan, who noted the influence Khan has had on her own career.
Later, Khan took the stage to play several songs. The first was "I Feel for You," alongside rapper Common. Khan memorably turned the Prince-penned tune into a hit in 1984. The singer was then joined by H.E.R. for renditions of "Ain't Nobody" and "Sweet Thing," before closing her set with "I'm Every Woman," featuring guest Sia.
George Michael Honored By a Trio of Stars
Singer George Michael was a remarkable talent – so much so that having just one star cover his work wouldn't have done it justice. Instead, three stars took the stage to honor his induction.
After a speech by Michael's former Wham! bandmate, Andrew Ridgeley, chart-topping R&B singer Miguel took the stage and delivered a heartfelt rendition of "Careless Whisper." He was followed by Maroon 5 frontman Adam Levine, covering the 1987 mega-hit "Faith." The third and final performer of Michael's material was Carrie Underwood, who brought the crowd to their feet with a stirring version of "One More Try."
Kate Bush Pushes Boundaries (Even When She Doesn't Show Up)
Genre continues to be a hot topic every year at the Rock & Roll Hall of Fame, as purists – who insist the institution should stick to only rock – verbally battle those who welcome rap, country and hip-hop artists into the Hall. This year's induction of Kate Bush stood as a reindeer that some artists defy genre completely.
It was a concept brought up by Big Boi, one half of the rap duo Outkast, and an avid admirer of Bush's work.
"I know what some of you are thinking: What does Kate Bush have to do with hip-hop?" the rapper noted during his speech. "She is such a unique artist, you might as well also ask: What does Kate Bush have to do with rock 'n' roll? Obviously our music is very different. But in important ways, we're exactly the same. What I love about Kate's music is that I never know what sound I'm gonna hear next."
Bush wasn't in attendance but released a statement saying she was "completely blown away" by the honor. St. Vincent admirably filled in for the English singer, delivering an emotional performance of "Running Up That Hill."
Willie Nelson: Still Cool at 90
Even at a black tie event like the Rock & Roll Hall of Fame ceremony, Willie Nelson has a way of making everyone feel at ease. Every aspect of his portion of the evening was relaxed, from Dave Matthews' lighthearted introduction (in which he regaled viewers with a story of getting high on Willie's tour bus), to Nelson's acceptance speech.
The Red Headed Stranger thanked many of his former collaborators, including Ray Charles, Booker T. Jones, Leon Russell, and his Highwaymen partners, Johnny Cash, Waylon Jennings and Kris Kristofferson. He also openly campaigned for the latter two musicians to one day get inducted as well (Cash already went into the Hall in 1992).
Nelson then delivered a free and easy performance of three classic tunes. The first was "Whiskey River," played alongside country star Chris Stapleton, followed by a duet of "Crazy" with Sheryl Crow. Nelson's final song featured all three guests – Matthews, Stapleton and Crow – joining in for a lively rendition of "On the Road Again."
Jimmy Page Makes a Surprise Appearance
Jimmy Page was not announced as one of the night's performers or presenters, so when he showed up in a pre-recorded message, honoring inductee Link Wray, it came as a pleasant surprise. What happened next was even cooler.
After describing Wray as his hero and expressing what a profound effect the guitarist had on his own career, Page's video came to an end. At that point, the Led Zeppelin rocker appeared in person onstage and began rocking through Wray's legendary tune, "Rumble."
It's rare to see Page making a public performance – according to Setlist.fm, this was the first time he'd done so since 2014. Still, the guitar god showed no signs of slowing, masterfully playing the classic instrumental to perfection.
Bernie Taupin Addresses the Elephant in the Room
In the months leading up to the induction ceremony, Jann Wenner, the man who started Rolling Stone magazine and co-founder of the Rock & Roll Hall of Fame, got embroiled in controversy. Some of his more inflammatory remarks included that Black and female artists weren't "articulate enough" to communicate about rock on an "intellectual level."
When Bernie Taupin was inducted into the Hall by his longtime collaborator, Elton John, he made sure to shine a light on Wenner's gaffe.
During his speech, Taupin hailed all the "articulate women" and "articulate Black artists" in the Rock Hall who inspire him. His comments received loud applause from the crowd.
READ MORE: Elton John Inducts Bernie Taupin into the Rock Hall of Fame
All-Star In Memoriam Tribute
As they do every year, the Rock & Roll Hall of Fame spent a segment of the night honoring those from the music community who have died in the last year. Following a video, the stage lights came on to show Sheryl Crow, Chris Stapleton, Alabama Shakes' Brittany Howard and Elton John ready to perform.
"This is for you, Robbie," Crow said into her microphone as the familiar notes of the Band's "The Weight" began to play. The tune was a nod to Robbie Robertson, who passed away in August.
Each star took a verse on the song, their voices coming together each time "The Weight" returned to its famous chorus. It was a goosebump-inducing moment, and a rare combination of talent that only comes together for the Rock Hall.
Tom Morello Shows Up Solo, But Still Bring the Rage
Predictions as to whether or not Rage Against the Machine would attend or perform at the ceremony ran rampant in the days and weeks leading up to the event. As it turned out, there was no performance to honor the politically-charged '90s rockers, however guitarist Tom Morello was on hand to accept on behalf of the band.
After acknowledging that he and his bandmates had very different views on many things, including the Rock & Roll Hall of Fame, Morello took the chance to inspire and empower the band's fans.
"The lesson I've learned from Rage fans is that music can change the world," Morello declared. "Daily, I hear from fans who've been affected by our music and in turn have affected our world in significant ways. Organizers, activists, public defenders, teachers, the presidents of Chile and Finland have all spent time in our mosh pit."
"Can music change the world?" he asked moments later. "The whole fucking aim is to change the world. Or, at a bare minimum, to stir up a shitload of trouble."
Hip-Hop Pioneers Shine Brightly
Once again, hip-hop acts provided some of the night's most memorable moments. Early on, it was DJ Kool Herc, the DJ whose 1973 performance at a house party in the Bronx is often regarded as the birthplace of hip-hop. The genre pioneer was brought to tears as he expressed appreciation for his induction, and honored artists such as James Brown and Harry Belafonte who impacted his life.
Later, a different hip-hop icon, Missy Misdemeanor Elliott, was given the honor of closing the event. She did so with gusto, performing an emphatic medley of some of her biggest hits, including "Get Ur Freak On" "The Rain," "Pass That Dutch," "Work It" and "Lose Control."
Elliott joining the Hall was monumental, a fact Queen Latifah – who was doing the induction – made sure everyone was aware of. With tonight's honor, Elliott became the first female rapper enshrined by the Rock & Roll Hall of Fame. It was a historic and energetic way to end the evening. Now everyone gets another 365 days to rest before we do this again.
2023 Rock and Roll Hall of Fame Induction Ceremony: Photos
This year's event took place in Brooklyn, N.Y.
Gallery Credit: Allison Rapp