Rock Hits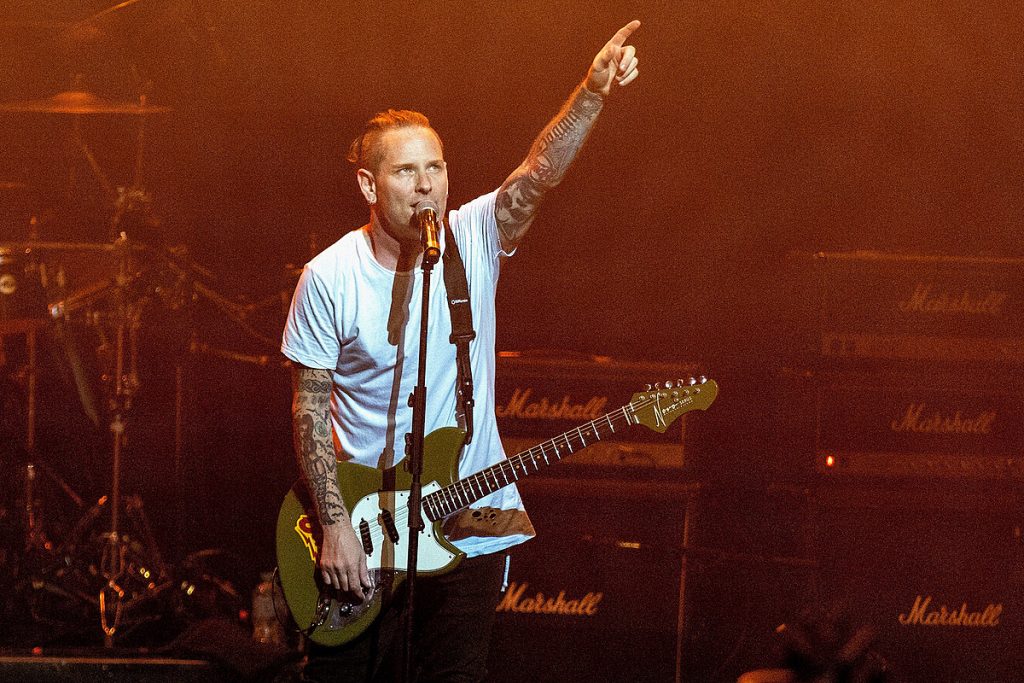 Two Huge Rock + Metal Stars Who Inspired Corey Taylor's Sobriety
In 2010, Slipknot's Corey Taylor made the decision to get sober and, in a new interview, he credits Metallica's James Hetfield and Alice in Chains' Jerry Cantrell with inspiring this life changing move.
The singer, whose new solo album CMF2 is out today, candidly opens up a lot of aspects of his life while speaking with Consequence. On the subject of sobriety, Taylor recants his own experience with substance abuse, acknowledging, "[I was] dealing with my own various addictions and fighting the depression that I had to deal with for years – the trauma that kind of came from when I was growing up."
He adds that music was his "only form of solace" and that it was "the only thing that really ever made me feel like there was hope in the world," energized by the fact that there was always more music out there "waiting for me to discover it." And when it comes to leading a sober life, choosing to do so, Taylor says, can only happen "if you're ready to see it."
How James Hetfield + Jerry Cantrell Helped Inspire Corey Taylor's Sobriety
"I think one of the people who helped me kind of figure it out was James Hetfield," Taylor confesses, pointing to the Metallica frontman who entered rehab in 2004 to confront his own addictions.
"When he first started his journey, getting sober and getting healthy and whatnot, I looked at that, and I was, like, 'Well, shit, if he's strong enough to do it, maybe I can try it," the singer says in admiration.
He notes that sober living "had a big enough effect on me" that the change he's seen as a result has been a driving factor to "stick with it."
"In figuring that out, I also realized that there were so many people who were going down that path, as well. Jerry Cantrell had just gotten sober around that time, and he was starting to kind of put his steps together," Taylor continues.
READ MORE: Corey Taylor Names Alice In Chains As the Best Live Band – 'They're So Good That It's Criminal'
About the commitment to this change in his lifestyle, Taylor admits, "It takes time; it takes effort, takes work." For him, it helped knowing that this is not a unique challenge and that his peers were pursuing similar changes in their lives.
"I really have to give [Hetfield] a lot of credit for the inspiration for that… It definitely helped to know that I wasn't alone in it," he tells Consequence, "And it certainly helped me clear my head and focus more. And really get down to writing again — really, truly writing."
Read the full interview here.
Other Rockers Who Credit James Hetfield With Inspiring Their Sobriety
Taylor isn't the only rock/metal musician who was inspired by Papa Het. to lead a sober life.
Lamb of God frontman Randy Blythe credits the Metallica legend with assisting him in getting sober while on tour and acknowledged that it helped save his life. The Darkness' Justin Hawkins has expressed his gratitude that Hetfield also offered his support while on the road together. Jamey Jasta of Hatebreed has said that talking with Hetfield about his own drinking problems was "very eye-opening" and helped him as well.
If you or someone you know is struggling with drug and/or alcohol dependence, help is available through the Substance Abuse and Mental Health Services Administration website. To speak to someone on the phone, dial 1-800-622-HELP (1-800-622-4357) or send a text message to 1-800-487-4889.
2023's Best Rock + Metal Songs (So Far)
These are our favorite tracks of 2023 (so far).