Rock Hits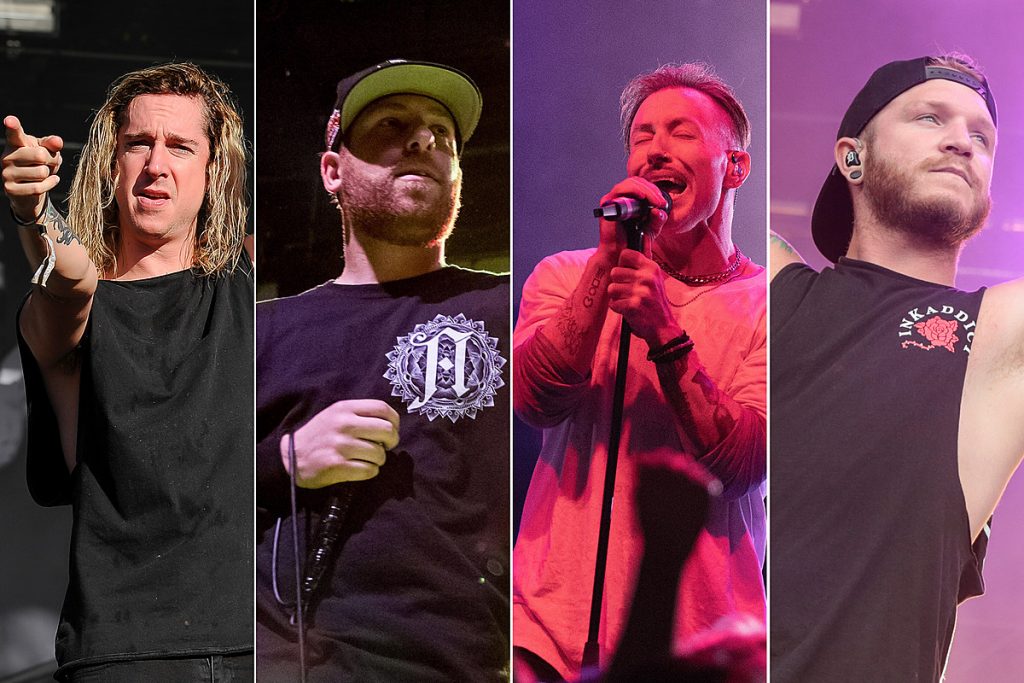 Underoath + The Ghost Inside Book 2023 Tour With New Supergroup
Underoath and The Ghost Inside have booked a summer co-headline tour that has all the makings of a trek where you can't even miss the openers. That's because We Came as Romans and the brand new supergroup Better Lovers, which features former members of Every Time I Die, The Dillinger Escape Plan and Fit for an Autopsy, will be kicking things off for a majority of the run.
That certainly didn't take long for Better Lovers, who teased this morning that touring was imminent upon releasing their first single "30 Over 13." The group features Jordan Buckley, Clayton "Goose" Holyoak and Stephen Micciche playing alongside vocalist Greg Puciato and producer-guitarist Will Putney.
As for Underoath, the band recently returned to the road without the services of longtime guitarist James Smith. citing "differences" for the split. The band most recently released the 2022 album, Voyeurist. They'll be co-headlining alongside The Ghost Inside, who released a self-titled album in 2020, followed by 2021's Rise From the Ashes: Live at the Shrine live album. We Came as Romans will be out in support of 2022's Darkbloom record.
READ MORE: 10 Rock + Metal Bands That Started Out Christian But Aren't Anymore
Underoath said of the run, "First ever co-headlining tour and woooow. We've never toured with The Ghost Inside before. We've never toured with We Came as Romans before. NOBODY's ever toured with Better Lovers before. This summer is going to be absolute insanity."
The pre-sale for the tour starts now with the code LETGO over the Underoath website.
Underoath / The Ghost Inside / We Came as Romans / Better Lovers 2023 Tour Dates
July 15 – Mansfield, Ohio @ Inkcarceration Festival %
July 16 – Chicago, Ill. @ The Salt Shed
July 17 – Louisville, Ky. @ Old Forester's Paristown Hall
July 19 – Reading, Pa. @ Santander Arena
July 21 – New Haven, Ct. @ College Street Music Hall
July 22 – Syracuse, N.Y. @ Sharkey's Summer Stage
July 23 – Toronto, Ontario @ RBC Echo Park
July 24 – Montreal, Quebec @ L'Olympia
July 27 – Asbury Park, N.J. @ The Stone Pony Summer Stage
July 28 – Coney Island, N.Y. @ Coney Island Amphitheater
July 29 – Baltimore, Md. @ Pier Six Pavilion
July 30 – Worcester, Mass. @ Palladium Outdoors
Aug. 01 – Myrtle Beach, S.C. @ House Of Blues
Aug. 03 – Tampa, Fla. @ Yuengling Center
Aug. 04 – Boca Raton, Fla. @ Sunset Cove Amphitheatre
Aug. 05 – St. Augustine, Fla. @ The St. Augustine Amphitheater
Aug. 06 – Atlanta, Ga. @ Coca-Cola Roxy
Aug. 08 – New Orleans, La. @ Orpheum Theater
Aug. 10 – Houston, Texas @ Bayou Music Center
Aug. 11 – San Antonio, Texas @ Boeing Center at Tech Point
Aug. 12 – Dallas, Texas @ The Factory In Deep Ellum
Aug. 14 – Albuquerque, N.M. @ Revel *
Aug. 15 – Tempe, Ariz. @ Marquee Theater *
Aug. 18 – San Francisco, Calif. @ The Warfield *
Aug. 19 – Santa Ana, Calif. @ Observatory Festival Grounds *
% no We Came As Romans or Better Lovers
* no Better Lovers
10 Metalcore Bands Who Don't (Or Barely) Use Cleaning Vocals
It's not what you usually think of when you think of metalcore, is it?