Rock Hits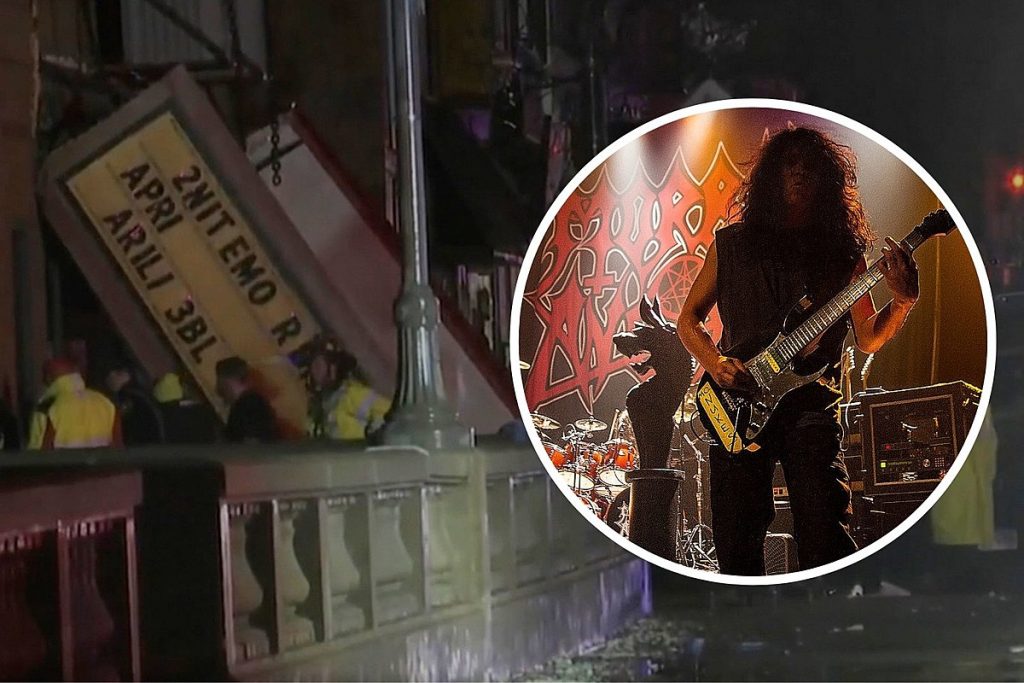 Venue Roof Collapses at Morbid Angel Concert in Illinois
Moments before Morbid Angel were scheduled to take the stage at the Apollo Theatre in Belvidere, Ill., on Friday night (March 31), the venue's roof collapsed during a powerful storm. One user on Twitter shared a video showing the aftermath of the damage and also noted that "there are reports of multiple victims."
You can see the video below.
According to Chicago's FOX 32, "More than a dozen ambulances were reportedly called to the scene. Reports are calling the incident a 'mass casualty event'—which does not necessarily mean there are deaths involved. It could just be injuries."
READ MORE: Slipknot Pause Sets as Fans Climb Speaker Towers at Knotfests
Based on photos other news sources have shared, it appears as though the Apollo Theatre faced significant external damage as well, including the marquee being torn off the side of the building.
It is unclear which bands had already played before the damage occurred; according to the venue's official Facebook, Crypta were set to perform at 7PM, Skeletal Remains at 7:45PM, Revocation at 8:40PM. and Morbid Angel at 9:40PM. Doors opened at 6PM. The show was part of the United States Tour of Terror 2023, dubbed "40 Years of Acid."
Much of the Midwest endured tornado warnings and heavy storms throughout Friday; the damage at the Apollo was caused by what ABC7 in Chicago described as a "severe weather outbreak."
Morbid Angel said it was a tornado that hit the venue. "We ask anyone who is still traveling to the venue to please seek shelter and stay safe," the band wrote on Facebook. "We are currently sheltering in place, and want to extend our support and hope that everyone at the show tonight is safe. Right now our focus is on making sure everyone in the venue tonight is ok and gets home."
Crypta guitarist Tainá Bergamaschi said all the bands are safe as did Revocation. You can see their post via Instagram below.
Illinois Governor JB Pritzker is aware of the situation and his administration is monitoring everything closely.
Several people have shared updates and their concerns on Twitter, including Hatebreed frontman Jamey Jasta.
The Apollo Theatre is located in the Belvidere North State Street Historic District. It was built in 1865 and opened in 1921, originally home to entertainment such as movies, plays and vaudeville (via Cinema Treasures).
This story is developing. The entire team at Loudwire sends our condolences to the bands, crews, venue and all involved and impacted by tonight's accident.
30 Important Rock + Metal Albums Turning 30 in 2023
1993's best still rocking in 2023.