Rock Hits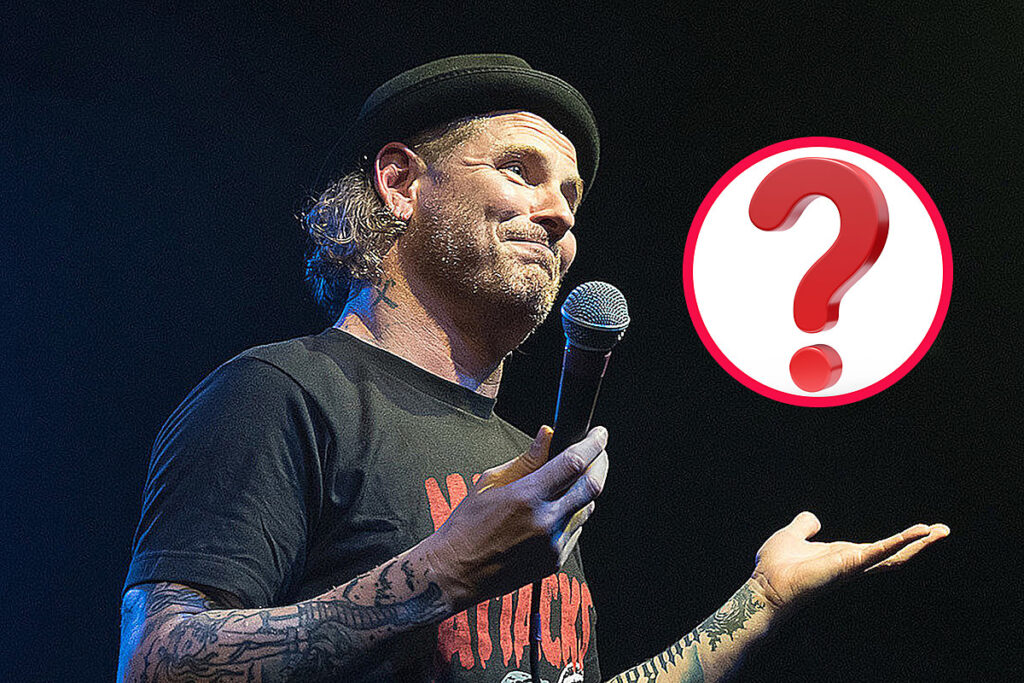 What Corey Taylor Thought When He Saw Slipknot's Very First Show
In an interview with Barstool Backstage, Corey Taylor recalls his pre-fame musical career, from his development in Stone Sour to seeing Slipknot play their very first show and, later on, being invited to join the band. So, what did the singer think when he watched Slipknot's first-ever performance?
Corey Taylor on Seeing Slipknot's First Show
When asked about the Iowa rock and metal scene in the mid-'90s, Taylor recollects seeing Slipknot (then with vocalist Anders Colsefni) hit the stage and in a rather unconventional manner, which immediately caught his attention.
"I was there for the very first [Slipknot] show in '95, and it was the craziest thing I've ever seen. They didn't come from the backstage; they walked through us. They didn't even have to push anyone out of the way… They didn't tell anybody what they were doing. And when they came on stage, all they did was hit one crazy-low note, and Joey [Jordison] blasted probably for 30 [seconds] to a minute," he says of that memorable night.
It made such an impression on him that it established a new goal — to join that band.
"I'm front row, and I remember saying to myself, clear as day, 'I'm going to be the singer for this band.' I'd never felt that before, never felt it since and, literally, two years later they ask me," Taylor continues.
Slipknot's First Show in 1995
Corey Taylor on Early Stone Sour
Taylor is then asked if he knew he had the capabilities to front Slipknot when he was invited to join, to which he replies, "No, I had no idea."
He was still finding himself musically, absorbing a myriad of different styles of heavy music while striving for his own development as a songwriter.
Taylor explains, "Stone Sour at the time was more kind of metal/alternative, there was some punk to it. It was me kind of finding my voice as a songwriter because I wrote pretty much everything. When it came to Slipknot, that was the stuff that I was listening to. It was everything from Korn and Megadeth to stuff like Sevendust, Type O [Negative]… stuff like that. I was kind of forming the amalgam in my head — Sepultura, stuff like that. Right around that time Roots had come out and just crushed everything. Oh my god. That record is so thick you can wear it like a coat."
Stone Sour, "I Can't Believe" (1994 Demo)
READ MORE: Corey Taylor Picks the Slipknot Songs He Finds Most Overrated + Underrated
Corey Taylor on Joining Slipknot
The singer, who will release his second solo album, CMF2, this Friday (Sept. 15), notes that Stone Sour's material "was starting to get more aggressive," but that he also "felt like I wasn't getting there yet," which made the Slipknot invite all the more ideal.
Still apprehensive about the opportunity, Taylor didn't want to accept the proper role until they took time to "see if it works." "It took a couple of weeks," he tells Barstool Backstage, "So I went in, and I recorded a couple songs with them, because… I don't know [if] they were sure about me."
While recording, he says he blew his voice out quickly and that the first song he recorded with Slipknot was "Me Inside," which blew them away when he was in the vocal booth.
"It was so rad, because they had never heard me sound like that before… The fact that they had trust, and I owe this to Clown and Joey, was pretty rad. It was a it was a big moment for me."
Watch the full interview below.
Corey Taylor Interview With Barstool Backstage
The 42 Songs Slipknot Have Never Played Live
These are the songs Slipknot have never performed live.