Rock Hits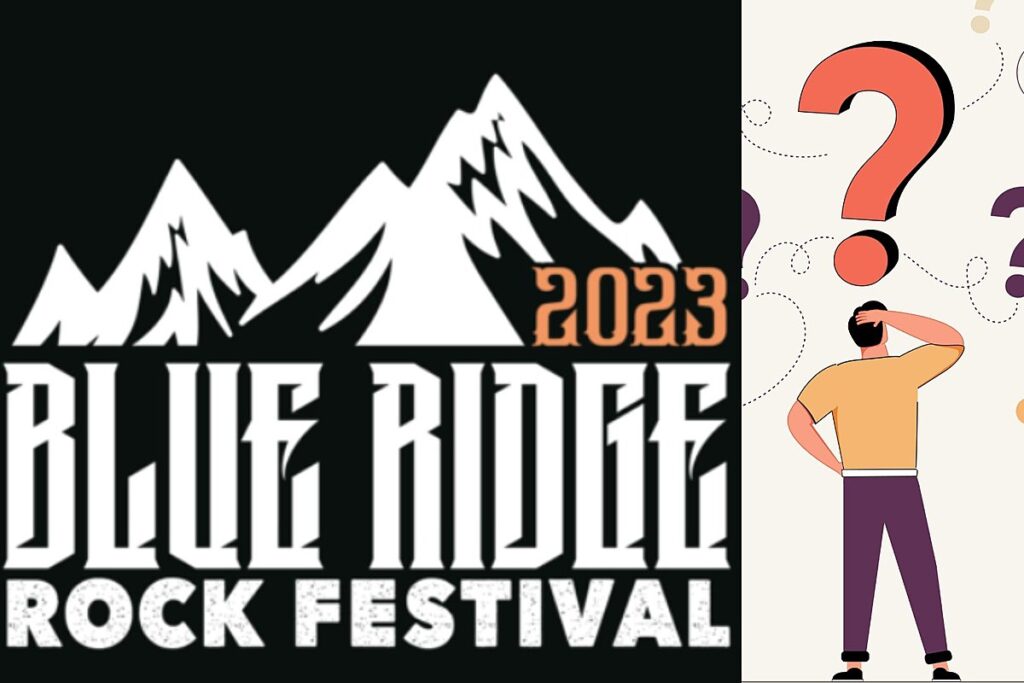 What's Going on With Blue Ridge Rock Fest? Venue Responds
What's going on with Blue Ridge Rock Fest? The simple answer: A lot.
Last weekend's canceled Blue Ridge Rock Fest has been a major talking point on social media this week, and it can be hard to keep up with what's going on and separate rumors from truth. Luckily, a number of local Virginia news sources have been reporting on the various complaints and rumors associated with this year's festival.
This mainly centers on allegations of poor conditions and treatment of both attendees and festival staff.
Some of the most common complaints include unsanitary conditions, lack of safety procedures, insufficient transportation, extremely long wait times to enter both the camping grounds and festival, and lack of clarity in whether attendees will be refunded for their tickets.
And although event organizers maintain that the festival was canceled because of inclement weather, there have also been rumors that there may have been other factors at play, such as the event's stagehands going on strike.
Local news sources have looked into many of the concerns surrounding BRRF and provided some further details and insight from various local officials and people connected to the event, which we have broken down below.
Venue Explains Why Weather Was Determining Factor For Cancelation
Why Was Blue Ridge Rock Festival Canceled?
At 5:23PM ET on Sept. 9, Blue Ridge Rock Festival announced on Facebook that the remainder of this year's event has been canceled, citing "continued severe weather."
On Sept. 7, a storm rolled through VIR (Virginia International Raceway) in Alton, Va., resulting in a sudden and flawed evacuation of the festival grounds.
Attendees, the number of which is said to range from 45,000 to 60,000, were instructed to seek shelter in shuttle buses (which were, again, not nearly great enough in supply to meet demand) or in the vehicle at their campsite. However, in order to quickly get to the campsite, the shuttle bus (recommended shelter) was the only means of accommodated transport.
VIR President Kerrigan Smith Responds to Weather Cancelation
"When I look at where the turning point was for everyone, it was this storm that came out of nowhere. It was so violent and so fast at once. It was the mass evacuation going so quickly for so many," VIR President Kerrigan Smith tells WDBJ7, "It was upon you, there was no warning."
Smith argues, "We're not talking about the the condition of when you look up at the sky. We're talking about the aggregate of the effects of the weather that happened, people's equipment damaged, tents destroyed. Then, the deterioration of the fire lanes that we had in those areas to where we were not going to be able to either get them out or access them."
While emergency preparedness is part of any festival's planning, Smith also contends that the suddenness of the storm presented such a challenge that he seemed to doubt that any similar festival would be able to handle such an evacuation.
"I challenge anybody to present an outdoor facility that can house 40,000 people at a moment's notice when bad weather comes in. That's what we ran into. There's an expectation that, 'you should have had a shelter to put 40,000 people under.' Well, I'm sure we'll all talk about that and look at that, but I don't know that that's a reality that exists," Smith claims.
Meteorologist Disputes Cancelation for Weather-Related Reasons
On TikTok, a WSLS meteorologist Chris Michaels notes Blue Ridge's statement where it is said that the cancelation was a "collective one, made by the event's emergency management team composed of state and county officials, as well as representatives from the venue."
"I reached out to the National Weather Service. They said they do not suggest canceling events — that's just not something that they do. But they did send briefings to emergency management," says Michaels, who also reviewed "archived radar data" from Sept. 9 and 10 (Saturday and Sunday, respectively).
Michaels notes that there was little to no rain in the forecast for Saturday and that "scattered showers" were expected on Sunday, but that the conditions were "nothing that you can't play or sit through."
Venue Addresses Stagehand Strike
When Did Workers Threaten to Strike?
The afternoon of Sept. 7, Blue Ridge issued statement informing attendees that the rest of the day had been canceled and that a decision about the next day's "programming" would be made by 5PM ET.
WDBJ7 reports that at 5PM that day, stagehands presented a list of demands that must be met or else they would go on strike. Those demands are said to have included additional water stations, showers, food and safer structures within the next 24 hours.
Blue Ridge Rock Festival publicly announced the entire festival's cancelation on their Facebook page at 5:23PM ET.
Why Did Workers Threaten to Strike?
The outlet reports that more than 150 festival workers had to share six porta-potties over the course of two weeks of preparation, as well as while the fest was taking place. Meanwhile, it has been alleged that these bathroom facilities were not regularly maintained and were cleaned out "every few days."
What Have Stagehands + Other Personnel Said?
One stagehand tells WDBJ7, "We were literally living around our own filth, in our own mess that we were trying to keep contained to the trash cans but [there isn't] much you can do especially after a storm comes through and blows that stuff around."
"It all fell on deaf ears. Eighty percent [of workers] were gone by 7PM," a stagehand laments, while a worker is also quoted as saying, "They're trying to control the narrative on us and trying to bury the fact that we ended up walking out because this correlates with all these other festivals that have dropped the ball and put people's safety at risk."
Electric Callboy tour manager and YouTuber/Twitch streamer Tank the Tech recollected his experience behind the scenes in a 30-plus-minute video, outlining the myriad of reasons he felt this year's event was "unsafe," noting the labor shortage, present danger to crew members and general disorganization and confusion surrounding many logistics issues.
Did VIR Know About the Strike Before the Cancelation?
Smith contends that VIR had no knowledge of this strike prior to making the decision to cancel the rest of the event.
Venue Responds to Claims of Overwhelming Capacity
How Many People Attended Blue Ridge Rock Festival?
WDBJ7 reports that Blue Ridge Rock festival informed the sheriff's office that 45,000 tickets were sold, but the sheriff's office puts the estimate between 50,000 and 60,000 attendees.
In August, Blue Ridge Rock Festival shared an announcement with fans regarding the improvements they can expect at the 2023 festival, promising that the shuttle shortage experienced in each of the two years prior would not be an issue again. The fest also acknowledged that they had "more than doubled" the camping capacity. Explaining how this increased capacity would not result in more shuttle problems, they said, "This allows far more fans to no longer need to day park and use buses — but now simply camping and parking directly on-site at the festival."
What Was the Capacity of the Festival?
VIR's Smith tells WDBJ7 that there was actually no set capacity as the festival grounds account for roughly 1,300 acres.
VIR President Kerrigan Smith Responds to Blue Ridge Capacity
"As a casual bystander looking at ground level, I was like, 'wow, this does feel different.' When I look at the drone shots and where people were scattered out, it looks very consistent with what has been talked about and advertised. I haven't felt that there was a massive overselling of tickets," Smith argues.
Violations Uncovered by Health Department
The Virginia Department of Health was on-site at this year's Blue Ridge Rock Festival and uncovered an unspecified amount of health violations. Brookie Crawford, a spokesperson for the Southside Health District spoke with the Danville Register and Bee about Health Department's role in it all, while also confirming, "No, the Virginia Department of Health did not shut down the Blue Ridge Rock Festival."
Environmental health manager for Pittsylvania-Danville and Southside health districts Wesley T. Marshall informs the outlet, "We told the event organizers that we [the Virginia Department of Health] were there to support them in public health for whatever decision they made."
Crawford verified that violations at Blue Ridge Rock Festival were found "around sanitary conditions" and that complaints "about the port-a-jons and the availability of drinking water" were also fielded. It was not specified exactly how many of these violations were found.
Photos shared online by attendees show unattended piles of trash around garbage cans, overflowing and excrement-covered porta-potties, extensive lines to access a drinking water station and other states of disrepair at the festival.
Will Blue Ridge Rock Fest Issue Refunds?
On Sept. 9, as part of the cancelation announcement, Blue Ridge Rock Festival stated, "We are working diligently to provide refund details and will share that information early this week when business re-opens."
The only update directly from the fest on this front came on Sept. 12 where it was said, "We are currently in extensive discussions with our ticketing company and partners. We ask for a bit more of your patience as we work to provide you with a resolution.
Smith tells WDBJ7 he hopes the festival will find a resolution.
WRIC reports that ticket vendor Etix is waiting to confirm details with Blue Ridge Rock Festival before potentially issuing refunds.
An Etix support page notes, "All ticketed events are to be held regardless of weather conditions. Sometimes weather or other outside considerations make the performance impossible to complete. In such instances, the event venue or the event promoter are charged with making the final determination of cancellation and refund availability."
The festival also cautions ticketholders that refunds will not be issued for weather-related reasons.
It does appear, according to reports, that some festival goers were able to dispute tickets with their banks once the festival was canceled midway through.
Lawyer Responds to Cancelation + How to Seek a Refund
A Virginia lawyer on TikTok (who went to last year's Blue Ridge Rock Festival)
"If you were there on a one-day pass, it's going to cost you a lot more to get any sort of [lawsuit] going to get that back than it is going to be to just let it go. I think the festival organizers know this and that's why I highly encourage contacting the Virginia Attorney General," she says, also directing people to contact the Consumer Protection Hotline (1-800-552-9963 or, if calling from outside the Richmond, Va. area, 804-786-2042).
According to a report from WSLS (10 News), the Virginia Attorney General's office is working through complaints regarding the festival.
In an email to the news station, a representative for Attorney General Jason Miyares' office responded saying, "Yes, our Consumer Protection section has received complaints and are working to resolve them or send the appropriate agency."
Has Blue Ridge Rock Festival Organizer Jonathan Slye Said Anything?
In a 2021 post addressing a myriad of fan complains from the inaugural Blue Ridge Rock Festival, Jonathan Slye introduced himself as the fest's CEO.
In an email reply to WSLS, Slye seemingly distanced himself as the face of the fest, contending his role is limited to talent buying and marketing.
"Aside from talent buying, I also am the primary handler of the marketing done to promote the Festival each year. As the creator of Blue Ridge and the 'Festival Created By The Fans' concept, my talent buying and marketing position is far more public-facing than it is with other Festivals, which causes confusion about my role," Slye tells WSLS in what is the only published portion of his email.
Will Blue Ridge Rock Festival Return in 2024?
Blue Ridge Rock Festival is currently pre-selling tickets for 2024's event. The festival currently has a multi-year contract with VIR, which was signed earlier this year in April.
"If it's not going to be better, we're not going to do that same event again. If it's not going to be something different where we know that we can attack some of these problems and address them, we're not going to go ahead and proceed with that," VIR's Smith says.
15 Most Disastrous Music Festivals in History
Here are some of the most disastrous music festivals in history, many of which proved unacceptably arduous for attendees, but a handful of others that unfortunately turned tragic. You might remember many of these instances — others you may not know about yet. Keep reading to find out.