RAP HITS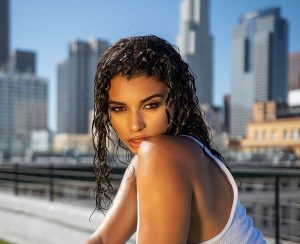 Hannah Monds Teams with Gangsta Boo For New Single "Big Momma"
Hannah Monds is a multi-talented artist with a diverse set of skills that extend beyond just music. She is a singer, rapper, songwriter, actress, host, and producer. Her upbringing in the south has had a profound impact on her music and style, incorporating elements of various genres that were prominent in the region such as Soul, Blues, Funk, Pop, Hip-hop and R&B.
Despite her young age, Hannah Monds has accomplished a lot in her career. She graduated from Middle Tennessee State University with a Bachelor's degree before moving to Los Angeles to pursue her career in the entertainment industry. Since then, she has made her mark through collaborations with various brands, networks, and influencers on social media. She starred in her first film with Lifetime Network and co-wrote and co-hosted her first show "Pillow Talk" on the Zeus Network. Her endorsement deals with Harley Davidson, Good American, and Nike have helped her to build a following of fans that appreciate her unapologetic message of women empowerment.
Hannah Monds' success in the entertainment industry has been bolstered by her unique ability to think outside the box. She has diversified her artistry with different personas and messages of fierce female energy. Her natural music instinct has helped her to develop her sound, which is a blend of sensual R&B melodies and fierce Hip-Hop cadences. Her songs feature lyrics that speak to the heart of her audience and empower women to be strong, fearless, and unapologetic.
One of Hannah Monds' most recent collaborations is with Teddy Riley on the song "BEG FOR IT". This collaboration with the legendary Teddy Riley is significant because it made history as the first time a female artist has had a Teddy Riley talk box feature. This is a testament to the respect and admiration that Hannah Monds has earned from her peers in the music industry.
Her latest release, "Big Momma," features Tennessee legend Gangsta Boo and pays homage to her southern upbringing. It embodies the fierce attitude of a strong, fearless woman, showcasing the various sides of herself by tapping into her alter ego with her melodic hip-hop delivery. The song is a reminder to women to be proud of who they are and not to take any mess from anybody. It's a celebration of self-respect and the strength that comes with it.
Hannah Monds' dedication and passion for her craft are evident in everything she does. Her creative process for "Big Momma" is a testament to her willingness to experiment and push the boundaries of her music. She found inspiration in her roots and the music that influenced her upbringing, and used that inspiration to create something that is uniquely her own.
As she steps into the beginnings of the release of her debut project, fans can expect to see more of Hannah Monds' diverse talent and her unwavering message of women empowerment. Her impact on the music industry is just beginning, and we can't wait to see what she has in store for the future.