RAP HITS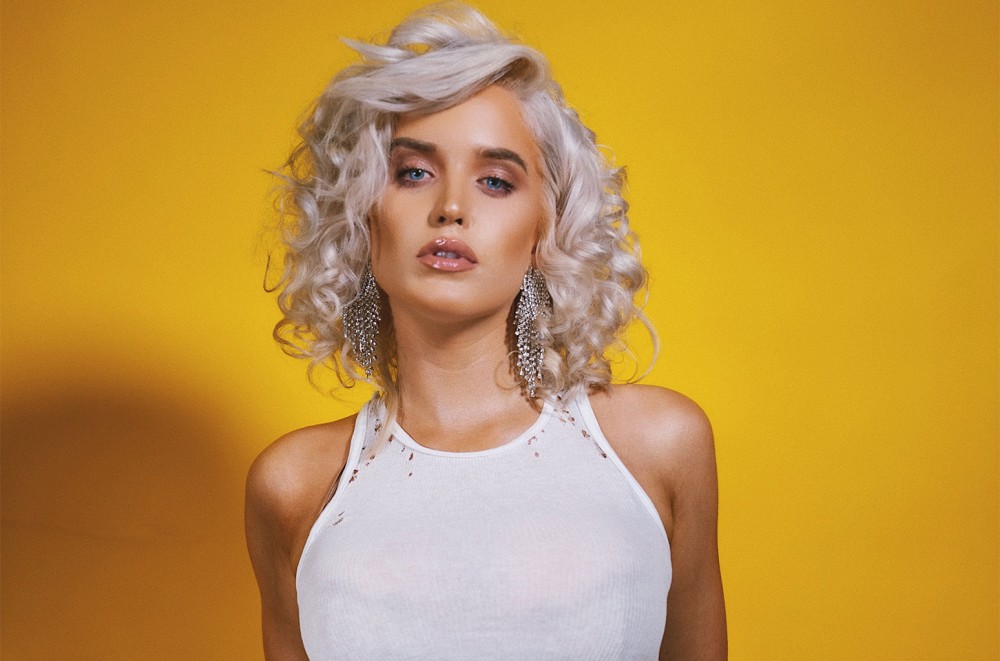 Macy Kate Is Shattering the YouTuber 'Fantasy' With Vulnerable New Single
Macy Kate wears a lot of hats: YouTuber, reality star, original singer-songwriter. While she's more or less shed the first two titles, they were instrumental to her growth as an artist, as Kate tells Billboard — and it's all led to her new single "Can't Get Over Us," out Wednesday (Jan. 22).
The vulnerable song, reflecting on her troubles with overthinking and missing a past relationship, brought the singer into emotionally uncharted territory. Above all, she bares herself for her fans in a way that she didn't necessarily feel she was able to do as a YouTube star.
"I wanted to take them on a journey underneath all of the heavy glam and outfits and this perfect fantasy that it looked like I was living in," she says. "I wanted to show them that I really wasn't okay. I didn't have my life together."
Although she's only 22 years old, Kate has worked professionally in the music industry for almost ten years. A classically trained pianist since the age of five, she was recruited to move from her hometown of St. Petersburg, Florida to join an Atlanta-based girl group in 2011. She spent two years recording, rehearsing, and media training with three other girls, but the group never came to fruition. However, Kate decided to stay in Atlanta after the breakup, working with the band's producers to pursue a solo career.
Kate began auditioning for reality music competitions like Fox's The X Factor and ABC's Rising Star. Although she was sent home after boot camp on The X Factor, she eventually finished in ninth place on season one of Rising Star. The then-16-year-old singer was a fan favorite, holding the record for highest score.
Her stint as a reality singer sparked some success, but Kate really blew up when she moved to Los Angeles in 2015. Spending her free time posting cover songs on YouTube, she caught the eye of fellow cover artist Kurt Hugo Schneider, who asked her to collaborate with him. Their version of Imagine Dragons' "Radioactive" went viral, and today has over 35.5 million views.
In response to her newfound fame, Kate began posting weekly covers, putting her own unique spin on songs like "Shape of You" by Ed Sheeran and "Work From Home" by Fifth Harmony. Her subscriber count quickly surpassed one million.
"I didn't do [covers] for the views at first," Kate tells Billboard. "It was a hobby for me to remake these hip-hop and pop records. When it started to become more of a popularity thing, I was like, 'Oh, shoot. I could really keep doing this and build a fanbase.' It ended up working."
While keeping up her social media presence, Kate continued to pursue a solo career, attending music conferences and fostering industry relationships. At a 2016 Florida conference, she was invited to sing at an executive dinner. After her performance, Ramont Green, Flo Rida's then-A&R manager (and Macy's current manager) chased her down. He invited her to meet Flo Rida in a studio the next day, and she was signed on the spot. Kate joined the rapper on tour as the lead female vocalist for tracks like "My House" and "Wild Ones."
"I learned so much from him," she says. "I was shadowing him while he was in interviews and in the studio, and I was performing in stadiums that I'd always dreamed of performing in. He is one of the nicest people that I've ever met. He doesn't forget that he wouldn't be where he is without the people that have been backing him."
After two years on tour, Kate and Flo Rida respectfully decided to go their separate ways, and Kate once again took a step back to focus on herself as a solo artist. Shortly after the end of her tour stint, Tribeca Music Group and Tina Davis of Empire came across Kate's YouTube videos.
Kate signed with both entities in November 2018, and spent 2019 writing and recording original music. Her first Empire single was released in October 2019 — "Cry For Help," a self-critical song about her actions in relationships.
"Can't Get Over Us" is the second song off of her upcoming EP, due to be released in the spring. The compilation, with each track arranged to follow a storyline, reveals to her fans the journey she's been on over the past year, including recovering from a bad relationship and learning to let people back into her life.
"I feel like a lot of my previous music has been about surfaced topics," she admits. "But a lot of things have happened in the past two years and it's inspired these songs. I've just learned so much about myself. It's definitely a weird thing, but it turned into an amazing piece of art that I'm really proud of."
Ahead of the release of "Can't Get Over Us," Macy Kate spoke with Billboard about her YouTube stardom, being inspired by Halsey and more.
---
What inspired you to first start posting covers on YouTube?
I've always had an ear for remaking songs. When I was ten, I would look up piano covers that I could play with, and I would hum and sing with them. I knew I had something when I could take a hip-hop song and turn it into a ballad. I'd make it sound like a completely different song. It was a really cool tool for me to have.
Was there a moment when you realized that you wanted to transition from posting covers to releasing original music?
Since I grew up having that strict artist development, I was constantly in the studio coming up with harmonies and writing and producing. It came naturally to me. While I was doing covers, it started to become a routine. I felt like I was stuck. I had so many things to share with my fan base that I created on YouTube. We're all just this community going through the same thing. I would see in the comments, even with the renditions I made, like, "This song helped me with getting through this situation and it brought a whole new point of view to the song."
When I started reading everyone's comments like that, I just wanted it to be my own words that helped them through something. I feel like it's just that much more special when people are messaging you, "This saved me from certain things and helped me through this relationship" when it's your own lyrics and real things that you went through.
You've been a YouTuber for a large part of your life. Do you see yourself now as more of a singer-songwriter than a YouTuber?
YouTube was such a big part of who I am, and I love YouTube. I never thought I would be doing what I'm doing, let alone have a million subscribers. But I think growth for me was to separate myself from the covers and really get into my own craft. I think as a creator it's my job to release something that is completely myself, letting people into my world to see a side of me that I don't present on YouTube.
I was nervous at first, because I didn't think people would fully support me doing my own stuff, because people can get so used to seeing you in a certain light. But once I started putting more and more music out, I started seeing this shift of, "We want more original stuff from you." That was the point when I stopped doing covers and was like, "Okay. I'm an artist now." YouTube will always be a base for me where I share my original content. It's just in a different way.
How did your experience as a contestant on Rising Star shape you as an artist?
The Rising Star experience was crazy for me because I was able to see how film and television works. I had never been introduced to that side of the industry, and I think that all comes with being an artist — learning videos and production. It really got me comfortable in front of cameras and doing interviews and telling your story. It taught me how to be calm under pressure. I do eventually want to get into acting and film, so I'm very grateful for that.
Was it always your goal to get signed?
Not particularly. I feel like especially now with social media, it's so much easier to get a song that's popping with Spotify and TikTok and all of these social media platforms. There was a part of me that was like, "Do I really want to get signed and not do it myself? Or do I want to get signed and have those connections and financial help?" But with being signed comes with sometimes not as much control over creativity, so I wasn't fishing for a label at the time.
They just came to me at the right time. I was talking to a couple of different labels, but when I met with Empire, they're so artist-friendly, which really intrigued me. I've known about Tina Davis for a while and when she came to me, I knew that was it. I love this team and I love where they're going. They let my creativity go places that it needs to go, and I value all of the team's opinions.
Who are your biggest musical influences?
Musically, Christina Aguilera has always been an idol for me. I've looked up to her since I was little and my mom would play her Christmas DVD performance throughout the house. I know every run that she does and I copied her growls.
Now, I really look up to Halsey. What she's doing with her music and her whole vibe is amazing to me. The creativity she puts into not only her music, but also the way she involves her fans and her audience and makes them feel special, that's something that I really look up to and respect her for. I think it's important to acknowledge the fans when you do have that success because it's why we're all here.
Who would you love to collaborate with?
Besides Halsey, I would love to do a rap feature with Roddy Ricch. Post Malone and Justin Timberlake. Pharrell as a producer.
After your EP is released in the spring, what's next for you?
I'm definitely touring after the EP is released. I'm working on a lot of really dope visuals. I'm hoping to get out a lot of fashion stuff in this next year. Maybe start my own line or merch because I know people also follow me for a lot of fashion and beauty stuff. I also want to do a lot of fan interactions to let people know that in these situations that we're going through they're not alone.
It's funny, because when I release music, I feel like I'm supposed to be the one who is saying, "We're all in this together and we're not alone." But I feel like they're also helping me realize that I'm not alone in what I am going through. That's a big thing for me. I want to thank my fans for that.