RAP HITS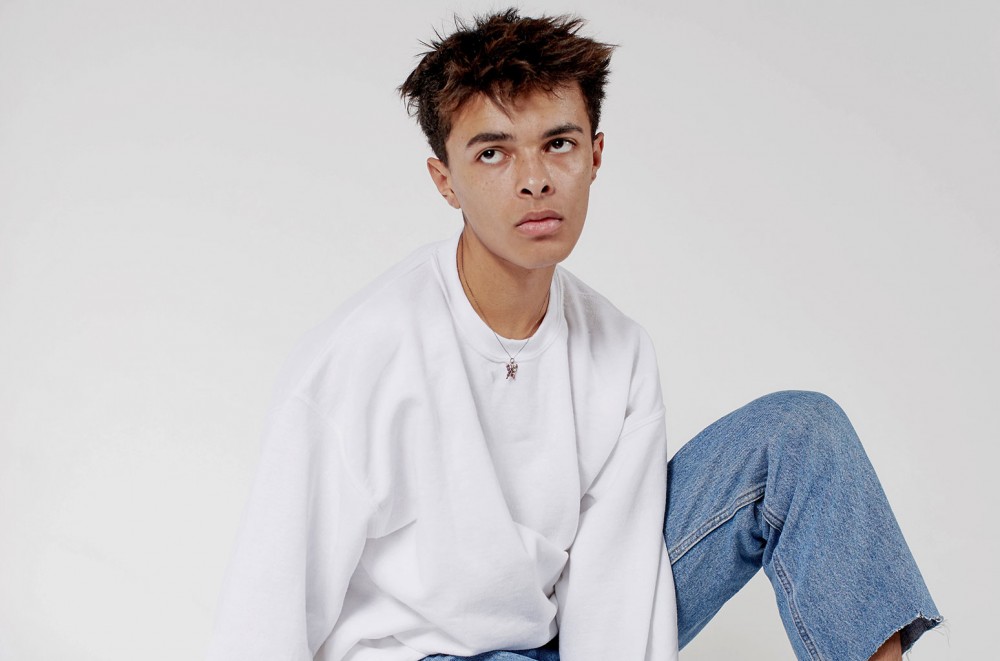 Rising Teen Pop Star Isaac Dunbar Unwraps 'Isaac's Insects' Video, Talks Major Label Debut: Exclusive
It's increasingly easy to toss labels like "wunderkind" at every rising teenaged pop star, but Isaac Dunbar is the real deal.
Hailing from Barnstable, Mass., the teen started garnering buzz back in 2018 for "Freshman Year," a yearning, self-deprecating ode to the horrors of high school he wrote at just 14 years old. Dunbar gained further momentum last year with Balloons Don't Float Here, a self-released EP of eight taut, sharply-rendered pop songs written, produced and crafted from the confines of his bedroom.
With his incisive lyrics and startlingly prescient pop sensibilities, the budding artist quickly became labeled an indie star on the rise, and was soon earning comparisons to the likes of fellow teen prodigy Billie Eilish and pop savant Troye Sivan.
Now signed to RCA Records and 16 years old, the newcomer is prepping the release of his major label debut, Isaac's Insects (due out April 3), and his first national tour, which kicks off April 14 at Moroccan Lounge in Los Angeles.
Ahead of the EP's release, Dunbar unveiled the project's haunted title track — which follows lead single "Onion Boy" — and its accompanying music video on Wednesday (Jan. 22). "Insects wish the worst for me/ And they befriend my enemy/ And it shocks me/ Oh how it shocks me/ Stomp them and they'll come right back/ This time they're back with more times ten/ I've had enough of beady eyes/ And men in black who know my lies," he sings darkly over a glitchy beat on "Isaac's Insects."
According to Dunbar, the new song was directly inspired by a literal insect infestation the teen recently experienced in the same bedroom where he first started writing music. "One night when I was trying to fall asleep in my bed, I started freaking out because I saw hundreds of ants crawling from the bottom of my walls all the way to the top," he explains. "It scared the s–t out of me so the next morning I was like, 'Why not use this terrifying moment and put it into song?' So that's exactly what I did."
The video, he adds, was inspired by Dunbar's "love of horror and sci-fi movies, especially [2018's] Await Further Instructions."
Chatting with Billboard, the rising pop star opened up about his forthcoming EP, how his music has evolved since signing to a major label, what fans can expect from his live show and more. Check out the new video, Dunbar's complete interview, and a full list of tour dates below.
This is your first EP since signing with RCA. How does your new music build on everything you released independently last year?
I feel like it's a more advanced departure regarding my sound from last year. It shows more of who I am now at this point in my life, rather than who I was at 14, 15 years old. My production has improved, along with my vocal range and techniques, musical choices.
How does it compare to "Onion Boy" and the rest of the EP to come?
I would say it's a much more musically interesting in my opinion…I used a lot of EDM production elements that I used to use when I first started making music back in 2013. I'm obsessed with the Auto-Tune and overall intensity of the song.
Did you ever expect to reach this point as an artist at such a young age? How does it feel?
I don't ever think about that. I don't really know what to expect as for my success, i(just hope i get to tell my story and be heard and help other people. It feels good that people enjoy my music and I love knowing that the music can help heal others.
Who are some of your musical inspirations?
At the moment I would say Harry Styles, Arca, Lorde, Willow, Lady Gaga and Yo La Tengo.
What are you listening to these days?
I'm obsessed with the song "Jukai" by Jhené Aiko. It's such a therapeutic song.
A lot of your lyrics capture the particular complexities of being a teenager in the now-2020s. What do you want fans to take away from your music?
I want them to know that they all have a place in this world. I want my music to empower and create a sense of community. Make the world a little better, you know?
Finally, you're headed out on your first tour this spring — what are you most looking forward to about hitting the road? What can fans expect from your live show?
Expect a lot of jumping and to transcend — and also, I need everyone to bring energy. Do not hold back at all, please! I feed off that stuff!
---
Isaac Dunbar North American Tour Dates
April 14 — Los Angeles, CA @ Moroccan Lounge
April 15 — San Francisco, CA @ Cafe Du Nord
April 17 — Portland, OR @ Holocene
April 18 — Seattle. WA @ The Vera Project
April 21 — Chicago, IL @ Schubas Tavern
April 23 — New York, NY @ Mercury Lounge
April 24 — Boston, MA @ Sonia