RAP HITS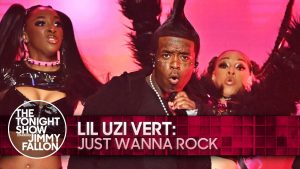 [WATCH] Lil Uzi Vert Performs "Just Wanna Rock" on 'The Tonight Show Starring Jimmy Fallon'
Lil Uzi Vert brought "Just Wanna Rock" to the Tonight Show Stage. Appearing on Jimmy Fallon's late-night show, Lil Uzi, dressed in all-black, brought all the energy the record commands and the video displayed. Joining Uzi on stage was a group of dancers in unison, electrifying the crowd. You can see the full performance below.
Lil Uzi Vert has new music in the chamber. With "Just Wanna Rock" still running it up worldwide, Lil Uzi announced new music on Instagram with Playboi Carti.
"Me and my luv about 2 take over the world," Lil Uzi wrote.
The new music will likely add on to a run of success for the Philly rapper, including "XO Tour Llife3" hitting diamond in September.
Lil Uzi Vert is set for the upcoming popular Broccoli City Festival, which will return to the RFK Stadium Festival Grounds in Washington, DC, on July 15–16, 2023, according to organizers Broccoli City and partner Live Nation Urban.
Lil Uzi Vert, Jazmine Sullivan, City Girls, Mariah the Scientist, Saucy Santana, Rema, Ice Spice, Finesse 2 Tymes, Tia Corine, and OG Bobby Billions serve as the festival's opening roster on Saturday, July 15. On July 16, a special hometown headlining performance by Brent Faiyaz, Kodak Black, Glorilla, Chloe Bailey, Asake, Coco Jones, Fat Trel, Lola Brooke, LARussell, and Tre' Amani will continue the festivities.