Rock Hits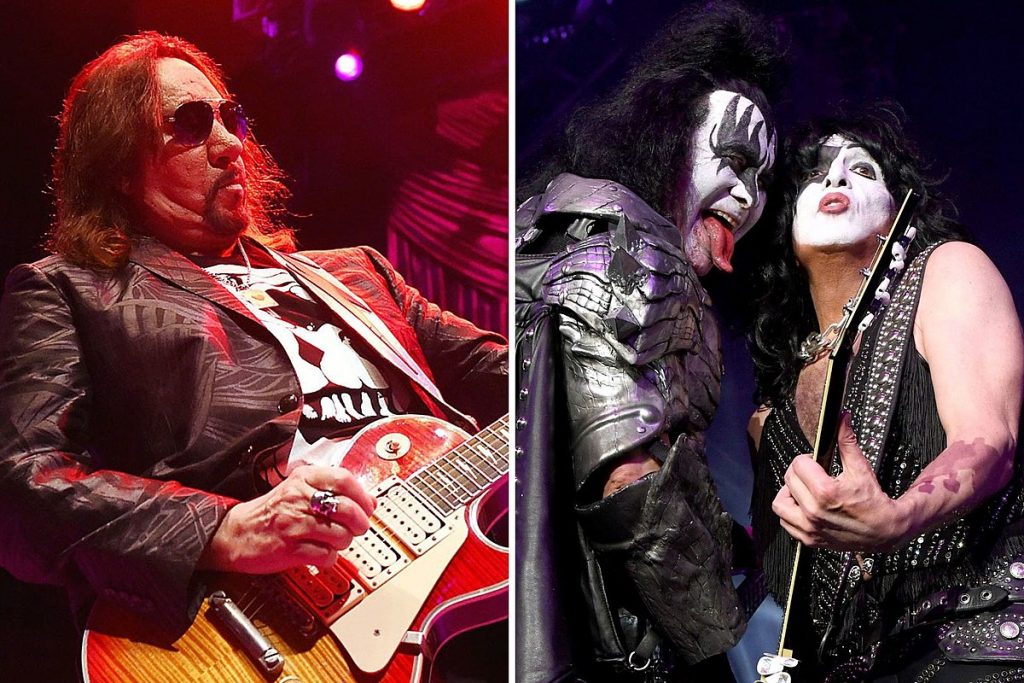 Ace Frehley Says KISS' Paul Stanley Called Him to Say 'F–k You'
After threatening to release a damning 120-page manuscript that would allegedly ruin the careers of Paul Stanley and Gene Simmons if an ultimatum wasn't met, former KISS member Ace Frehley has returned to Trunk Nation With Eddie Trunk with a significant update.
Yesterday (April 4), Trunk informed listeners that he had indeed spoken with Frehley since the firebrand interview last week, where the Spaceman demanded a retraction of a statement Paul Stanley made during an appearance on The Howard Stern Show. Frehley also demanded an apology within seven days and Trunk relayed that over the last week, Frehley had spoken to Stanley, but he hadn't yet divulged the details of what was said.
What's the Update?
During today's interview, Trunk asked if Stanley contacted Frehley after the ultimatum was issued.
"Yes he did, not long after the show was over," Frehley confirmed (all transcriptions by Loudwire), "I was blindsided by the phone call because I saw his name come up on my cell phone and I spoke to him 100 different times on that number — and that can be verified by Verizon, who is my cell phone carrier — I figured he was calling me maybe to apologize or at least explain why he said that. Maybe he meant it more towards Peter than me."
"Instead of an apology, I got a five-second phone call, 'Fuck you Ace, I'm not going to apologize' and hung up. He wasn't even man enough to give me a rebuttal and explain why I'm so upset or anything like that," the guitarist continues.
"And if you look for your email messages that I sent you, I did screengrabs from Verizon — it's the same day as our interview and it says five seconds," he adds, which Trunk verifies he personally saw.
He also stated he spoke with KISS manager Doc McGhee since last week's interview on Trunk Nation and that McGhee denied that Stanley had called him at all.
"I've been in touch with Doc for at least three or four times between our last interview and today. And the earliest I texted him was today because I was hoping Paul had enough sense to… you know what? I would've been happy if Paul just called me one on one like a man and apologized. That would've sufficed, but after cursing me out on the phone the gloves are off," Frehley explained.
He then suggested this matter could be taken to court for defamation of character regarding the comments made about him and his performance capabilities.
Is Ace Releasing the Manuscript?
After some careful consideration, Frehley has elected not to release this alleged manuscript.
"I spoke to several good friends who are God-fearing people and I go to AA [alcoholics anonymous] meetings with and they said, 'Don't ever sink to their level. That's what they do. That's what they've been doing for years. Why are you going to sink to their level?' So, then I came to the realization that I don't even have to bring up anything that I have hidden away in my attorney's safe deposit box. I can just talk about things that they've said about me in black and white. They can't come after me after that because they said it — it's in black and white."
For example…
"Paul Stanley has admitted the [KISS] company that does his artwork that he created the logo and designed it. Now, we all know that that's a lie," he contends, noting the first rendering of the KISS logo he made that was auctioned off last April," he said.
Why Did Ace Issue the Ultimatum?
Throughout the decades, both Stanley and Simmons have taken repeated shots at Frehley and Peter Criss, recalling their less than professional performances and their former penchant for substance abuse. Despite a supposed open-door policy on allowing either member to return to the stage with KISS on their exhaustive farewell tour, Stanley again put Ace's musicianship in the crosshairs.
Replying to Stern's question about why the classic pair didn't perform with KISS at the Rock and Roll Hall of Fame induction ceremony in 2014, Stanley said, "[The Rock Hall organizers] were demanding, quite honestly, that we play with the two original guys, Peter and Ace, and at this point, that would be demeaning to the [current KISS] band, and also would give some people confusion. Because if you saw people on stage who looked like KISS but sounded like that, maybe we should be called PISS," the Starchild contended.
READ MORE: You Can Rent Ace Frehley's Scene Former House on Airbnb – 7 Bathrooms!
And, well, that really pissed Frehley off.
So much so, he told Trunk last week, "I'm going to make a statement to Paul Stanley right now. I'm telling you that I want a formal apology for what you said, and a retraction and an apology within seven days. And if I don't get that within seven days I'm coming back on Ed Trunk's show – if you'll have me, Ed – and I'm going to tell some dirt that nobody knows about Paul and Gene, that I've always kept to myself because I'm the kind of guy who doesn't talk about this. I like to talk about positive stuff."
It played out like a scene from a mafia movie with Frehley noting his attorney has been instructed to release the manuscript to major news outlets if "god forbid anything happens to me." He claimed "their careers will be ruined" if this manuscript is made public, teasing, "Those guys aren't squeaky clean. You know how many lawsuits girls have had against Gene?"
Regardless of Whether Ace or Peter Play With KISS Again, Where Can I Catch the Tour?
You can see all of KISS' upcoming tour dates here and it looks like the band's touring career will indeed come to its end later this year with two final performances booked at Madison Square Garden in New York on Dec. 1 and 2. To purchase tickets, head to this location.
25 Nastiest Rock Feuds