Rock Hits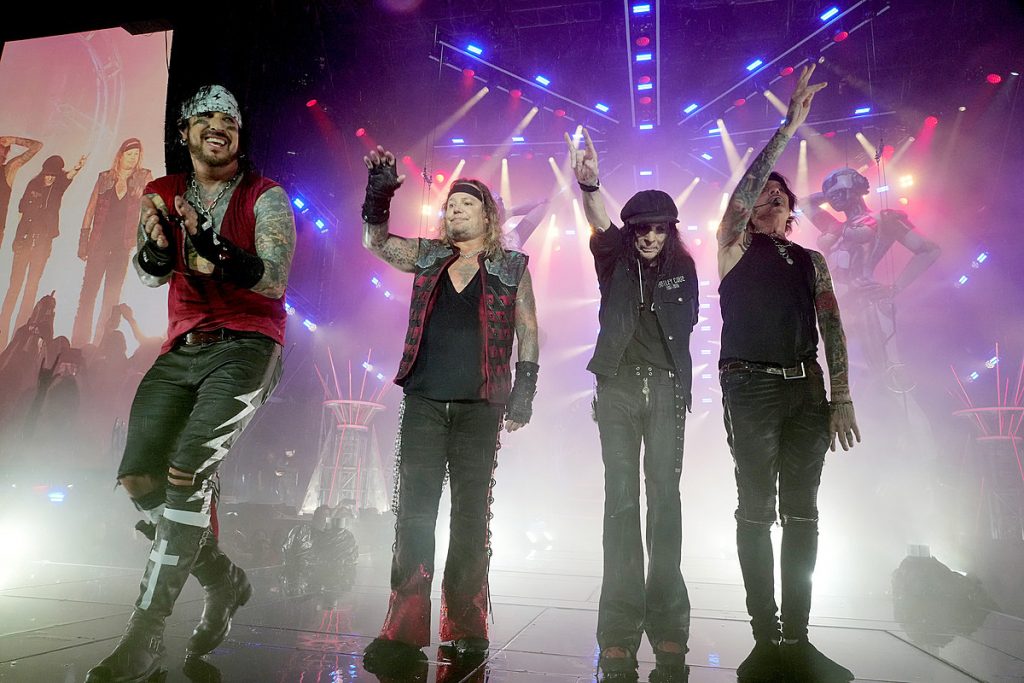 Motley Crue Issue Statement on Mick Mars' 'Unfortunate' Lawsuit
Motley Crue have issued a statement on Mick Mars' lawsuit, which was filed in Los Angeles county earlier today (April 6), calling the guitarist's claims "unfortunate" and "completely off-base."
Mars announced that he was retiring from touring in October, but assured he would remain a member of the band. In Motley Crue's announcement, which came the following day, the wording implied that he was retiring from the band completely, and they revealed that John 5 would be his replacement.
The guitarist's lawsuit alleges that his bandmates deliberately withheld information about the business of the band, and have been attempting to remove him as a member of the group after years of "gaslighting" him over his live performances. He claimed that Nikki Sixx, in particular, insulted his guitar playing, calling it "sub par," despite the fact that the bassist, as well as Vince Neil and Tommy Lee, often used pre-recorded tracks during their live show.
Motley Crue have since issued a statement on the lawsuit to Loudwire, which you can read in its entirety below.
Mick's lawsuit is unfortunate and completely off-base. In 2008, Mick voted for and signed an agreement in which he and every other band member agreed that "in no event shall any resigning shareholder be entitled to receive any monies attributable to live performances (i.e., tours)." After the last tour, Mick publicly resigned from Mötley Crüe. Despite the fact that the band did not owe Mick anything — and with Mick owing the band millions in advances that he did not pay back — the band offered Mick a generous compensation package to honor his career with the band. Manipulated by his manager and lawyer, Mick refused and chose to file this ugly public lawsuit. Equally unfortunate are his claims about the band's live performances. Mötley Crüe always performs its songs live but during the last tour Mick struggled to remember chords, played the wrong songs and made constant mistakes which led to his departure from the band. There are multiple declarations from the band's crew attesting to his decline which are attached. The band did everything to protect him, tried to keep these matters private to honor Mick's legacy and take the high road. Unfortunately, Mick chose to file this lawsuit to badmouth the band. The band feels empathy for Mick, wishes him well and hopes that he can get better guidance from his advisors who are driven by greed.
The declarations referenced in the statement, which were provided by the band's reps, were written by the band's production manager Robert Long, production coordinator Ashley Zapar, tour manager Thomas Reitz, Front of House engineer Brent Carpenter, monitor engineer Scott Megrath, bass tech Fred Kowalo and drum tech Steve Morrison.
READ MORE: Motley Crue's Nikki Sixx – 'This Isn't a Final Tour,' Would Like 50th Anniversary Run in 2031
Several of the statements from the individuals noted that Mars often left during rehearsals, without explanation, and he often played the wrong chords or the wrong song altogether. One, in particular, noted that the band's use of pre-recorded tracks during their live shows was a direct result of Mars' inconsistencies during his performances.
"Mick's performance during the Stadium Tour was unworkable and very difficult
to manage. It began with the band's rehearsals in April 2022. Mick would consistently forget chords and songs so the band would have to stop and re-teach those parts to Mick to remind him of the arrangements," Long wrote.
"Mick's performance caused other issues. Mick's own guitar tech, Bobby
Oberdorftein, wanted to quit. Bobby was frustrated because despite his best efforts Mick's performance was suffering. I had to do everything I could to convince Bobby to stay on as Mick's guitar tech."
All of the declarations were signed in early February in Atlantic City, N.J., where the band played two shows to kick off their 2023 tour schedule. Their next run with Def Leppard picks up in May in the U.K. See the dates and you can get tickets here.
7 Times Musicians Battled Their Record Labels
Always a messy situation.