Rock Hits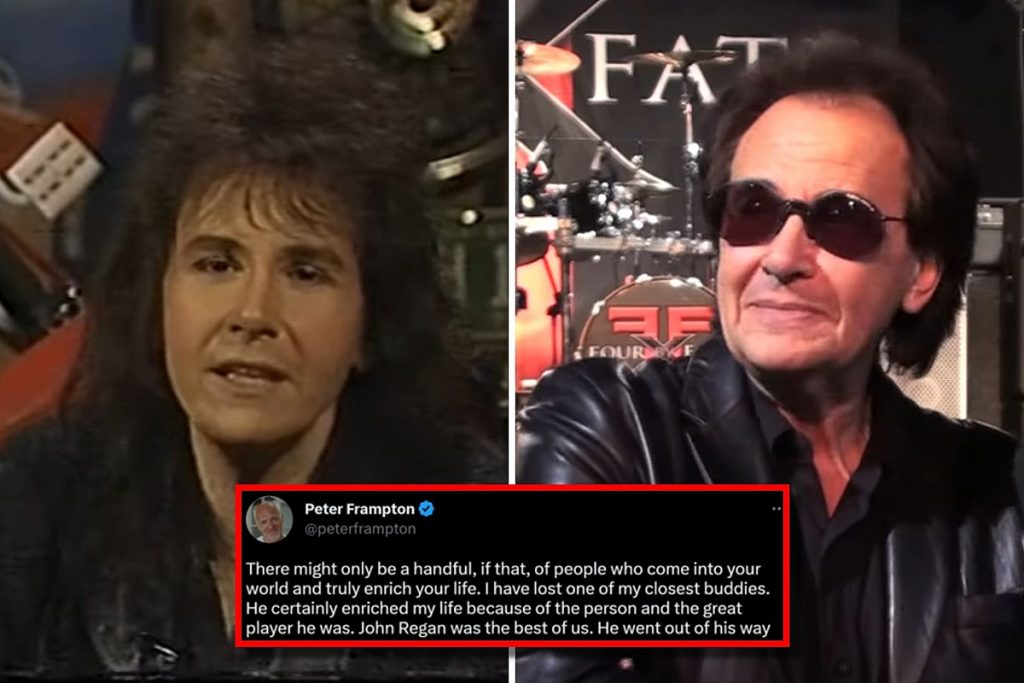 Bassist John Regan Has Died, Frampton + Other Rockers Pay Tribute
John Regan, who played bass in Ace Frehley's Frehley's Comet, has died at 71, wife Cathy Merring-Regan confirmed this past Friday (April 7). Since then, former collaborator Peter Frampton – as well as a few other rockers and fans – have shared tributes to the late musician.
In a Facebook post shared by a family friend, Merring-Regan stated:
It is with the greatest sorrow and sadness that I let you all know John passed away this afternoon. So many people have posted messages of love and condolences on his phone. I am trying to figure out how to post on any of his fb pages. I appreciate all of your thoughts and prayers. One of his favorite quotes was "All that you can take with you is that which you've given away". From reading your messages, I know he gave much away and so much love was sent to him. He passed suddenly, but that was his wish. I had heard him over the past few weeks having lengthy conversations with many of you and you brought such joy to him. Thank you all for your heartfelt messages.
Born in October of 1951, Regan more or less began his professional career as a bassist for singer/songwriter Chip Taylor (brother of actor Jon Voight) in the early 1970s. During the 1980s, he also played guitar and/or bass on releases such as Frampton's Rise Up, Breaking All the Rules and Art of Control; Billy Idol's Whiplash Smile; and even Mick Jagger and David Bowie's divisive cover of "Dancing in the Street" (which was originally performed by Martha Reeves & The Vandellas in 1964).
READ MORE: Ace Frehley Says KISS' Paul Stanley Called Him to Say 'F–k You'
Most famously, that decade also saw Regan join former KISS guitarist Ace Frehley's solo endeavors. Specifically, he appeared on original LPs and greatest hits compilations including 1987's Frehley's Comet, 1988's Second Sighting, 1988's Live+1, 1989's Trouble Walking', 1997's 12 Picks, 1998's Loaded Deck and 2006's Greatest Hits Live.
Plus, he recorded with David Lee Roth for Roth's fourth solo album – 1994's Your Filthy Little Mouth – as well as with The Rolling Stones (for 1986's Dirty Work) and Bonnie Tyler (for 1988's Hide Your Heart). Obviously, he was also in Four by Fate (alongside ex-Frehley's Comet singer/multiinstrumentalist Tod Howarth), with whom he released 2016's Relentless LP.
In March 2023, Regan even announced a "new [live] project," "Deja Vu…All Over Again!" Meant to "celebrate the music of Crosby, Stills, Nash & Young" in addition to "the legendary bands that emerged from . . . Buffalo Springfield . . . The Byrds . . . and The Hollies," it was set to "debut this Spring/Summer 2023."
As noted by UCR, Regan also served as the Parks Commissioner of Wrappingers Falls in New York, and since 2014, he'd been co-hosting a local radio show called Café Italia out of Poughkeepsie, N.Y.
Naturally, Regan's passing has been met with several tributes from fellow musicians and longtime fans.
Namely, Frampton Tweeted yesterday (April 8):
There might only be a handful, if that, of people who come into your world and truly enrich your life. I have lost one of my closest buddies. He certainly enriched my life because of the person and the great player he was. John Regan was the best of us. He went out of his way to help people when things weren't right. It didn't matter who you were, prince or pauper. I know there are many of you out there who knew him. He was a friend to all. Always musically inspiring and one of the funniest people on the planet. My thoughts are with his wife Cathy, his children, Christopher and Jeness and his grandchildren. I love you my brother you will be missed by so many. rest in peace.
Likewise, Howarth posted to Facebook late Friday night:
I started this over and over, I can't capture everything I'm feeling. . . . John of course was a world class talent and an incredible human being and from a personal level, he was responsible for me joining him with Ace [Frehley] and Anton [Fig]. . . . I really haven't stopped crying most of today as the music world loses another . . . I just, I just can't. Again what's more important is the man, the music, love, talent and friendship that he shared for his 71 years. . . . We're all shattered and I know his family is devastated. . . . Love you and already miss you John, thank you.
You can view additional tributes to Regan below, as well as check out some of his work.
Of course, Loudwire extends our condolences to Regan's friends, family, former bandmates, and countless fans.
Peter Frampton + Other Rockers and Fans Pay Tribute to John Regan
Billy Idol, "World's Forgotten Boy" (feat. John Regan)
Frehley's Comet, "Into the Night" (feat. John Regan)
Peter Frampton, "Dig What I Say" (feat. John Regan)
Four by Fate, "Hangin' On"
Rockers We've Lost in 2023
Rock and metal musicians and icons who died in 2023.