Rock Hits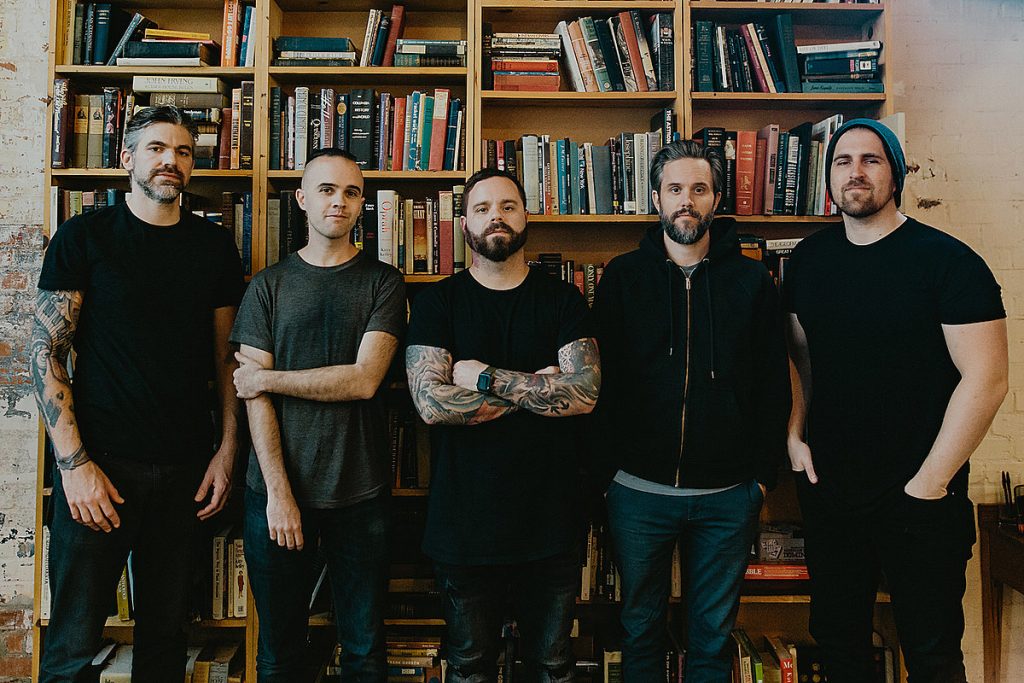 Between the Buried + Me Revisit 'The Parallax II' on Summer Tour
The calendar says 2023, but Between the Buried and Me will be taking fans back to 2012 this summer as they revisit the critically acclaimed The Parallax II: Future Sequence album in its entirety for concertgoers.
The stellar album was an offshoot, continuing the conceptual narrative laid out by the previous year's The Parallax: Hypersleep Dialogues EP. It found the band expanding upon their metal influences working in elements of progressive rock, jazz and fusion into the musical fold. The record featured such standout tracks as "Astral Body" and "Telos," both of which were issued ahead of the album release.
READ MORE: Between the Buried and Me, The Parallax II: Future Sequence – Album Review
The group will spend a month-and-a-half on the road in North America, following a European tour taking place this spring. Joining the band on the run will be Thank You Scientist and Rivers of Nihil, making for a truly formidable bill that is not to be missed. Look for the tour to kick off June 16 in Charleston, South Carolina, heading north and crossing into Canada before making its way to the West Coast and then circling back across the southern portion of the U.S. All dates, cities and venues can be seen below.
Tickets for the run will go on sale this Friday (March 10), and you can used the presale code DISCORD502 to get tickets now through the band's website.
It should also be noted that after the tour comes to a close, Between the Buried and Me have one more U.S. date playing Furnace Fest at Sloss Furnaces in Birmingham, Alabama on Sept. 22.
Between The Buried and Me / Thank You Scientist / Rivers of Nihil 2023 Tour Dates
June 16 – Charleston, S.C. @ Music Farm
June 17 – Baltimore, Md. @ Baltimore Soundstage
June 18 – Philadelphia, Pa. @ Brooklyn Bowl
June 20 – New York City, N.Y. @ Irving Plaza
June 21 – Albany, N.Y. @ Empire Live
June 23 – Worcester, Mass. @ The Palladium
June 24 – Montreal, Quebec @ Club Soda
June 25 – Toronto, Ontario @ Danforth Music Hall
June 27 – Millvale, Pa. @ Mr. Smalls Theatre
June 28 – Detroit, Mich. @ The Majestic
June 29 – Columbus, Ohio @ Newport Music Hall
June 30 – Chicago, Ill. @ House of Blues
July 1 – Minneapolis, Minn. @ Lyric at Skyway Theatre
July 2 – Kansas City, Mo. @ The Truman
July 3 – Denver, Colo. @ Ogden Theatre
July 5 – Salt Lake City, Utah @ The Complex
July 7 – Calgary, Alberta @ MacEwan Hall
July 8 – Edmonton, Alberta @ Union Hall
July 10 – Vancouver, British Columbia @ The Vogue Theatre
July 11 – Seattle, Wash. @ The Crocodile
July 12 – Portland, Ore. @ Roseland Theatre
July 13 – Sacramento, Calif. @ Ace of Spades
July 15 – Anaheim, Calif. @ House of Blues
July 16 – San Diego, Calif. @ The Observatory
July 17 – Mesa, Ariz. @ The Nile Theatre
July 20 – San Antonio, Texas @ Vibes Event Center
July 21 – Dallas, Texas @ The Factory
July 22 – Houston, Texas @ Warehouse Live
July 23 – New Orleans, La. @ House of Blues
July 25 – St. Louis, Mo. @ Red Flag
July 26 – Nashville, Tenn. @ Brooklyn Bowl
July 28 – St. Petersburg, Fla. @ Jannus Live
July 29 – Orlando, Fla. @ The Beacham
July 30 – Atlanta, Ga. @ The Masquerade
July 31 – Winston-Salem, N.C. @ The Ramkat
Your Guide to Rock + Metal Bands Touring in 2023
Check out over 175 rock and metal bands' touring schedules for 2023.