Rock Hits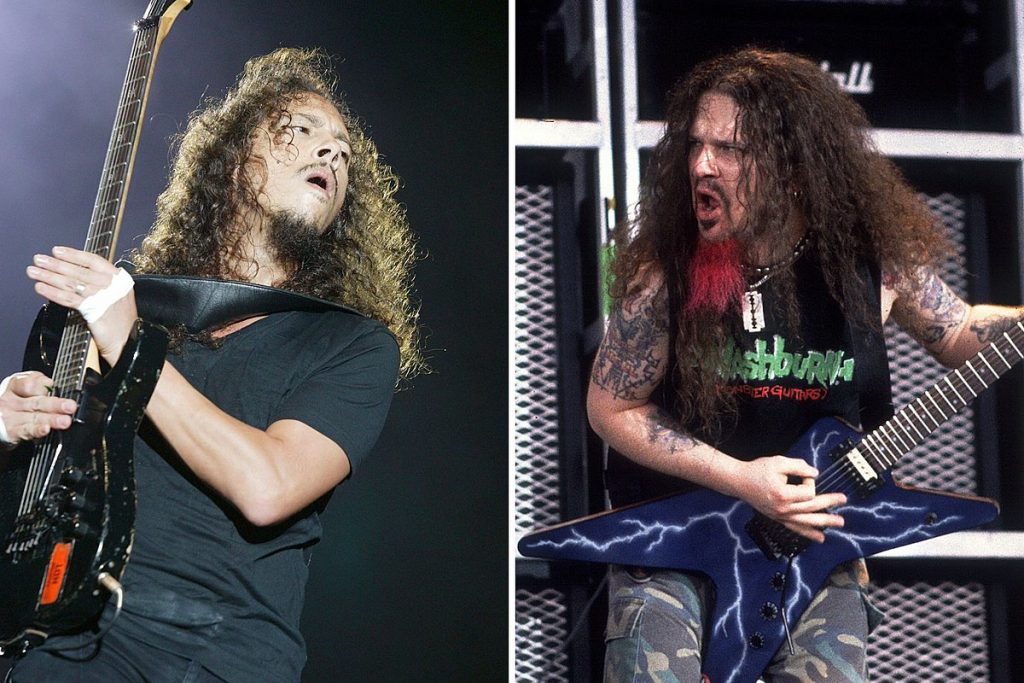 Kirk Hammett Recalls Last Time He Ever Saw Dimebag Darrell
At the 2004 edition of Download Festival, Metallica were faced with a dire situation — finding a replacement for Lars Ulrich and quick. During the scramble to secure some fill-ins (Slipknot's Joey Jordison and Slayer's Dave Lombardo), Kirk Hammett quickly interacted with Pantera's Dimebag Darrell and it was the last time the two metal legends saw each other.
Hammett recollected the moment with The Guardian in a feature filled with quotes from dozens of artists all talking about the magic that is 20 years of Download Festival and what it means to perform at the historic gathering.
Ulrich was admitted to the hospital after reportedly suffering from an anxiety attack, leaving Metallica in a bind the day of their headlining performance.
"When stuff like this happens, I don't know why but the responsibility seems to land on me [laughs]. I couldn't do anything for the next three hours except talk to drummers," Hammett tells The Guardian.
"I remember seeing Dimebag wave at me from a distance backstage; I looked at him and mouthed: 'We are completely fucked.' He came over laughing and just said, 'You guys have got this.' And that was the last time I saw Dime [before his death that December]," he recalls, lamenting, "I still regret not taking the time to have a full conversation with him."
The words have a special kind of added significance right now as Pantera will be joining Metallica on the road when the M72 world tour comes to North America this summer.
Metallica wound up tabbing Jordison and Lombardo and, sadly, the former passed away in 2021.
READ MORE: Slipknot's Clown Explains How Joey Jordison Got to Fill in For Lars Ulrich at Metallica Festival Show
Talking about recruiting Jordison in the emergency role, Hammett adds, "Joey could play all sorts of things; I remember saying to him: 'Bro, you're gonna have to play a bunch of these tunes tonight … ' He was beside himself, he was so happy. At the end of the set, I turned to Joey onstage, and I asked him if he could play 'Enter Sandman.' And I saw through his mask [Jordison was still in his Slipknot stage attire] that he had tears in both of his eyes. He was crying because it meant so much for him to be playing Sandman with us at Download."
"I'll never forget that," asserts Hammett.
In a 2021 interview with Download Festival, Slipknot percussionist Clown spoke about what it was like watching his bandmate get the nod to play with Metallica onstage. "I like watching people succeed, and it really makes me happy. I love that, I love watching people earn what they work for," he said at the time, recollecting, "They had called Joey at some point to come in and practice some of these songs. I guess some would say I'm an opportunist but I like to consider myself sort of an oracle at times. So I followed with a camera, and I can remember they were in that [rehearsal room] for what seems like at least 60 minutes, and I can remember just listening to Joey play all these Metallica songs, and at least three-quarters of them he didn't play onstage."
Metallica On Tour
Catch Metallica on the M72 tour in support of their new album, 72 Seasons, at these dates. For tickets, head here.
Metallica Download Festival 2004 Setlist (via setlist.fm)
01. "Battery" (with Dave Lombardo)
02. "The Four Horsemen" (with Dave Lombardo)
03. "For Whom the Bell Tolls" (with Joey Jordison)
04. "Creeping Death" (with Joey Jordison)
05. "Seek & Destroy" (with Joey Jordison)
06. "Fade to Black" (with Flemming Larsen (Lars' Drum Tech))
07. "Wherever I May Roam" (with Joey Jordison)
08. "Last Caress" (Misfits cover) (with Joey Jordison)
09. "Sad but True" (with Joey Jordison) (followed by guitar solo)
10. "Nothing Else Matters" (with Joey Jordison)
11. "Enter Sandman" (with Joey Jordison)
10 Times Musicians Were an Emergency Fill-In
Even rock stars need a sick day sometimes…
These Are the 16 Songs Metallica Have Never Played Live
Metallica have never played these songs live before.
Ranking the Opening Song on Every Metallica Album
We ranked the opening track on every one of Metallica's studio albums.