Rock Hits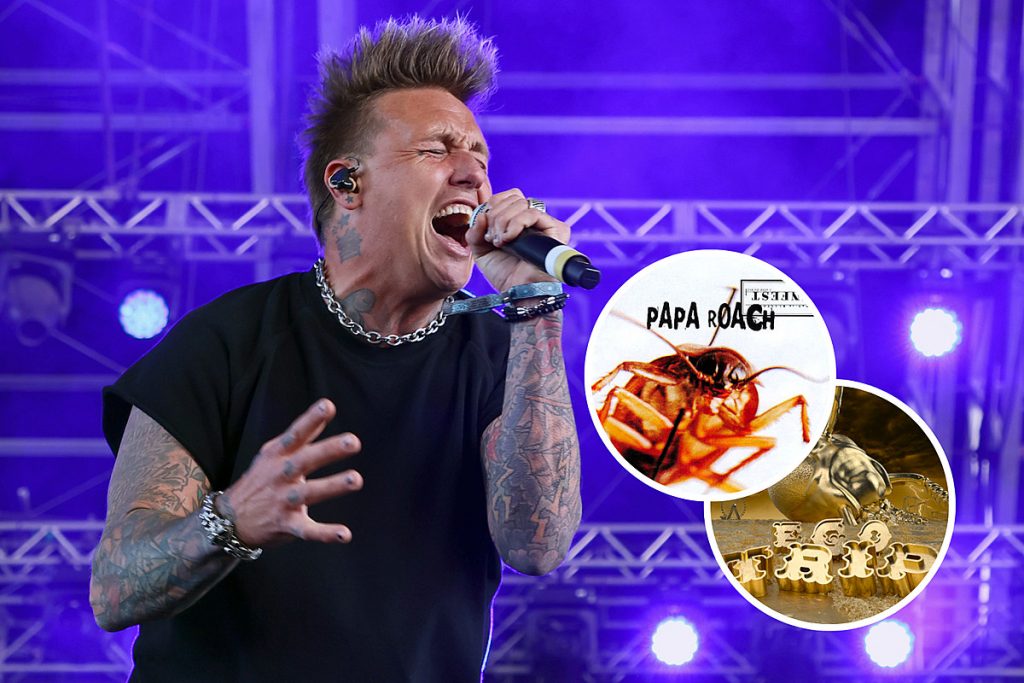 Papa Roach's Jacoby Shaddix on Nu-Metal + Potential Collabs
"At the time we were being labeled nu-metal, I was like, 'Eh, we're more than that.' But now I look back on it and I'm proud of it."
In a chat with Loudwire Nights host Chuck Armstrong on Thursday night's show (April 6), Papa Roach's Jacoby Shaddix reflected on what it meant for 2000's Infest to be named one of the greatest nu-metal albums of all time by Loudwire.
As he looked back on those earlier days of Papa Roach, he knew the band and its music transcended any particular label—though he is obviously grateful for what happened inside the nu-metal genre.
"We were part of a movement," he told the Loudwire Nights audience. "We didn't sound anything like Staind. We didn't sound anything like Deftones. We didn't sound anything like Korn. Yeah, we were heavy, but we had our own brand of it. We were each unique in our own rights."
Shaddix wasn't only reflecting on the early-'00s, though; he still sees the continued influence of that nu-metal movement in today's music, too.
"It's a trip because a lot of these young bands, that was the music they were listening to when they were 12 or 15 years old," he said. "So now we're feeling the effect of that moment in time and how it inspired another generation of rock and metal. It's coming back at us differently and it's exciting to hear. It validates that whole existence. It's pretty dope, dude."
Papa Roach Collaborated With That Next Generation of Rock + Metal
Papa Roach released Ego Trip, their 11th studio album, on April 8, 2022. Less than a year later, they followed it up with a deluxe edition of the album, packed with re-imagined versions of Ego Trip songs, demos and new collaborations. Those collaborations include the "Rockzilla Remix" of "Swerve" with Hollywood Undead (which already featured Fever 333 and Sueco on the original), a remix of "Stand Up" with Bloody Beetroots and a new take on "Cut the Line" with Beartooth's Caleb Shomo.
"I'm so grateful to have Caleb on that track," Shaddix remarked, with a huge smile on his face. "That's icing on the cake for us. I've been a Beartooth fan since he first came out."
Shaddix wasn't joking. The first time he saw Beartooth was at a show in Los Angeles and he jumped straight into the mosh pit.
READ MORE: 2023 Rock + Metal Festival Guide
"They just ripped," he said. "I was so impressed with their live show. Caleb's a great frontman, a great songwriter. His lyrics are brutally honest and I really can connect and relate to a lot of the things he's singing about. And it's just fun music. Those riffs rip your head off. It's inspiring to hear a young band that their melodies are sick—dope ass melodies—they're great performers, they've got all those parts, right? That's how they became one of my favorites of the younger era of rock bands. They just bring it, straight up."
When Shaddix learned Shomo was a fan of Papa Roach, it took his appreciation of Beartooth to a different level because, as he put it, "It's always cool to run into somebody that feels what you do, but then you feel what they do, you know what I mean?"
Who Does Jacoby Shaddix Want to Collaborate With Next?
As Shaddix continued to reflect on working with a band and musician that he had such a deep appreciation for like Beartooth's Shomo, it only made sense for him to consider who else is out there that he'd like to collaborate with.
"Man, there are some good ones," he said on Loudwire Nights. "I'd love to have Oli [Sykes] from Bring Me [the Horizon] on a track someday. That would just blow my mind. I dig what they're doing. I love the way they approach heavy music and bring that pop sensibility to it. It's catchy and it's very adventurous."
Beyond that collaboration, Shaddix also named a young band out of Seattle called AVOID. "Those kids are slaying," he said.
But for him, the one that would be the top of the mountain might surprise some fans.
"I'd love to collaborate with The Prodigy at some point," he admitted. "I think that would be…that's the one that would really blow my mind. I love what they do and they're in a bit of a different lane, but just—let's get two great tastes and put them together."
Jacoby Shaddix joined Chuck Armstrong for Loudwire Nights on Thursday, April 6; the show replays online here, and you can tune in live every weeknight at 7PM ET or on the Loudwire app. Stream Papa Roach's deluxe edition of Ego Trip at this location and then check out their full tour schedule.
Top 50 Nu-Metal Albums of All-Time