Rock Hits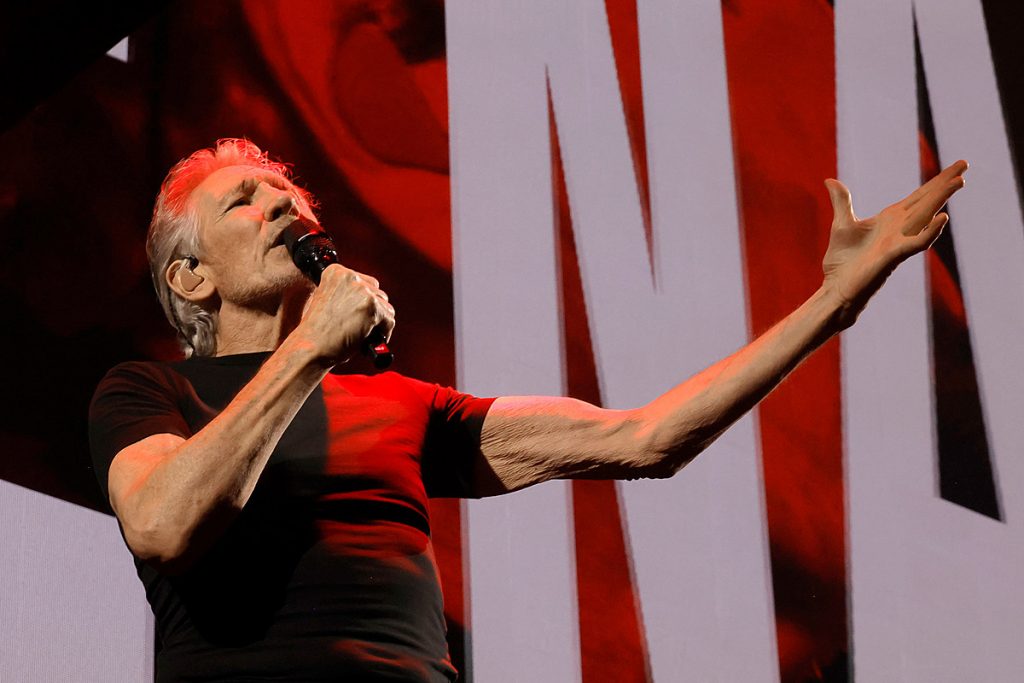 Roger Waters Vows to Play Frankfurt Despite 'Anti-Semitism' Ban
This past February, the city council of Frankfurt, Germany decided that former Pink Floyd bassist/vocalist/songwriter Roger Waters' scheduled May 2023 shows would be canceled due to him being "one of the world's most well-known antisemites." Now, the controversial musician has declared that he's playing there anyway.
As Loudwire reported at the time, because "the city council has 60 percent of the shares of the Festhalle venue, they were able to cancel the appearance," adding:
They also cited Waters' support of the BDS campaign that has called for a boycott of Israel as well as the pressure he has exerted on other artists not to perform in the country. They also made note of Waters' use of antisemitic imagery, including a balloon in the shape of a pig displaying the Star of David alongside other corporate logos.
Last month (March 16), Waters issued a formal reaction, during which he both denied the antisemitism accusations and vowed that his "lawyers are taking steps to ensure that [his] concerts . . . take place as contracted." Plus, his lawyers sent a statement to Planet Radio on his behalf.
READ MORE: Roger Waters Blasts Claims that He's Anti-Semitic, Seeks Legal Action Over Canceled German Shows
Well, it seems as though he's doubling down on that plan.
Yesterday (April 15), Waters' posted a photo of anti-Nazi political activist Sophie Scholl's gravesite to social media, with the caption reading (in all caps):
ROGER WATERS FRANKFURT SHOW UPDATE FRANKFURT COUNCIL WERE LEGALLY REQUIRED TO RESPOND TO ROGER WATERS INTERIM INJUNCTION BY MIDNIGHT APRIL 14 DID THEY? NOBODY KNOWS? WE CAN ONLY GUESS AT WHAT'S GOING ON IN FRANKFURT? ARE THEY PLAYING FOR TIME? WHO KNOWS? NOT THAT IT MATTERS MUCH! WE'RE COMING ANYWAY! BECAUSE HUMAN RIGHTS MATTER! BECAUSE FREE SPEECH MATTERS! YES! FRANKFURT CITY COUNCIL WE REMEMBER KRISTALLNACHT! LIKE SOPHIE SCHOLL OUR FATHERS STOOD WITH THOSE THREE THOUSAND JEWISH MEN AND TODAY WE STAND WITH THE PALESTINIANS! WE'RE COMING TO FRANKFURT ON THE 28TH OF MAY! LOVE R.
You can view the post below.
Expectedly, he's received mixed reactions from followers.
For instance, one Facebook user replied: "That's excellent standing up for your rights. Sure that the Frankfurt audience will be delighted with your diligence. Human rights Free speech and showing solidarity all matter. A great decision made much love to you."
In contrast, someone on Twitter wrote: "Remember you are trash. Antisemitic, Ukrainophobic, genocide denying trash. Sophie was against mass murder. You provide cover for the crimes of mass murderers. The cognitive dissonance is severely repugnant."
As of now, Frankfurt's city council has not responded.
12 Infamous Rock + Metal Legal Battles
Queue "Winners and Losers" by Social Distortion.