Rock Hits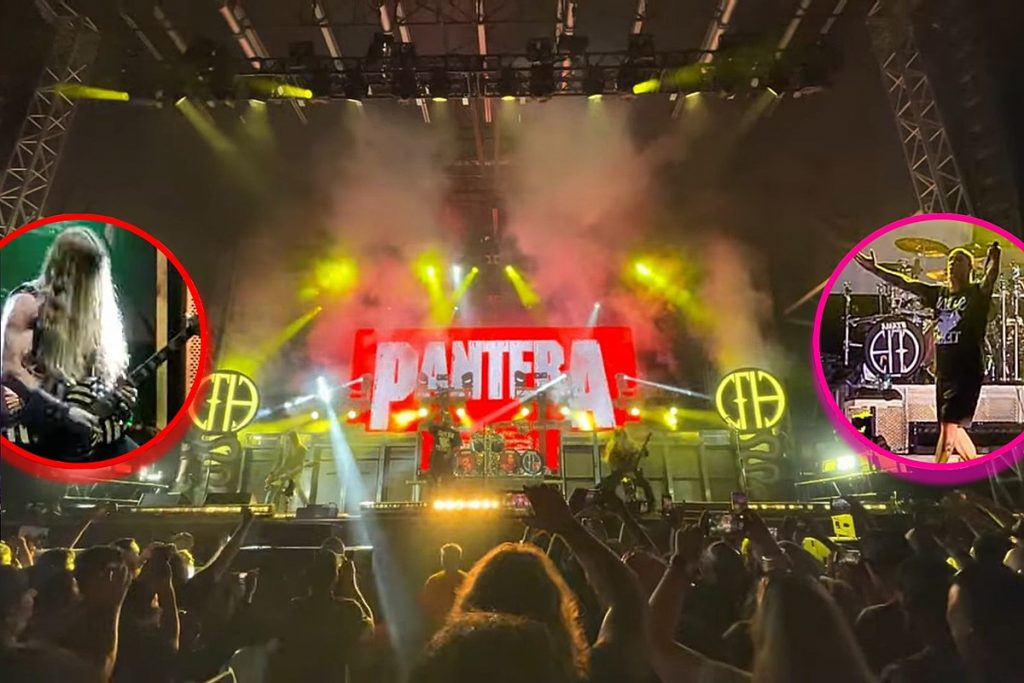 Setlist + Video – Pantera Play First U.S. Show in Over 20 Years
The divisive new Pantera touring lineup – guitarist Zakk Wylde, drummer Charlie Benante, vocalist Philip Anselmo and bassist Rex Brown – officially kicked off their live reunion in early December 2022. However, they've only played venues in Mexico, Colombia, Chile, Brazil and Japan thus far. That is, until last night (May 6), when the quartet blew the doors off of Panama City, Fla. with their first U.S. concert since the summer of 2001.


Specifically, they took the stage at the Thunder Beach Motorcycle Rally in Frank Brown Park; as noted by Revolver, it signified their first U.S. performance since their July 25, 2001 show at the Tacoma Dome in Tacoma, Wash. as part of their "Extreme Steel Tour" (in support of 2000's Reinventing the Steel).
To commemorate the event, they spiced up their setlist by pulling out the most aggressive track they've ever done (which is truly saying something): the grindcore-like "Suicide Note Pt. 2" from 1996's The Great Southern Trendkill. Considering the fact that it's the first time the revised quartet have ever played it – plus the first time Pantera as a unit have played it since April 30, 1999, according to setlist.fm – it was quite an awesome inclusion.
READ MORE: Pantera Members, Tommy Lee + Moby Discussed Forming Band Together, Moby Says
Back in 2014, Loudwire even included the "Suicide Note" pair in our list of the 10 best Pantera songs.
Aside from that, the 11-song setlist was highly varied and satisfying, with "Cowboys from Hell," "Walk" "Mouth for War" and "This Love" standing out.
You can see the full setlist – as well as photos and videos from their concert – below.
Last week (May 1), Loudwire reported on the news that we could've gotten a supergroup comprised of Pantera's Vinnie Paul and Dimebag Darrell; Motley Crue's Tommy Lee; and techno music maestro Moby.
Would you have wanted to hear it? Let us know!
Also, be sure to check out all of Pantera's upcoming tour dates, as well as grab your tickets here.
Pantera Setlist — May 6, 2023 in Panama City, Fla. (via 

setlist.fm

)
01. "Mouth for War"
02. "A New Level"
03. "Strength Beyond Strength"
04. "Becoming" (with "Throes of Rejection" outro)
05. "I'm Broken" (with "By Demons Be Driven" outro)
06. "This Love"
07. "Yesterday Don't Mean Shit"
08. "Suicide Note Pt. II" (first performance since 2001)
09. "Walk"
10. "Domination / Hollow"
11. "Cowboys from Hell"
Pantera, Live Footage From May 6, 2023 in Panama City, Fla.
Opening
"Mouth for War"
"A New Level"
"Suicide Note Pt. II"
"Cowboys from Hell"
"Domination / Hollow"
"This Love"
"Walk"
Photos – Pantera Live on May 6, 2023 in Panama City, Fla.
A Photo Timeline of Pantera's Famed Career
A look back on Pantera's career, in photos.