Rock Hits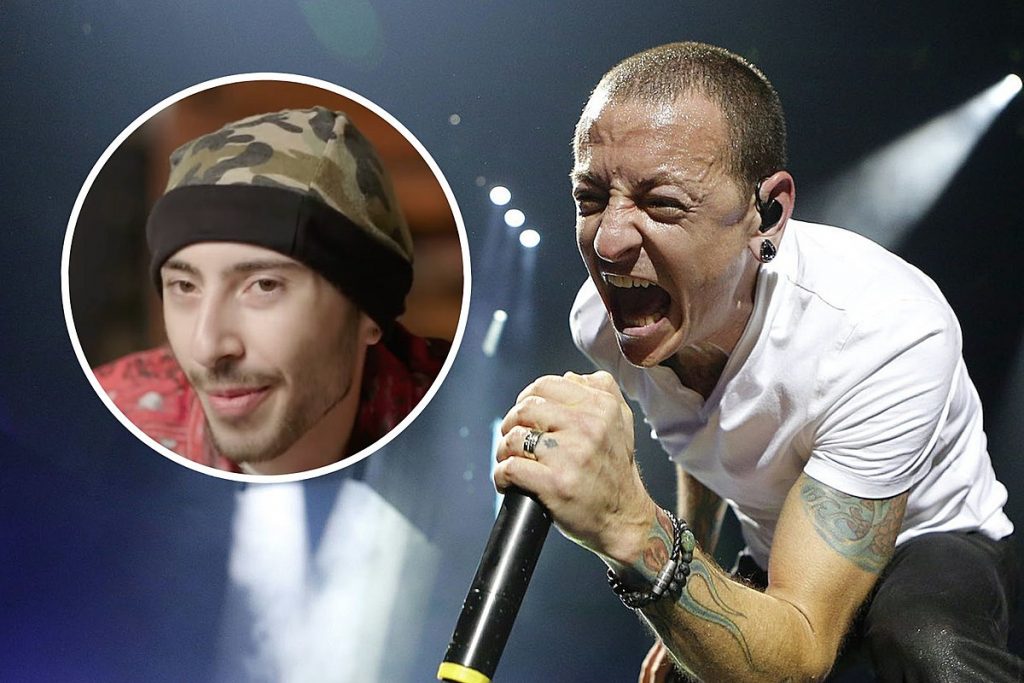 Chester Bennington's Son Releases Debut Song + It's Catchy
Draven Bennington, the son of late Linkin Park singer Chester Bennington, has issued his debut single "F_w_Me" under the moniker RVRND. And it's catchy!
The track is also featured in the first episode of Family Legacy, a new Paramount+ docuseries which premiered yesterday (April 25) ands, in addition to Draven, will feature Andrew Hagar (son of Sammy Hagar), Briahna Fatone (daughter of *NSYNC's Joey Fatone), Quincy Brown (son of Sean "Diddy" Combs) and many more.
Who are the two members of RVRND?
In December of last year, the rap/hip-hop duo began teasing on Instagram that new music was in the works. As seen in the photos below, Bennington is on the left, outfitted with a brown cloth mask featuring openings around the eyes and mouth, chains making an X over the eyes and safety pins forming a toothy appearance over the mouth.
Drummer Manny Dominick, meanwhile, is seen on the right side in each photo. He played drums in electronic act Ghost Town from 2012 through 2017 and in addition to being a drummer, is a composer and producer who has worked with the likes of Wiz Khalifa, Kid Cudi, Josh Groban and many more.
What does the song sound like?
Bear with us — we are knowledgeable in rock and metal, first and foremost…
Over the opening moments, the happy sounding electronic elements call to mind Gorillaz and once Draven's rap cadences begin, the vocal similarities between him and his father Chester are impossible to overlook.
The positive musical element is juxtaposed by some darker lyrical content with a chorus where Draven says, "Don't get too close to me / The little devil on my shoulder screaming F the peace / Be careful when you come around me / We tend to keep a wild crowd that's reppin' the team / Don't get too close to me / The little devil on my shoulder saying do what you please / Be careful when you come around me / We got a lot of loaded shooters that are reppin' the team."
Listen to the song directly below.
RVRND, "F-w_Me"
More about the Family Legacy TV series
Speaking with Hollywood Life about the show, Draven was asked about his reaction when he was contacted about being featured in the series.
"Honestly, I got a DM," he begins, "So at first, I wasn't sure if it was real or not. I was like, okay, I gotta make sure that this isn't some random person DMing me really quick. But then I started talking with them a little bit more. We did some background checks. I was like, okay, this is really sweet."
As for what he was hoping Paramount+'s intentions were behind the concept for the show, Draven adds, "I had to make sure that they were going to at least have some focus on the kids and what we're doing and where they're going with their careers, and not just have it all focused on our lives growing up and stuff like that because I wanted it to be more of an advocate for the kid artists too and everything. They were really supportive of that, and once they were telling me that they wanted that as well, I was really open to it. I was really excited."
Read the full interview here and view the Family Legacy trailer below.
Family Legacy Docuseries Trailer
15 Rock + Metal Bands Featuring Kids of Rockstars
Rock Star Kids Then and Now
Photos of famous children of musicians. What are they doing now?