Rock Hits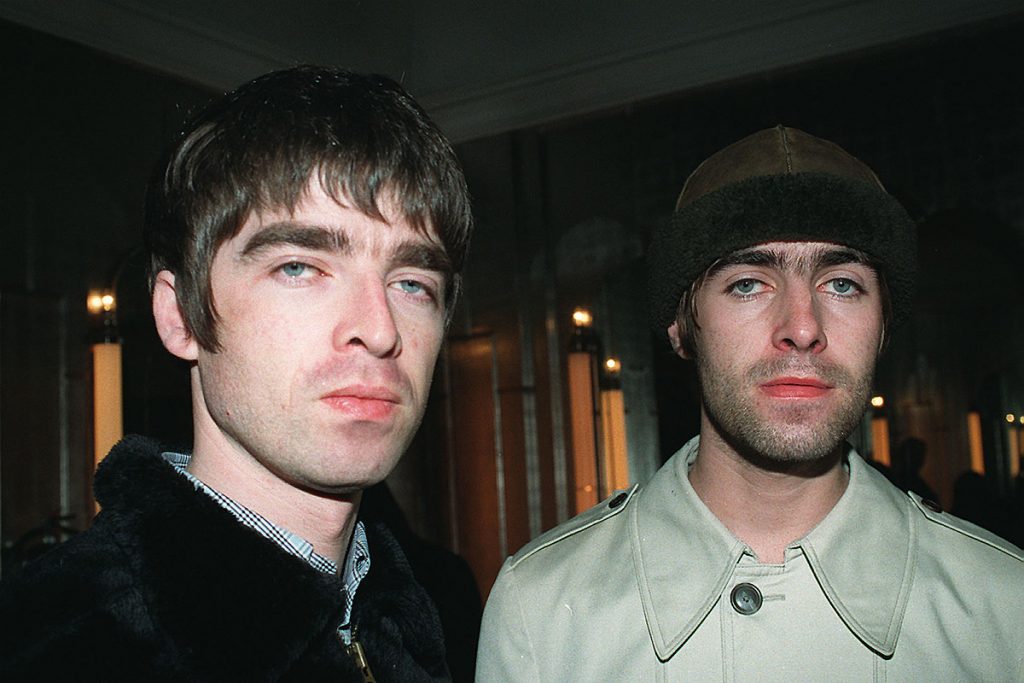 Noel Calls Liam 'Coward' for Dodging Oasis Reunion Phone Call
2023 has brought about a lot of reunion talk but little action in the saga of Oasis siblings Noel and Liam Gallagher. Earlier this year, Noel Gallagher stated in an interview that Liam should call him if he's serious about an Oasis reunion, while Liam called out Noel for damaging the Oasis band and brand in a response tweet. Now, Noel has reiterated his stance in a new interview and Liam has once again turned to social media with a response.
Noel Gallagher spoke with talkSPORT's White and Jordan about the possibility of a reunion, with the guitarist-singer and songwriter stating, "Well, I put [a reunion] out there. I mean, he could call me. He's forever going on about it. You'd have thought by now he'd have some kind of plan. And if he's got a plan, he should speak to me. He won't speak to me because he's a coward."
The elder Gallagher added, "But he should get some of his people, his agent, to call my people and say, 'Look, this is what we're thinking' and then we'll have a conversation about it. Until then, he's a little bit disingenuous. I'm open to a phone call. Other than that, stop playing with the kids, it's not fair to the fans."
After news of Noel's latest interview started making the rounds, Liam turned to Twitter to voice his thoughts. "I don't wish AIDS on people. I turn up and play the MUSIC for the people of MANCHESTER who have just had a terror attack while you sit on your dingy sipping champagne and you got the audacity to call me a COWARD sit down you [bell] end," wrote Liam Gallagher.
The Manchester reference dates back to 2017 when Liam called for a reunion after a terror attack at a Ariana Grande concert, joining the "One Love Manchester" bill. When Noel didn't join the benefit, Liam performed and later called out his brother social media.
"Manchester, I'd like to apologize for my brother's absence last night, very disappointed. Stay beautiful, stay safe," he initially offered. He then followed, "Noel's out of the fucking country. Weren't we all love. Get on a fucking plane and play your tunes for the kids you sad fuck," then adding," Fuck the reunion mate it ain't about Oasis it's about people helping other people and he's once again shown his true fucking colours."
After Liam's initial post on Noel's most recent interview, the singer then responded to several of the comments, mostly to reiterate what he felt were the disingenuous intentions of his brother. "Reunion," he pondered to one Twitter follower, adding, "He hates oasis fans he's full of shit." He told another Twitter follower, "He's full of shit he HATES oasis fans doesn't mind them buying his records."
In late April, Noel Gallagher revealed during an interview that there would not be an Oasis reunion in support of the 30th anniversary of their Definitely, Maybe debut album. "There won't be a tour, we won't come back to play them together," said Noel at the time, though revealing that plans were in the works for a 30th anniversary reissue of the record.
Liam, earlier this month, shared with a follower on Twitter that he still intended to salute the album in concert for its 30th anniversary. "As it's 30 years since DM was released nxt year I'm gonna be playing the album from start to finish in it's original order at a few BIBLICAL venues," he stated. He then took a few questions, answering that he'd do it without Noel, that he'd perform the songs as they were initially recorded and that he'd play b-sides as well, singling out "Cloudburst" as one of the songs.
READ MORE: A Timeline of the Decades-Long Beef Between Oasis' Noel + Liam Gallagher
So, for now, it appears as there's no reunion in sight for the siblings. Both musicians continue to perform as solo artists. Liam Gallagher released the C'mon You Know album last year, while Noel Gallagher's High Flying Birds will release their Council Skies album on June 2.
10 Huge Rock + Metal Bands Whose Singer Isn't the Main Lyricist
The lyrics to these bands' songs were mostly written by other members.